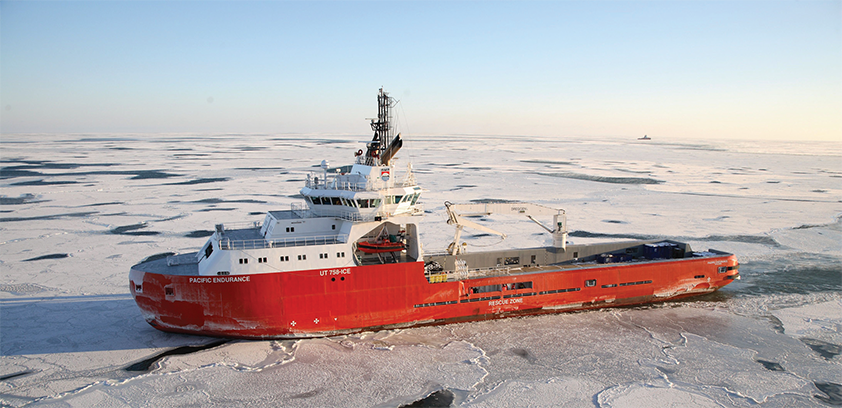 A trusted name
Swire Pacific Offshore (SPO), headquartered in Singapore, is a trusted name in the offshore marine industry.
The company owns and operates over 65 offshore support vessels, with over 20 new vessels ordered from yards for delivery over the past three years. Indeed, as recently as 16th June 2011, SPO placed an order for four Havyard 844 XL, 17,850 BHP anchor handling tug supply vessels. The first vessel is scheduled to be delivered in June 2013 with the three subsequent vessels to deliver between the third quarter of 2013 and second quarter of 2014. The vessels will be built by Singapore Technologies Marine Ltd, the marine arm of ST Engineering.
Swire Pacific Offshore already has four sister 'D' Class vessels currently on order at Drydocks World shipyard in Singapore for delivery in 2012 and 2013. The vessels will have a continuous bollard pull in excess of 200T and are equipped with 500T winches. Built with Clean and Ice Class notations, the DP2 anchor handlers will be ideal vessels to support the latest generation semi-submersible rigsoperating in deepwater and harsh environments. With a large clear deck area and under-deck tank capacity they will also be well suited for a wide range of other offshore applications.
"Swire Pacific Offshore is committed to owning and operating a modern fleet of offshore support vessels. The recent order with STMarine continues the company's investment in high quality, reliable, environmentally friendly, fuel efficient vessels focused on the future needs of the industry," commented managing director, Brian Townsley.
The existing SPO fleet is comprised of an extensive range of up-to-date vessels, with an average age of 11 years. Most of the vessels are equipped with dynamic positioning systems (DP 1 or DP 2). The fleet includes anchor handling tug supply (AHTS) vessels, platform supply vessels (PSV), anchor handling tugs (AHT), seismic survey vessels, ROV support/ dive support vessels and maintenance/ accommodation support vessels. This extensive product offering means SPO is fully equipped to support a wide range of offshore activities, including drilling, production, exploration, pipelay, subsea construction and FPSO operations.
The fleet operates across the globe from the Far East and Australasia through India and the Middle East to West Africa, the Mediterranean and the North Sea. Most of SPO's customers are in the energy industry, ranging from the world's leading exploration and production corporations to offshore construction companies, subsea service companies and independent oil companies. The Swire Pacific Offshore Group also regularly undertakes salvage and telecommunications contracts.
Established in 1975, over the subsequent years SPO has built a reputation as a leading service provider to the offshore oil and gas industry, with a network that spans the globe. With a strong emphasis on operational excellence, SPOplaces great importance on providing reliability for its partners through quality service. This requires a very proactive attitude towards health, safety and the environment (HSE), and to this end, in March 2011, SPO was awarded the prestigious Eco-Office Label Certification.
Independent auditors inspected SPO's offices on its two floors of the Concourse building plus the Swire Marine Training Centre in Loyang, to confirm that SPO conduct its business activities in an environmentally friendly manner. The Singapore Environment Council confirmed that SPO had obtained the Eco Office Label covering the period 2010 – 2012, and this was presented to the company at a ceremony on Wednesday 16th February 2011. In the five years that the certification scheme has been running only 72 organisations in Singapore have achieved this esteemed award.
It is understandable that health and safety has to be of paramount importance to any company operating in the marine environment, and SPO considers that in all HSE matters it is preferable to be proactive rather than reactive. The company strives to maintain a positive safety culture, characterised by 'mindful management'. This ensures that SPO's Safety Management System (SMS) continues to improve and remains a relevant and practical tool. By maintaining a safe and healthy workplace, SPO is committed to improving the quality of life both on board its vessels and within the communities it serves.
In fact, SPO is committed to high standards across the board, and the establishment of a dedicated marine training centre in 2007 has reinforced this commitment, even under challenging conditions in harsh operating environments.
This dedicated marine training centre has been the beneficiary of significant investments in innovative technology, which has allowed the simulators installed in the centre to provide the most integrated full-missionbridge and engine room experience of any simulator worldwide. Classrooms are on hand to provide space for courses to take place. Courses include full bridge and engine room management, DP training, safety and computer instruction. Such an investment of financial resources and management time reiterates the company's goal of operational excellence and is providing encouragement to existing and prospective employees.
Swire Pacific Offshore is strongly committed to safety, reliability and quality service through the employment, training and development of qualified and experienced officers and crew. With the future of oil exploration in harsh environments, the new training centre bolsters its ability to prepare officers and crew for difficult jobs in difficult places.
Swire Pacific Offshore
Services: Support vessels