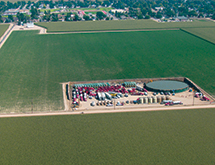 There's one main reason Synergy Resources Corp. has become a rising player in oil and gas exploration and production in the Denver-Julesburg (DJ) Basin's Wattenberg Field in just six years. "We have an experienced executive management team and a great staff who overachieve to make us a great company," says Craig Rasmuson, COO of the Colorado-based company. "We've become a top-10 operator in terms of BOE per day in the Wattenberg Field, and that's an impressive feat in such a relatively short period of time."
The company's total oil production is roughly 3,500 BOEs per day. "We've transitioned from vertical to horizontal drilling in the last year, and in doing so have really stepped up our production," Rasmuson adds. During 2013 the company averaged 2,117 BOE per day. By the end of 2014 they expect to produce almost 10,000 BOE per day.
Since its inception in 2008, the company has drilled and completed 145 vertical wells and 11 horizontal wells. In addition, Synergy has acquired 138 vertical wells through acquisitions and participated in more than 25 horizontal wells in the past two years as a non-operator. The company has leased 392,000 gross acres located throughout Colorado, Wyoming and Nebraska, including 50,000 acres in and around the Wattenberg Field.
Recent acquisitions include adding 2,000 net acres to its lease holdings in the Wattenberg Field and approximately 500 BOE per day of production net to its interest. "We seek to acquire undeveloped and producing oil and gas properties, primarily in the DJ basin and certain adjacent areas," Rasmuson says. "We will seek properties that will provide us with opportunities for reserve additions and increase cash flow through production enhancement and additional development and exploratory prospect-generation opportunities."
Synergy's small staff works diligently to keep its drilling costs low. "Most of the operators working the basin are drilling standard-length horizontal wells for $4.2 million to $4.4 million, but we can get them done for $3.6 million, if not less than that," Rasmuson says.
Synergy works closely with well-known service providers such as Ensign, Halliburton and Liberty Oilfield Services to develop innovative cost savings as it drills, fracs and completes its wells. As another cost-saving example, the company reduces its operating costs by transmitting water used in the fracking process through pipelines instead of trucking it, which is possible because of its wells' locations near municipal utilities.
Synergy began their horizontal drilling program in May 2013 and then added its second rig January 2014. The company is currently running two horizontal drilling rigs, with which it plans to drill a total of 34 horizontal wells in 2014. Synergy plans to drill a few vertical wells during the year, including a test well in the extended Wattenberg area that will analyze the Niobrara, Greenhorn and D-Sand formations.
On environmental matters, Synergy prides itself on being an industry leader by taking a proactive approach in addressing environmental issues. The company has a constant and continuous program in place to monitor air quality status. Its environmental group regularly evaluates each well and tank battery using a forward looking infrared camera to identify hydrocarbon emissions. If any emissions are detected, the well is shut-in while the issue is remediated. These wells are not brought back on-line until the problem is resolved. Potential ground water issues are also continually monitored so that it can be assured that none of their operations impact ground water quality. In some cases, ground water monitoring wells are drilled in the company's operating areas to verify that all protective measures are effective and efficient.
The Next Level
Synergy's leaders are no strangers to the Denver-Julesburg Basin. "We're local guys, and I think we've been able to pick up a lot of leases because of our positive reputation," Rasmuson notes.
Company co-CEO Edward Holloway's experience in the Denver-Julesburg Basin started as a surveyor in the 1980s. He later built up three private oil and gas companies that he then sold to larger operators. In 1997, he co-founded Petroleum Management LLC, an oil and gas exploration, operations, production and distribution company, which he continues to manage. In 2001, he co-founded Petroleum Exploration and Management LLC, an oil and natural gas production company that he sold to Synergy in 2011.
Treasurer and co-CEO William E. Scaff Jr.'s experience includes overseeing financial and credit transactions for an oilfield equipment company and serving as a regional manager for Total Petroleum. He is the co-founder and co-manager of both Petroleum Management LLC and Petroleum Exploration and Management LLC.
As the company's COO, Rasmuson – the company's first employee – oversees its daily operations and coordinates all permitting for its operations. He has worked in the region since 2006. Rasmuson meets almost daily with civic and business leaders to ensure understanding of their concerns. He works with them on creative solutions to any local issues.
Rasmuson sees the company continuing to grow its lease holdings and drilling operations over the next few years. Historically the company was grown rapidly when they focused their efforts on drilling vertical wells, resulting in an average compound growth rate of more than 100 percent per year. The company expects to grow even more rapidly with their shift in focus to horizontally drilling wells.
"We grew from having only one horizontal rig to operating two in a short period of time," he says. "The cash flow produced by our existing wells will be used to increase our drilling budget for new wells. We are looking at plans that may allow us in the future to grow to having three or four horizontal rigs. We intend to keep hitting new milestones in our operations."