Advanced technology
With its origins in the Faculty of Engineering at the University of Porto, Sysadvance was founded on a basis of strong scientific links and co-operation with university laboratories.
Incorporated in 2002, Sysadvance is a company specialised in gas separation technologies, producing state-of-the-art nitrogen and oxygen generators, as well as custom engineering products and turnkey solutions. To date, the company has installed more than 800 items of equipment across 30 countries.
Sysadvance generators produce high-quality nitrogen and oxygen from compressed air, allowing continuous availability at a very competitive cost, compared to alternative supply using cylinders or cryogenic tanks. The generators are designed to be easily installed in any indoor facility requiring only a compressed air line and a power connection. Paramount to the success of these projects, is the quality of the company's engineering group, particularly in relation to the custom engineered solutions designed for large customers or on-demand research and development (R&D).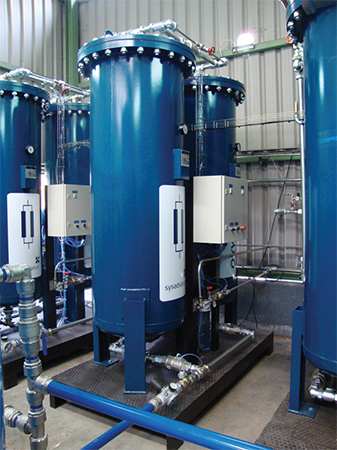 In terms of how this marks Sysadvance out from the crowd, general manager José Vale Machado states: "The main differences between Sysadvance and other manufacturers lie in some of the more distinctive features of our pressure swing adsorption (PSA) engineering, including flanged tops, CMS quality and valves selection, as well as some internal features. These are aimed at improving reliability, stability, durability, and energy efficiency.
"Great care and know-how is also dedicated to the understanding of PSA behaviour in extreme environmental conditions like temperature and moisture, to allow for the effects of these variables on the design of systems. This is particularly relevant to oil and gas applications, which are frequently exposed to such hard conditions. In addition, we are also recognised for the reliability of our centrals, with minimal downtime due to malfunction of components as prevented by the many safety features in our PSA's."
As a result Sysadvance has a number of products within its portfolio that are ideally tailored for use in the oil and gas sector. This includes large capacity Nitrogen PSA generator solutions, and ATEX certified products suitable for both onshore and offshore operations. In addition, the company produces marine versions, which are certified by DNV, BV or other certification authorities on request, for use on chemical, gas or oil tankers. Specialist systems such as the CONTROLSYS Premium Unit can be used to control and remotely monitor, via LAN and GSM, the performance of one to multiple generators along with full central data streaming and alarms.
Of course, for any system to be adopted on a widespread basis it has to demonstrate certain benefits over market alternatives. In this respect, José highlights the advantages that Sysadvnace's PSA generators offer compared to alternative on-site technologies: "Inert gas generators burn fuel to generate CO2 from combustion, and tend to have extremely high operational and maintenance costs. Due to the nature of the technology, they also have a very 'negative' footprint with regards to CO2 emissions. Whilst membrane systems are similar to PSA generators in terms of producing nitrogen from compressed air, they have many technological disadvantages.
"One example of this is their requirement for higher operating pressure. In addition, nitrogen recovery in a membrane generator is less than half the recovery on a PSA, meaning that you need a compressor with double the power to supply compressed air to the membrane to achieve the same nitrogen output. Last but not least, membranes have a lifetime of only two to three years, compared to the ten to 15 years of a PSA. A membranes lifespan can be reduced even further if water with oil vapour from the compressor comes into contact with the components, whereas PSA's are not sensitive to this issue. Based upon these reasons, over the last four years PSA technology has become the industry standard for the supply of nitrogen in gas form."
If further proof was required of Sysadvance's leading engineering and scientific capabilities, one demonstration is the development of a special High Purity Oxygen PSA for use in the International Space Station on behalf of NASA. However, Sysadvance is not complacent in its commitment to drive these values forward through continuous innovation and research. "New nitrogen and oxygen cycle management strategies and materials are tested every day in our state-of-the-art research and development lab," begins José.
He continues: "Our main focus today though is the development of a new line of PSA's, focused on the purification and concentration of biogas, natural gas and LPG gas streams, for multiple applications in the renewable energy and oil and gas sectors. The department is also working on the development of adsorption systems for helium recovery and CO2 capture."
With industry demand for these state-of-the-art generator technologies increasing, Sysadvance has experienced a remarkable growth rate alongside it at an average of 40 per cent each year. This prompted the business to move into new facilities earlier this year, in order to enhance production and office space to cope with this rapid expansion. Equally, this additional scope represents a key element within Sysadvance's intentions to become the leading player in PSA technology, by facilitating its ongoing innovative efforts.
Sysadvance
Products: Nitrogen and oxygen PSA generators