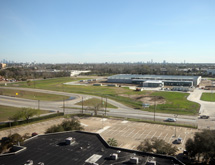 For TAM International Inc., a focus on a few types of oilfield products instead of offering a wide variety has served it well for 45 years.
"Because of our focus on specific products, our customers are dealing with sales and service people with expertise in the product," says Michael Dion, manager of the Houston-based company's Dickinson, N.D., regional office. "We're not running one product one week and switching to something else the next.
"We've found it's better to specialize, as many of the operators we talk to prefer to work with someone with a lot of experience and a positive reputation."
The company, founded in 1968 and purchased by its current owners in 1972, provides inflatable packers, "swellable" packers and through-tubing used to isolate sections of a well in fracking operations and stimulate well production. Products include inflatable bridge plugs used as anchoring in casing and open-hole applications; test and treating tools available in single and straddle configurations; cementing tools; scab liners; and well repair tools.
A Regional Presence
TAM International in November 2012 opened the company's Dickinson office specifically to serve oil producers working the Bakken Shale. Dion, an operations manager with nine years of experience at the company, was selected to lead the office.
Dion – who holds a degree in theology from Southwestern Theological Seminary – started his career in the oilfield industry in 1979 with Otis Engineering, where his duties included running wireline and casing hole completions. While at Otis, he started the company's first sand control pumping services division in Gabon, Africa.
In 1993, he moved on to CTC International, an external casing packer company in Houston, where he served as operations manager. He held the position of senior technical advisor and Gulf Coast regional inflatable manager following CTC's acquisition by Baker Oil Tools. In 1997, he joined Weatherford Completions Systems as systems operations manager for inflatable packers, and was promoted in 1999 to global product line manager for inflatables, the position he held before joining TAM in 2004.
Dion's other positions at TAM include serving as operations supervisor, senior technical advisor and cement integrity advisor/trainer manager.
TAM has served the region for the last five years through an agent, but decided a physical presence there would enable it to better serve oil producers. "We opened this office to put our products in service closer to customer," Dion says.
All products are manufactured with the highest quality standards in mind. TAM is ISO 9001-certified in the United States. The company also holds GOST and Rostechadoz certifications, which govern the importation of products into Russia and the former Soviet Union.
"We developed and implemented our quality system to help our organization operate with increased effectiveness, consistency and customer satisfaction," the company says.