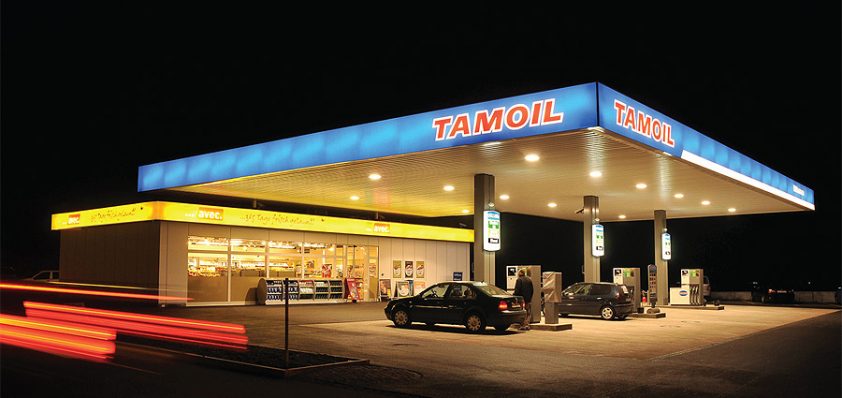 A renewed focus
With roots dating back as far as 1945, Tamoil SA has a 70-year history of operation within the petroleum refining and retail sector. The company is part of the Oilinvest Group that currently manages its Tamoil and HEM brands throughout Italy, Germany, Switzerland, Spain and the Netherlands from its headquarters in The Netherlands. Today Tamoil SA represents one of the leading oil companies operating within the Swiss market, with a total level of sales of approximately 1.2. million tonnes annually.
The company's sales within the Swiss market are driven through three main channels comprised of: a national retail network of 266 service stations, a wholesale unit with annual volumes of two million tons and a heating oil business that serves more than 70,000 end customers. Within the heating oil market in particular, Tamoil SA works with several affiliate companies to ensure the smooth and efficient distribution of its refined products. "The operations that we refer to as affiliates are companies that belong 100 per cent to the Tamoil Swiss organisation. These affiliates are heavily focused on the end customers sales business for all products but mainly heating oil," explains Stéphane Trachsler, Acting General Manager for Tamoil SA. "The basic scope of these companies is to deliver the heating oil to the client's home where it will be stored and burnt for heating. This is relatively unique to Switzerland, where heating oil still plays a very important role in heating homes whereas in other countries it has almost disappeared because natural gas or other heating systems are used instead. At the same time the affiliates also sell gasoline and diesel to larger end consumers that have their own tanks and pumps to refill their trucks and cars."
Tamoil SA supports the distribution of refined products to end consumers through direct retail, affiliate companies and a strong logistical network. This includes several joint ventures relating to tank farms within Geneva, Zurich and Eastern Switzerland in which several partners share in utilising tank farm facilities. Tamoil SA is also a shareholder in a finished product pipeline running between the South of France to Geneva, which currently represents an important source of supply for the company. Furthermore, despite announcing in January 2015 that it would interrupt refining operations at the facility, Tamoil SA continues to maintain its refinery in Collombey.


The Swiss Collombey refinery is located in the canton of Valais at Collombey-Muraz on the left bank of the Rhône. The refinery's loading facilities and a number of storage tanks are situated on the opposite side of the Rhône in the canton of Vaud, which are further linked to the Swiss Federal Railways network. Prior to the present pause in operations, the Collombey refinery operated as a residue-cracking refinery with a high degree of conversion. The plant's core units were constructed in 1962, allowing for an average throughput of 2.4 million metric tons.
After acquiring the refinery during 1990, Tamoil SA carried out major developments to its technical infrastructure and introduced modern production techniques. By 2004 the construction of the refinery's total residue conversion units was completed in a project that also included a catalytic cracking unit that converts residues into high value light products. The facility boasts some 90 storage tanks with a total combined capacity of 795,000 cubic metres for crude oil and products. The Collombey refinery is one of only two refineries in Switzerland and the only domestic refiner with its own branded retail network. The refinery is able to account for as much as 20 per cent of the total products inland sales in Switzerland and has played a key role in the country's oil sector.
The decision to interrupt refining operations at the 55,000 barrel-per-day refinery was taken in the face of increasingly challenging market conditions and a renewed focus on the wholesale and retail sectors of the Swiss market. In recent years the Swiss refining market has suffered severe market pressures, in line with the difficulties experienced by the wider European refining industry. The pressures experienced by the refining industry in Europe can be attributed to higher imports of refined petroleum products, rapidly declining fuel demand and increasing regulatory costs.
In a strategy consistent with the wider Oilinvest Group, Tamoil SA plans to continue to increase its presence within the retail and wholesale sectors of the Swiss market, where it currently has a network of 266 service stations, a sales volume of 1.2 million tons of petroleum products, a fully owned network of regional distributors, 12 tank farms and a total storage capacity of 1.3 million m3. The company remains fully committed to its workforce and to serving its clients, partners and its other stakeholders in order to maintain a strong and vibrant presence in Switzerland.
Although the interruption of refining operations and the change of focus to supply and retail have occurred in rapid succession, the transition has been both smooth and successful for Tamoil SA. This is partly because of the company's strong infrastructure around the Collombey refinery and throughout Switzerland.
"We have had the chance to develop very strong logistic assets all over Switzerland. Tamoil SA has access to pipeline infrastructure as well the tank farm in Geneva. Within the western part of the country we also have the use of several tank farms. We have obviously a strong position around the refinery, because there is no other logistics infrastructure in the area except our own," Stéphane Trachsler says. "In the German speaking part of the country we have tank farms in Bern, Basel, Zurich and Eastern Switzerland and these logistics allow us to import easily product from various sources of supply. Product is brought in either by pipeline or by barge on the River Rhine to Basel or directly by train arriving from Germany or other regions via train directly to our inland tank farms. These strong logistic assets allow us to be competitive in all regions of Switzerland."
Over the coming months Tamoil SA will focus on further developing retail and expanding its client base through its network of affiliates. Furthermore the company will seek to increase its investments into new products to increase its service offering. "Switzerland is now progressively shifting to bio fuels even if the country has very stringent regulations in relation to this product," concludes Marketing Director, Jürg Hornisberger. "On the bio diesel side there are now more possibilities to get access to Swiss certified bio fuels. One of the targets and strategies for Tamoil is to develop the sale of bio diesel out of all its tank farms. This will be mainly developed over the next year."
Tamoil Switzerland
Services: Petroleum refining