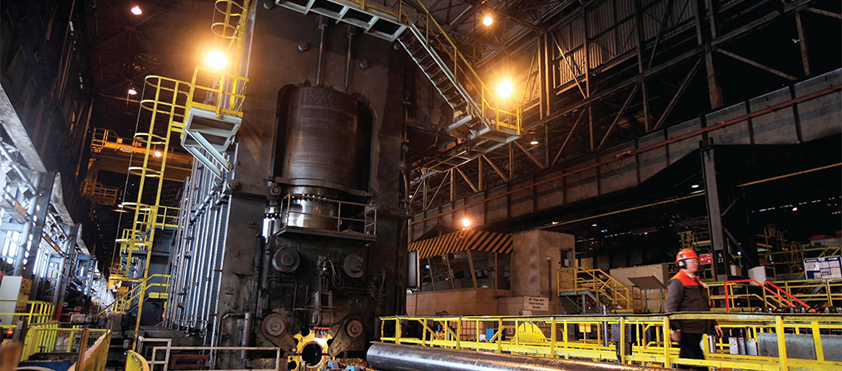 Ahead of the game
Established in 1907, Tata Steel is a key business within the Tata Group, and in itself amongst the top ten global steel companies with an annual crude steel capacity of over 28 million tonnes per annum.
It is now one of the world's most geographically diversified steel producers, with operations in 26 countries and a commercial presence in over 50. This includes Tata Steel Limited in India, Tata Steel Europe Limited, which was formerly Corus, NatSteel, and Tata Steel Thailand.
With its main steelmaking operations in the UK, and the Netherlands, Tata Steel Europe is the region's second largest steel producer supplying materials into industries as diverse as construction, automotive, packaging, energy and power, aerospace, and rail. As a whole, Tata Steel is involved in every part of the hydrocarbon chain from exploration and drilling, oil and gas production and transportation through to refining, and processing. By providing high performance steels, backed by expert advice, the company can deliver on the demands of an industry operating in some of the world's most hostile and challenging environments.
Drawing on these capabilities, Tata Steel has secured many major deepwater contracts in the Gulf of Mexico and around the world. This year the company will supply over 200 miles of submerged arc welded line pipe for deepwater environments, which will be manufactured at its Hartlepool mill in the UK. Whilst it appears to be very much business as usual for Tata Steel, the company is experiencing a shift in the market with regards to its outlook on projects, particularly within line pipe manufacture. "What we are observing now is the effect of the
Deepwater Horizon disaster, which has resulted in a change in approach from clients," begins Martin Connelly, technical manager at Tata Steel. "One outcome of this is that the market is becoming more risk-averse and as part of this, more demands are being placed on the supplier as clients pay greater attention to all details of a project. Whilst we would always support that, our concern is that this makes for a more rigid and less flexible approach towards the specification of line pipe."
Although many people may consider line pipe to be a commodity product, it is actually more akin to a long piece of subsea equipment as each project is designed in a bespoke manner in line with the demands required of it. "By taking a more rigid approach it does introduce the possibility of over-complicating and over-conservatising the design and purchase process of line pipe. If you then combine that with an industry wide concern that skills, expertise and specialism is making its way out of the industry, there is a worry that we may be making things too difficult for ourselves because we collectively don't have the experience or capability necessary to understand when excessive over-conservativism is being applied, and when the supply chain cannot meet a particular aspect of the specification because it's fundamentally impractical," continues Martin.
Tata Steel remains aware of and focused on the same trends within the market such as deeper waters and more demanding applications for line pipe, but when coupled with a rise in conservatism in specifications, meeting these becomes an ever-increasing challenge. In terms of how the company is working within this environment, Martin notes: "As always we are working to understand the product, and to listen to what the client is asking for, as in a lot of cases you can find that customers are requesting things that don't necessarily go together. One example of this is thicker walls on line pipe intended for sour corrosion resistant applications. Sour resistance decreases as you increase wall thickness so these are two fundamentally opposed aspects.
"One of the ways that the industry looks to overcome this is through product development, which can optimise these factors, but with the industry traditionally always at the edge of its capability you reach a position where the client has to consider which is the most important material aspect. As such, this may prompt the client to go back and look at their specification, and whether there are areas of over-conservatism, or other options available. We feel that it is a win-win situation if you can engage with the client and openly discuss how to amend elements of their specification, which maintains their confidence in the product they are buying, but also achieves a sound supply chain with the manufacturer," he adds.
It is important to retain a strong link between the required performance characteristics of the project design, good sound research and development to link material properties with the operating environment and an appropriate quality management approach that ensures all of the installation and operational risks are appropriately addressed in the manufacturing process. Martin says, "This is absolutely central to how we address these challenging deep water projects, and we want to make sure our clients get the right product for their project. Joint industry research projects as well as our own R&D helps us keep ahead of these challenges. However, as an industry we need to continue to invest in training the next generation of pipeline and materials engineers if we are to retain the skills needed to design, manufacture and operate safe and efficient pipelines for the energy industry into the future."
Tata Steel
Products: Welded steel pipes and coatings