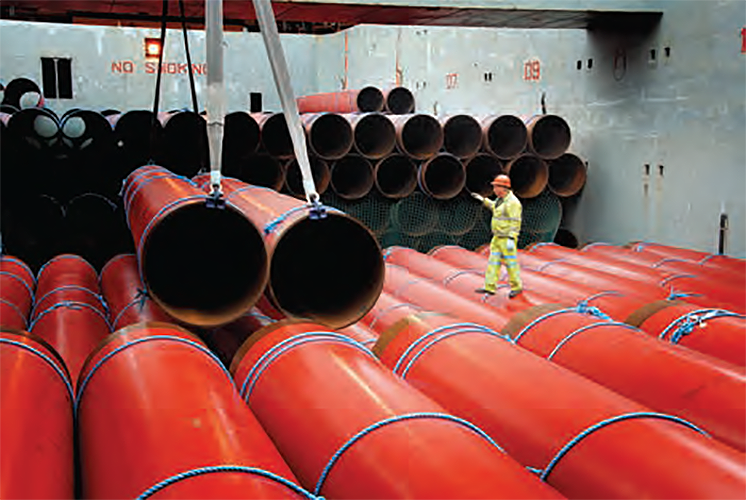 Enhancing capabilities
With the world's demand for energy resources set to grow by 56 per cent between 2010 and 2040, the oil and gas sector is increasingly having to look at ever more challenging project developments.
Maximising recovery requires innovation and expertise at all stages of the supply chain, including the manufacture of steel line pipe capable of reliable operation in extremely testing conditions.
New markets
While Tata Steel has an historically strong presence in markets such as Europe, the Americas and West Africa, the company has been less active in the Middle East. That looks set to change, following a successful project carried out in Iraq which demonstrated Tata Steel's ability to provide a bespoke solution based on the client's needs.
The company provided 16" diameter double submerged arc welded (DSAW) line pipe, vastly improving tolerances over a seamless pipe solution. The project was to supply twin dry gas lines from Kirkuk to Baiji. The use of SAW material will enable the construction contractor to weld at a faster rate with lesser preheat requirements than with the more common seamless pipe option.
Established market opportunities
The requirement for deepwater developments specifically is set to increase in the future with global oil production from deepwater and ultra deepwater activity expected to reach a high of 13 per cent by 2020, up from nine per cent in 2010.
Expenditure in the so-called 'Golden Triangle' namely the Gulf of Mexico, West Africa and Latin America, will dominate over the next few years, with spending in offshore pipelines up to $39 billion.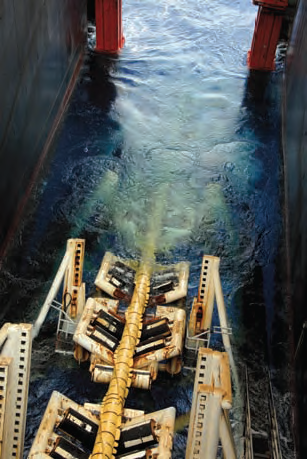 And despite its standing as a mature province, capital investment in the North Sea continues to present significant opportunities. Oil and Gas UK recently estimated that if the 11.4 billion boe in companies' current plans are to be realised, around £300 billion would be required.
Around one third of this is needed to develop both green and brown field sites. Recent developments in the UKCS have set new precedents for temperature and pressure requirements in rigid riser systems. Tata Steel and its supply partners have expanded capabilities with the design and creation of cost effective insulated pipe-in-pipe bends for risers and spools – a feat previously considered financially and technically too difficult to undertake.
Deepwater projects
Tata Steel is currently undertaking two deepwater projects in the Gulf of Mexico and one in Brazil. The latter project was extremely technically demanding, requiring very high wall thickness to pipe diameter ratio line pipe with the capability to withstand corrosive hydrocarbons.
Technical manager Martin Connelly said: "We were the only supplier able to meet the exacting needs of the project, representing some of the most demanding pipe ever produced by a UOE mill, requiring a strength grade of X65 and a 24" diameter.
"The thickest of the items was over 36mm and we were able to deliver all products across three thicknesses while meeting all of the project's other demanding parameters, including full sour service capability and coatings."
Tata Steel is one of the few manufacturers with a proven track record in the supply of UOE line pipe in diameters of 16" and 18" and has supplied pipe for projects in some of the world's deepest waters including Williams' Perdido Norte offshore Gulf of Mexico and the Tupi project offshore Brazil for Petrobras.
As the sole supplier of 457mm (18") line pipe for Perdido, the depth of the pipeline (2,514msw) coupled with the severely undulating seabed terrain, made it one of the most challenging projects completed to date. The DSAW UOE pipe (grade X65) was specifically designed and manufactured to the strictest requirements and regulations to allow the best compromise of strength and weldability to facilitate economical installation.
Further to its experiences on Perdido, the company then produced UOE pipe with a wall thickness of 31.75mm at 18" diameter for the Petrobras Tupi project, which lies at a depth of 2200msw in Brazilian waters. Though not the deepest, it represented a milestone in pipe-forming.
As the diameter of a pipe reduces and thickness increases, the levels of strain and power required to form the pipe increases; a testimony to the complexity of deepwater pipe design. While collapse at these water depths is a critical design state, the project also raised concerns over pipeline corrosion due to small amounts of contaminants in the exportation gas. Both CO2 and H2S were present which meant that classic material loss corrosion and sour service cracking respectively needed to be addressed.
This was managed by increasing the nominal wall thickness to account for loss of material during life, resulting in thicknesses greater than 36mm. Tata Steel also ensured the procured plate provided ultimate resistance to hydrogen induced and sulfide stress cracking as well as selecting the correct welding consumable and weld procedure specification to maintain similar resistance to sour service cracking in the weld.
HPHT solution
HPHT production has always posed additional engineering challenges to subsea pipelines even in shallower waters such as the North Sea. However, these applications are now in increasing demand in deepwater areas such as West Africa and the Gulf of Mexico.
HPHT fields, with pressures in the order of 700 bar (10,000 psi) and temperatures of up to 160°C (320°F) are not uncommon, making them technically more complex to develop because of the inherently higher energy in the well fluid.
Technical challenges include corrosion, maintaining structural integrity and pipeline thermal management. These critical considerations have prompted the development of a wide range of pipeline technologies such as hybrid/polyurethane insulated pipe-in-pipe structural systems.
Conclusion
The evolution in project demands and Tata Steel's ability to consistently meet and exceed them is representative of its commitment to continually enhance its capabilities to address the needs of an evolving marketplace.
While market conditions remain challenging, there exist significant long-term opportunities. Subsea developments, predominantly deepwater activity, will continue to play a major role in the extraction of oil and gas reserves.
Tata Steel
Products: Premium line pipe manufacture