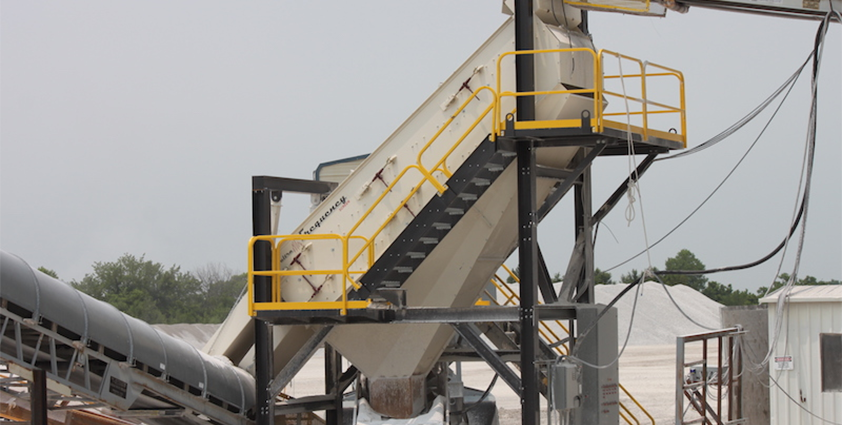 TCI Manufacturing prepares for growth as it builds a new factory.
When customers come to TCI Manufacturing for conveyor, screen and crushing solutions, the company aims to meet their specific needs. "We listen to what our customers want," General Manager Jack Ackerman declares.
he Walnut, Ill.-based company's roots go back to the 1980s when President Mike Maynard worked in a welding/repair shop and co-created a high frequency screen for fine particle separation. After obtaining patents, he traveled the country, demonstrating the screen and growing its popularity.
In 1997, the owner of the welding/repair shop, Richard "Dick" Nelson, sold the business to Aztec Industries with Maynard as the president of the division. After enjoying some success, Maynard left and reunited with Nelson to form TCI in 2000.
Because Maynard was temporarily limited by a non-compete clause, he and Nelson looked at other products for TCI to offer. These grew to include a variety of both portable and stationary conveyors, feed hoppers and bins, crushing plants and wash plants.
Today, TCI serves a broad range of clients in the aggregates industry, including giants such as Oldcastle Materials, Rogers Group Inc. and LafargeHolcim, as well as modestly sized, family owned organizations. "We've worked a lot with Fairmount Santrol, U.S. silica, Northern White sands and plenty of other silica sands operations," Ackerman says.
"We can tackle some of the largest jobs in the industry," he continues, adding that the firm is nimble enough to take on small jobs as well. "We can pivot on a dime in either direction. As long as we're fabricating something, we really don't mind."
Ready and Prepared
Ackerman joined TCI 11 years ago after working for more than two decades for a construction firm. "I started out as a laborer and worked my way up through the organization in leadership roles, and doing estimating and sales," he recalls.
But Ackerman had long known Maynard socially, who approached him one day about joining TCI as it was undergoing growth. "I was looking to make a change and I jumped onboard," Ackerman recalls, noting that he started out with estimating work.
Maynard also mentored Ackerman about the aggregate industry and took him across the country to visit rock quarries and sand and gravel pits. "Those trips were always filled with different lessons and topics in the industry," he recalls.
Ackerman learned about business, finance and production manufacturing issues from Maynard, as well. "It became clear to me he was grooming a successor," Ackerman recalls, adding that he will take the role of president at TCI at the end of 2019.
"Mike has laid the foundation for me to assume that role when he's done," Ackerman says. "I'm very confident with all the training and guidance that he has given me that I'm prepared for that next challenge."
Getting Prepared
TCI is in the process of growing its footprint. Over the years, the firm has completed three expansions at its facility in Walnut, but now it is building another location across the street that will allow it to manufacture custom portable conveyors and screen plants for its clients.
According to Ackerman, this will give TCI the ability to offer two lines to its clients. One will be comprised of custom products and the other will be a standard line that it can always build. "We feel that there's a need for it and we're going to excel in that part of the industry as well," he says.
The facility, which will initially span 60,000 square feet, will enable TCI to adjust to a boost in its construction business if Congress finally passes an infrastructure bill. "When that happens, it will be a plus for our industry and companies like us," he says.
"When they're doing the infrastructure work and they'll need concrete and asphalt," he says. "They're going to need equipment like ours. We're optimistic that's going to happen sooner than later and we're ramping up to prepare for that."
The Next Generation
TCI is a strong supporter of local trades and vocational schools in its region. With unemployment at a low and its location in a small county, "We think we've hired mostly everybody in the area that's a good or qualified welder," Ackerman says.