An efficient approach
Techflow Marine provides a range of specialist products to the offshore oil and gas and marine industries.
Its market focus is directed towards the prominent emergence and accelerated development of offshore reserves utilising FPSO/FSU units, whilst accommodating the requirements of conventional fixed platforms and jack-up rigs.
Operating from the company's head office in the North East of England, Techflow Marine's manufacturing activities are co-ordinated and scheduled to its principle manufacturing locations in the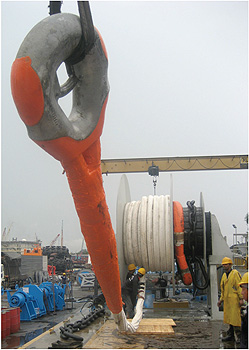 UK and Singapore.
The 20,000 sq ft UK manufacturing facility is primarily used for the manufacture of equipment, assembly and testing, with its main throughput being high quality bespoke mechanical, electrical, hydraulic power and control systems that are supplied to the worldwide offshore and marine industries.
This facility is staffed with a highly qualified team of design and project engineers; with extensive experience and knowledge of the design and supply of fluid transfer systems and associated mechanical, electrical and hydraulic equipment. The company's engineering capabilities include: 3D modelling (Auto-Desk Inventor), FEA, hydrodynamic analysis (Orcaflex), CFD, mechanical/structural design, electrical & control system design and hydraulic system design. Techflow's engineering support team can assist the offshore installation designers and yards during all phases of engineering from initial concept/FEED studies through to commissioning/first operation. This ensures that the products meet the client's specified requirements.
However, Techflow Marine also recognises that good customer service requires more than simply providing a machine. To this end, the company offers an extensive after sales service, which is also co-ordinated from the principle service locations in the UK and Singapore. After sales covers areas such as installation, commissioning, testing, training programs, service agreements, annual inspection/surveys and genuine spare parts.
All activities are performed in compliance with the ISO 9001 quality management system, which assures clients a high quality and reliable service in an industry where quality and delivery are paramount.
The manufacture of larger equipment destined for Far Eastern clients may be undertaken in overseas facilities local to the point of delivery and feature extensive manufacturing and dynamic load testing facilities that include heavy-lift cranage. Extensive waterfront loadout facilities provide excellent capacity for the larger and heavy equipment, such as crude oil offloading and mooring systems.
In addition to these main manufacturing facilities, Techflow Marine has close relationships and working partnerships with a number of subcontract fabrication facilities within mainland Europe, China, South Korea and the US, with extensive experience and proven track records.
Products
The current range of products available from Techflow Marine includes FPSO/FSU fluid transfer systems, hose handling systems, large bore flexible hose systems, marine coupling systems and associated equipment.
Techflow Marine provides comprehensive and fully integrated transfer systems that offer reliable and simple operation. Typically, these systems will utilise flexible pipe to transfer crude oil or
other media in dynamic applications, and include means for storage, deployment and recovery of the flexible pipe, and will incorporate power, control and utility equipment. Various hose storage reels, chutes or outboard platform stations are available, specifically configured and designed to suit individual applications and installations worldwide.
Tandem mooring, handling and storage systems complement the fluid transfer systems and provide safe and efficient tandem mooring operations between FPSO and shuttle tankers. The systems provide a means for storage, deployment and recovery of the mooring hawser/chafe chain/messenger line assembly and integrated mooring point, with full load quick release facility. In addition, hydraulic power/control utility and load monitoring/data logging equipment can be incorporated. Various systems are available, specifically configured and designed to suit individual applications and installations worldwide. The tandem mooring systems can supplement the company's range of fluid transfer systems utilising common power and control arrangements.
When it comes to marine hose loading stations, Techflow's products provide secure and economical operation and storage of bulk loading hoses used for fluid or powder transfer operations. Single, double or multi-reel stations are available, specifically configured and designed to suit individual applications and installations worldwide. Hose assemblies, connectors and reel pipe work materials are selected for compatibility with project specifications. The stations are supplied with self-contained hydraulic power and control units. Optional pneumatic or electrical drive and control systems are available.
For applications such as FPSO/FSO tandem crude oil loading/offloading, LNG FPSO tandem condensate offloading and CALM crude oil offloading, Techflow Marine provides a range of marine coupling systems individually configured and designed to suit bespoke applications and installations worldwide. These systems can incorporate bow connector couplings, quick release couplings, emergency disconnect couplings and valved breakaway/weak-link couplings with materials and surface protection selected to suit individual project specifications.
Another product available from Techflow is the Seawater Uptake System. This provides a means of obtaining low temperature, low oxygenated seawater to benefit the vessel's process and utility systems. Use of the company's in-house hydrodynamic analysis software ensures that all vessel motions and environmental conditions specific to the installation are considered and accommodated within the system design. A selection of materials and surface protection ensure efficient and low maintenance operation.
Tanker loading systems and cargo offloading/loading hose systems complete Techflow's product portfolio. Techflow marine tanker loading systems enable the mooring of offshore loading terminals securely with oil carriers; and provide safe connections for the transfer of cargo fluids between the vessels. The company's cargo offloading and loading hoses provide a means of safely transferring product from fixed offshore installations to shuttle tankers. The hose is normally used for transfer of crude oil and liquid petroleum products, and the hose range includes submarine and floating type hoses, in configurations to suit various loading facilities and installations worldwide.
Working closely with the oil and gas markets means that Techflow's work has to be performed in accordance with the highest standards, in terms of quality, safety and environmental consideration. Techflow Marine's policy is to comply with applicable health and safety laws, regulations, and requirements, and it is committed to perform work in a manner that protects the health and safety of employees. Furthermore, the company is committed to the protection of the environment and every employee is considered responsible for minimising the impact they have on it. On the company's website, www.techflowmarine.com, managing director Jim Straker emphasises the company's dedication to the environment. Within his environmental statement, he notes the company's aim to reduce environmental harm, minimise the use of energy and other resources and ensure that the principles of sustainable development are operated throughout the company.
Techflow Marine
Services: Specialist products for the oil and gas market