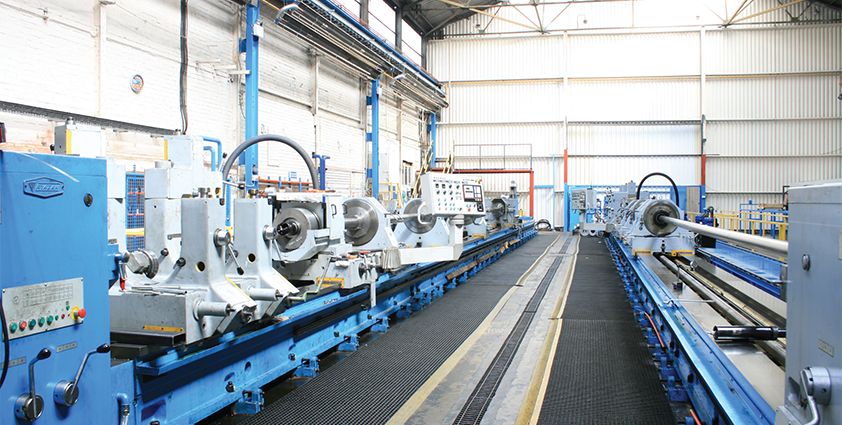 License to drill
Techman Engineering is a UK-based specialist in machining and assembly manufacturing services. Founded in 1990, the company has a vast experience in providing bespoke solutions for its customers.
Five years ago, Techman diversified its operations further by expanding into the oil and gas sector – a move that has fuelled a massive growth for the company. Today its main business area is the manufacture of drill collars. Techman Engineering's turnover has multiplied from £1 million to £14 million in just four years, and it is now dedicated to the oil-drilling sector, working with major clients such as Schlumberger.
Rob Lovelace, the company's general manager, elaborates: "This exponential growth has also resulted in us making some significant investments. These include two deep hole boring machines, which can bore up to ten metres as a straight through bore – making them two of the best of their type in the country. Both required significant investment, as a single boring machine can cost anywhere upwards of £1 million. In the last 18 months, we also received two new 12m lathes that will help to further enhance the services we can provide.
"In addition, we also moved to a new facility in March 2008, meaning that we now have all of the processes necessary to manufacture drill collars under one roof in a dedicated flow – an attribute that makes us near unique to other companies in the industry. The facilities available here now include CNC turning and CNC milling, and we can also provide products with epoxy or fibreglass parts as opposed to just metal. Customers can even fit electronics to the products, if desired. This ability to offer turnkey solutions also significantly reduces lead times for our customers, and is yet another factor that sets us apart from the competition in the market."
The new facility has also provided other benefits to Techman Engineering, as it has allowed it to arrange its operations into a one-piece part flow, using Kaizen principles. He continues: "This industry tends to work in batches whereas we are able to manage the parts as and when the clients require them. The new factory has also given us significantly more space, allowing us to offer other service facilities such as holding finished good stocks for our clients. We can then ship this directly to their end user anywhere in the world avoiding the need to ship to the US, for instance, before they have to be shipped back to their own customers who may be situated back in this direction."
In October 2008, Techman Engineering was acquired by the Schoeller Bleckmann Oilfield Equipment group, the international market leader in oilfield tooling manufacture. Rob discusses the significance of this acquisition: "The company bought us for two main reasons – firstly, because of our knowledge in providing turnkey collar solutions and, secondly, because of our investment in operational capacity and skilled staff allowing us to make a quality product. Being part of such a big group now means that we have the financial strength to weather the recession. We also compliment Schoeller Bleckmann greatly by providing value added activities."
Despite being part of such a large group, Techman Engineering still retains many of the benefits of a smaller company too, according to Rob: "Our clients are always impressed with our company culture, and we still maintain the 'can do' approach of a smaller company. We consider ourselves to be amongst the most pro-active companies within the industry, because we look at different ways of solving the clients' problems. We partner with our clients to make things happen, and we get involved in the design as well as the manufacturing stage for the products they need. One of the crucial attributes that we can provide is helping them reduce costs by simplifying the design of products that they may have over-complicated in some way. We also help support all the investments and tooling necessary for getting their solutions out on time."
With this 'can do' attitude and the support from the Schoeller Bleckmann group, Techman Engineering has remained strong throughout the global recession, as Rob explains: "There is no doubt that much of the industry has come to a complete halt and we are now looking to 2010 to see if oil stocks will deplete enough to affect drilling activity. This has been little more than a brief hiatus, however, and whilst some of the smaller companies will certainly suffer, we are in an excellent position to expand our markets further when the situation recovers.
"Next year will be a slow one for this industry, but we expect normal service to resume by 2011. As it stands today, the fundamental issue in the industry is being overstocked – as soon as these stocks deplete, the industry will return to normal. As long as the oil price remains steady then the industry will return to a good consumption level, and we will look to grow once again."
Techman Engineering
Products: Drill collars