Technica Ltd & GGP Consult
Fuelling the future
Following their recent success on the Aguirre GasPort – Puerto Rico FEED study last year, Excelerate Energy again contracted the services of Technica during May 2014, this time to deliver multi-disciplined detailed design and procurement management services for an LNG import terminal in Port Qasim, Pakistan.
With Pakistan facing growing gas shortages, the need for effective and reliable energy solutions in the region is more vital than ever. Inaugurated on March 28th 2015 with representatives from Engro Elengy Terminal Limited (EETL), Excelerate Energy and the Government of Pakistan in attendance. Pakistan's first LNG import terminal represents a significant step forward in combating the country's growing energy crisis. Located in a channel of the Indus River east of Karachi, the terminal is the result of a fast-track LNG import solution.
"The LNG import terminal in Port Qasim provides gas supplies for Pakistan to ensure continued economic growth," said John Davison, Technica's Managing Director. "Switching from expensive fuel oils to cheaper, environmentally friendly LNG will reduce carbon emissions, decrease road congestion, increase electricity availability for consumers and provide the Pakistan economy considerable fuel savings each year."
Technica's team of managers, designers and sub-contractors completed the original contract on time with the facility being brought into service in only 11 months from the start of the design process to construction completion. Following construction completion Technica were also engaged to provide valuable on site assistance to the site construction personnel during the testing and commissioning of the new facility.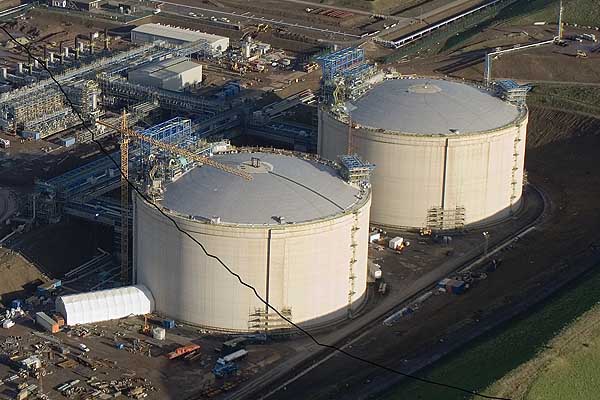 Based in Grimsby on the River Humber, UK's Energy Estuary, Technica is managed by a core of professional engineers who have many years experience in the design, implementation and maintenance of industrial systems. As a result, the company has been able to execute a wide range of multi-discipline projects including design; project management; construction; commissioning and maintenance across the petrochemical, gas transmission and distribution, chemical, offshore and bio methane industries.
Technica Ltd was founded in February 2004, with just three directors. In the following years the company steadily grew and evolved. Now, just eleven years later, the company employs 46 staff ranging from apprentices through to chartered engineers who have managed major multi-million pound projects throughout the world for both clients and contractors.
"We provide a range of multi discipline services from FEED studies right through to final commissioning and handover, we predominantly supply turnkey services including project management, project engineering, detailed design, and construction services to the gas, oil and chemical industries," Technical Director Bryan Creed explained, when asked to give more details on the services provided by the company. "Our clients include the likes of Excelerate Energy, Perenco and Total to name a few."
As well as the recent project in Pakistan, Technica have provided multidiscipline engineering and on site support services to Excelerate Energy on several other high profile GasPort projects in the past. To date they have completed GasPort projects in Teesside – UK, Mina Al-Ahmadi – Kuwait, Bahia Blanca – Argentina and Escobar – Argentina.
Teaming up with Technica again on the Port Qasim LNG import terminal project was Kingston Upon Hull based GGP Consult. Bryan explained that GGP Consult is a specialist sub-contractor to Technica, which has supported Technica on Excelerate's most recent projects. "The success of each of these projects can be put down to the highly experienced Excelerate Energy management team together with the collaboration between Technica and GGP's." he stated.
Jim Gabbitas, Managing Director of GGP Consult Ltd added further details about GGP's role on the project: "The LNG terminal at Port Qasim consists of cap and pile mooring structures, offload platforms and a roadway/pipe trestle linking it to the existing EVTL bulk liquid chemicals and LPG terminal. GGP developed the initial mooring and marine structure concept in-line with international standards, while also providing the most economic arrangement for the metocean and physical features of the site. Mooring arrangements were optimised for a wide range of vessels offloading in a ship-to-ship configuration. GGP Consult developed the civils basis of design and provided technical support and inspection during the construction phase of the contract, furthermore we designed and detailed topside civils structures and the pipeline support civils infrastructure."
The Port Qasim project is the latest example of the on-going collaboration between Technica and GGP Consult, which demonstrates the added value each business is able to afford clients through their shared expertise and values. "GGP Consult have worked with Technica for many years, developing the sea island LNG offloading concept. The skills set of both companies complements each other well, providing a comprehensive service to both offshore and onshore design and delivery," Jim revealed. "Our joint business ethic is compatible with an emphasis on value for money, leading to designs which are economic, buildable and delivered on time. Our staff work well together and a regular, healthy sporting rivalry between us makes for a great team spirit when working together on projects."
Since the company was established in 1994, GGP Consult has grown rapidly and today employs over 60 highly skilled staff. Today the business provides a wide range of consultancy services throughout the UK and over 50 countries globally. Its previous projects include contracts with Technica Ltd, Excelerate Energy and McMurtrie Ltd within the oil and gas industry as well as clients within the education, retail, marine and petrochemical industries. "GGP Consult has continued to build its expertise and reputation as consultants supporting EPC contractors," Jim says. "The skills necessary to achieve success in this role have been transferred to supporting project funders and developers. As such the company's rapid response and delivery to tight deadlines makes it stand out from the crowd. GGP Consult is proud to have supported Technica in developing the Port Qasim LNG import facility and the company plans to double its turnover in the oil and gas industry with work on new developments and decommissioning of old projects."
While the Port Qasim LNG import terminal represents a landmark development for Pakistan, for Technica and GGP it is the latest in a growing portfolio of projects that highlight the added value that comes from collaboration between the respected companies. The company's expertise extends way beyond LNG and as Bryan explained, it is continuing to grow in all areas of the UK oil and gas sector and seeing increased turnover year on year across all clients. "Technica and GGP Consult also work together as framework contractors in the UK gas industry providing design and construction services to National Grid, Northern Gas Networks, Scottish and Southern Gas Networks and Wales and West Utilities," he added.
These projects not only highlight Technica's and GGP's capabilities but also the close working relationship between Technica, GGP and Excelerate. "Excelerate are one of Technica's key clients and we support them on each project that they are involved in – we travel across the globe working with them at every stage of the project, from the initial bid process to final handover," confirmed Bryan. "Technica provide a highly professional service to ensure each project succeeds," he added.
What all these projects have in common is the need for a knowledgeable, reliable supplier. "At Technica we have a versatile 'can do, will do' attitude, and we see a project through from beginning to end working for and with the client, always ensuring they are satisfied with the end product," said Bryan. In addition the company is always ambitious and determined to keep growing and learning, in order to meet the future needs of the market sectors in which it operates: "After a year of restructuring and consolidation making improvements to our internal systems and processes, the next three to five years will see us grow steadily in the design and engineering sector across other industries," noted Bryan in conclusion. "We have plans to develop our offices to provide an additional 25 design and engineering positions to ensure we can meet the increased demands that future growth will bring."
Further information can be found at technicaltd.com and ggpconsult.co.uk.
Technica Ltd & GGP Consult
Services: Multi-disciplined design engineering and consultancy colaboration
Issue 122 July 2015