High-tech solutions
A world leader when it comes to engineering, project management and construction, Technip boasts more than 50 years of international experience, 30 of which have been in the Asia Pacific region.
It offers a comprehensive portfolio of innovative solutions and technologies in its three key activities, those being subsea, offshore and onshore.
"Technip's presence in the region began with the opening of its Kuala Lumpur office in 1982," explains Edgar Pushparatnam, senior vice president of Technip in Asia Pacific and managing director of Technip in Malaysia. "Since then, it has spread its wings to cover almost all of the countries found in South East Asia, China and Oceania to become a leading engineering hub with 14 offices and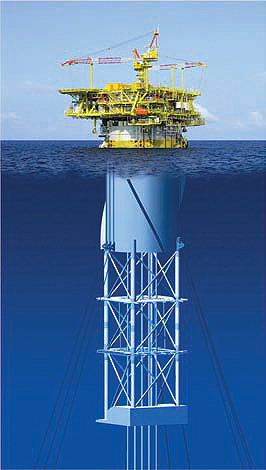 a workforce of approximately 5500 people."
Across its three activities, Technip in Asia Pacific provides a number of technological solutions and engineering services, as well as comprehensive turnkey contracting expertise. In the subsea sector it possesses the ability to design, manufacture and supply both flexible and rigid deepwater pipelines, umbilicals and riser systems. In addition to this it also carries out subsea construction projects, pipeline installation services and heavy lift.
In the offshore market the company is in a leading position through its track record for carrying out engineering, fabrication and installation of not only fixed platforms in shallow waters, but also floating platforms for use in deep waters such as Murphy's Kikeh Spar DTU, the first of such structure to be installed outside the Gulf of Mexico and the first deepwater development in Malaysia. Lastly, Technip in Asia Pacific's onshore activities include work in the fields of gas treatment and liquefaction, oil refining, onshore pipelines, petrochemicals, biofuel and renewable energies, and non-oil activities.
In 2010, the company took another crucial step forward when it established its own flexible pipe manufacturing plant: "Officially opened by the Prime Minister of Malaysia in November 2010, the Asiaflex Products plant sits on a 20 hectare site and is a one-stop-shop where the manufacturing of flexible pipe and umbilicals, the mobilisation of transportation and installation vessels and the fabrication of auxiliary equipment is fully integrated," Edgar says. "With orders from customers in China, India, Vietnam, Indonesia, Brunei and Malaysia, the plant is now very close to where the company wants it to be in terms of efficiency and productivity."
Supporting its subsea and offshore operation, Technip operates one of the best-in-class fleets of subsea pipelay and subsea construction vessels. Today the company's G1201, an S-Lay installation vessel, serves the Asia Pacific region exclusively, with its new build multipurpose installation and construction vessel, the Deep Orient, due to join it in service during 2013.
"The G1201 is equipped with an enhanced DP2 system for large diameter pipelay where high bottom tensions are required or are situated in congested fields," Edgar continues. "For work in very shallow waters, from eight to 23 meters deep, the vessel is unique in that it can deploy an eight point conventional mooring system with the thrusters retracted to allow access to non-DP water depths.
"The Deep Orient meanwhile is a state-of-the-art, subsea construction, flexible pipelay vessel with a length of 132.4 meters. Able to accommodate 120 people, it has been designed to carry a double vertical laying system (VLS) for the deepwater installation of flexible pipes and umbilicals. It will also feature a 250-tonne crane to be used in the installation of subsea structures in either shallow or deep waters.
"Technip in Asia Pacific conducts work for a host of national oil companies and international majors, such as PETRONAS, PTT, Pertamina, Chevron, Total, and Shell. A recent milestone achievement for the business would be the design and construction of Technip's first mid-scale LNG plant in the region, the Hanas LNG plant, which successfully produced its first drop on May 12th, 2012," Edgar enthuses. "Equally important are its ongoing projects and recent awards, for example, the new build FLNG facilities in Malaysia for PETRONAS and in Australia for Shell Prelude. We are also performing the Front End Engineering Design for PETRONAS' RAPID project, an integrated refinery and petrochemical complex in Malaysia, Statoil's Valemon project – an offshore production platform in the North Sea – and Chevron Wheatstone project, an offshore gas processing platform that represents one of the largest platforms ever built."
Operating in a part of the world where the oil and gas market remains vibrant across all sectors, Technip sees business opportunities in areas of deepwater where there are projects and prospects in Malaysia, Australia, Indonesia and China. Another area is LNG and FLNG with prospects in Australia, China, Indonesia and Malaysia. Downstream, more refineries are coming up in Vietnam and China.
As the leading engineering contractor for offshore and deepwater development projects, the company continuously trains more engineers in the region, providing them with the opportunity to acquire the know-how and experience the industry demands. Some of the human capital programmes that have been implemented include training programmes and lectures conducted by in-house experts and external specialists, Talent Management and Succession Planning, mentoring, mobility programme within Technip (geographical and functional).
To drive Technip in Asia Pacific forward, Edgar shares his vision: "We shall strengthen our engineering, procurement and construction turnkey execution capabilities in order to secure a larger market share by increasing the workforce numbers and at the same time build up their capabilities in areas such as deepwater, LNG, FLNG and refining. We will continue to grow our assets, in particular our vessel fleet for the subsea construction market. For continued growth, we will develop new offices in emerging markets. We will also form partnerships with local engineering companies in China, Vietnam and other countries in the region as well as with fabricators. "
Technip in Asia Pacific
Services: Engineering, construction and project management