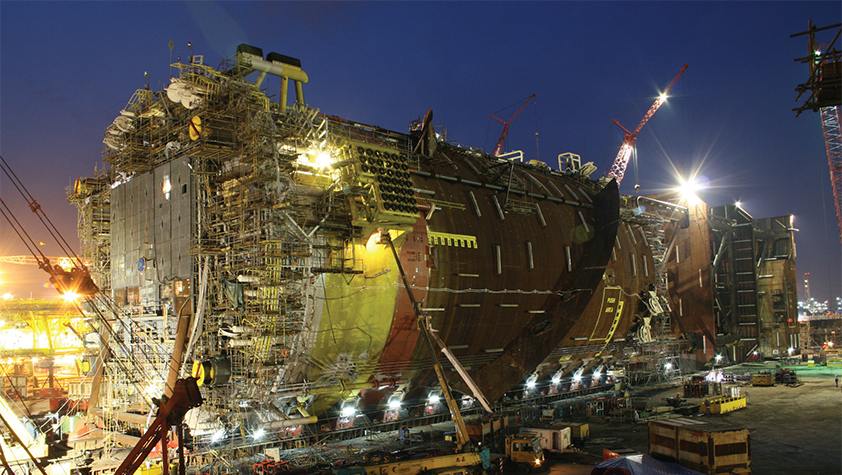 Technip MHB Hull Engineering
First choice partner
Technip MHB Hull Engineering (TMH) is a joint venture between Technip and Malaysia Marine and Heavy Engineering Holdings Bhd (MHB).
The company was established to create a first choice partner for hull design and engineering on floating production facilities that is based in South East Asia.
For its global customers, TMH provides world-class and customer-focused services, delivering robust, safe and fit-for-purpose fabrication-friendly solutions. Based in Kuala Lumpur, TMH operates with a highly skilled team of Malaysian and international professionals.
Maarten Spilker, TMH's MD, explains the benefits that being a joint venture between Technip and Malaysia Marine & Heavy Engineering (MHB) brings to TMH: "The key to successful execution of large oil and gas projects is to understand the complete chain and manage the interfaces. Combining specialised hull and mooring engineering knowledge with Technip's technical and execution strength, while bringing in the fabrication experience from MHB is our winning formula."
He added: "Of course, we also benefit from having a close working relationship with our parent companies, and we have created some good, personal relationships at a working level."
Maarten goes onto give a few more details of the company's main activities: "We provide engineering services for floating offshore structures, with a focus on large production facilities (FPSO, SEMI, TLP, and spars). Our scope of services includes all engineering and design for the hull structure and marine systems, design of the mooring system and integration of the topsides facilities. This is of course complimentary to the fabrication and topsides design services our parent companies provide."
TMH also benefits from the decades of experience that its team can already draw upon thanks to the history of its owners. This background of innovation has created a portfolio of demonstrated technologies that provide overlapping solutions to clients' development challenges.
Indeed, Technip is bringing its experience in delivering some of the largest FPSO units in the world to TMH. Its systems are appropriate for developing large deposits in deep or ultra-deep water, or to start early production for operators' needs. They are also well adapted to regions where few subsea export infrastructures exist. Via Technip's expertise, TMH is also able to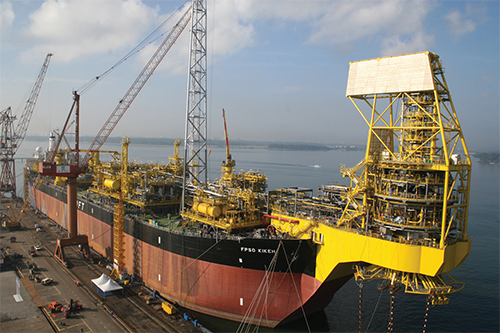 work on semi-submersible platforms. These are suitable for mid and deepwater production and drilling operations with a large topside capability up to ca 40,000 tonnes. Good motions permit the use of steel catenary risers (SCRs) in deep water. Technip is developing its own semi-submersible hull design – to be available globally through its integrated platform for analysis and design software module. This semi-sub hull design is being developed for both wet and dry tree applications.
In water depths up to 1500 meters, the tension leg platform (TLP) offers a cost-effective platform for supporting dry trees. Technip has worked with experienced TLP designers to develop its own conventional TLP design. As a result market-ready designs are available for South East Asia that can utilise tender assisted drilling (TAD). These designs, and others incorporating full drilling, can be readily adapted to other regions.
As part of the TMH JV, Technip will also bring its experience in spar delivery. Technip has delivered 14 spar platforms to date that have been deployed in a water depth range of 590 – 2382 meters using both dry and wet tree completions.
Maarten emphasised that this combination of skills and competences is what is going to set TMH apart from the rest of the competition: "There are very few engineering houses in the region that have all of our hull and mooring engineering capabilities. Historically, FPSOs have been the floating production solution of choice in the Asia Pacific region, but looking forward we will see other solutions coming into the regional market and we have made a commitment to establish the first true all-round hull design company."
In order to achieve this vision TMH has put a lot of effort into streamlining its work processes. "This shortens the time from conceptual sketch to steel cutting machine dramatically while minimising the risk of introducing errors on the way," said Maarten.
TMH has already worked on several significant contracts, with one of the most recent undertakings being a large contract from Shell on the Malikai TLP project, which was awarded to TMH in late 2012. Maarten explained: "The Malikai is the first TLP designed in Asia. Our team of Malaysian and international deepwater experts worked through the conceptual and FEED stages to develop a robust and fit-for-purpose design. Understanding the client's key drivers and translating those into a technical solution proved to be the deciding factors with the contract win."
He also highlighted another project that is underway at TMH: "At present we are executing the conversion and mooring engineering for the Bukit Tua FPSO for M3nergy. This involves the conversion of an Aframax tanker into an FPSO that will be spread-moored offshore Indonesia," he said.
The successful execution of these projects is at the top of TMH's agenda for 2013, and long-term its vision is to become established as a preferred partner in the Asia Pacific region. "We are setting ourselves up to become a trusted regional deepwater expert," confirmed Maarten. "There are very few naval architects and marine engineers with offshore experience in South East Asia. This is a challenge, but also presents an opportunity. Whichever company manages to attract the best local talent and is willing to invest in its development in all possible ways will come out on top. Backed by Technip and MHB we are in a great position to do just that."
He concluded with an admirable ambition for the future: "Many of the regional operators have relied heavily on expertise from outside the region to execute their hull design work. My vision is that highly competent engineers will perform this work regionally."
Technip MHB Hull Engineering Sdn Bhd
Services: Hull design and engineering on large production facilities