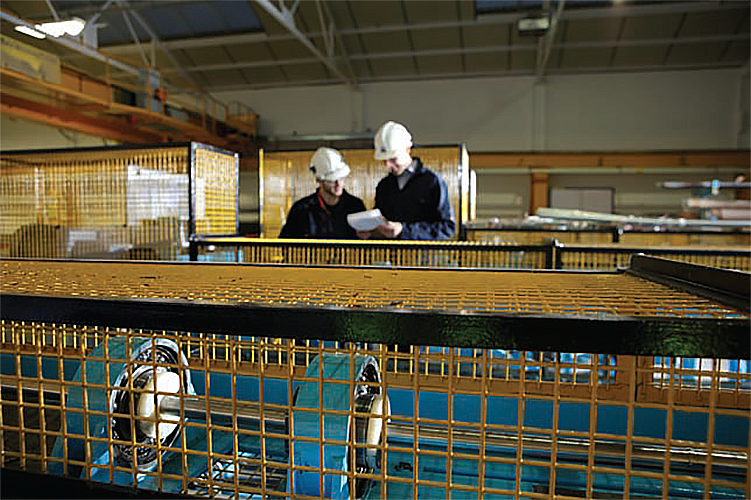 Global Provider
With a history dating as far back as 1977, Technip Umbilicals (TU) has designed, manufactured and supplied subsea umbilicals for the oil and gas industry for more than 30 years.
Formally known as DUCO Ltd., the company has been developing pioneering umbilical designs since the first subsea production systems were installed in the 1970s. Business expanded in the 1990s when these systems became an accepted means of offshore hydrocarbon recovery; the early systems tended to involve short tieback distances installed in water depths accessible to divers, which are typically less than 200 metres, and used umbilicals constructed almost entirely from thermoplastic hose fluid conduits. Technip Umbilicals' track record of thermoplastic umbilical supply showcases some of its previous projects, which contain DUCO manufactured hose.
Steel tube conduits were gradually introduced in the mid-1990s, and their use has escalated in recent years due to increased tieback distances and the exploration of deeper water depths. As such, Technip Umbilicals has been supplying steel tube umbilicals to the industry since 1994, and introduced the first steel tube umbilical to the Gulf of Mexico region in 1995. In some instances, combinations of steel tubes and thermoplastic hoses are employed in umbilicals. Pioneered by DUCO in the late 1990s, this hybrid concept provides the subsea system designer with greater flexibility in optimising the performance of the subsea production system.
Acquired by the Technip Group in 2003, the company today is a major designer, innovator and global provider of umbilical systems for use by the offshore industry. "We operate globally," confirms Technip Umbilicals' managing director Jean-Louis Rostaing. "If you look at our portfolio in terms of current projects we have a lot of work going on in the North Sea, with further demand in West Africa, Asia and Australia. Because of this growth, we decided that integrating our facilities in the UK, the US, Angola and Malaysia was important to show customers that we maintain the same values with regards to safety, quality and ethics as the Technip Group. We changed our name from DUCO to Technip Umbilicals in September 2014, a move that lets our customers know when they deal with Technip Umbilicals Ltd. in Newcastle, UK, or Technip Umbilicals Inc. in Houston, US, they still receive the same level of service in terms of safety, quality and delivery as all segments of the Technip Group." Viewing quality, health, safety and environmental (QHS&E) guidelines as key to safe and efficient operations, the ISO 9001:2000, ISO 14001:2004 and OHSAS 18001:1999 certified company places safety at the forefront of all projects.
Taking the rebrand as an opportunity to continue consolidating and developing best practices across the three additional umbilical units of the Technip Umbilicals Group –Technip Umbilicals Inc., Angoflex Ltda. and Asiaflex Products Sdn Bhd. – Technip Umbilicals is keen to not only evolve with market demand, but also maintain the North East's position asa leader within the subsea industry. "We have invested vast amounts into our facilities to ensure we have the modern assets needed to meet the capacity and capability demands of the current market, whilst also being prepared for future demand. Technology is also a key strength for Technical Umbilicals, as we have developed products that can comply with client application requirements and meet the needs of the subsea market as it moves into deeper waters. Key to these technological developments is our Research and Development Centre in Newcastle,
which is linked with all other research and development centres within the Technip Group; in addition, having a highly skilled and loyal workforce means we have long-term experience readily available in-house," highlights Jean-Louis.
Considered a fundamental part of the division's current and future capabilities, the Research and Development Centre receives a significant amount of revenue to ensure Technip Umbilicals continues to provide groundbreakingproducts and capabilities. Well positioned to handle any challenging requirements in the future, the Research and Development Centre focuses on umbilical/functional component structural improvements to boost performance and reliability, improvements in hardware design to ensure complete protection from harsh environmental conditions, integration of electric power conductors into umbilicals and hardware designs for deepwater dynamic and static service, and the development and improvement of mathematical modelling and analytical tools to further grow engineering capabilities and understanding. With strong links to other Technip Research and Development groups, the team are able to draw on expertise such as flexible pipe manufacture and installation expertise to ensure the optimal installation ability of the umbilical and hardware.
As leaders in technology development, the four strategically located umbilical entities are able to design, manufacture and supply bespoke umbilical products to customers from project inception to project completion. Viewing each clients' requirements as unique, Technip Umbilicals is a specialist in delivering optimised industry solutions to the shallow and medium water markets as well as the ultra-deepwater markets. In fact, the division as a whole has developed umbilicals for the harsh environments of the North Sea and Atlantic Frontier region and ultra-deepwater locations in the Gulf of Mexico and West Africa.
With a strong history of successfully providing thermoplastic hoses to the oil and gas industry, the company's products offer a broad spectrum of control and chemical injection fluids and are available in seamless lengths in excess of 20,000m depending on bore size. Meanwhile, steel tube umbilicals can provide high pressure, corrosion resistance, tensile strength and deepwater and long distance operation. Although diverse in physical characteristics, combining both functional components can deliver technical and commercial advantages.
Having developed a strong reputation for superior services, Technip Umbilicals is currently working on a major contract with Chevron North Sea to manufacture a 28 km umbilical for the Alder field; a critical link in subsea operations as it relays power, chemicals and communications between a platform or support vessel and hydraulically operated subsea equipment. The umbilicals are being wholly manufactured at the Newcastle, UK site to coincide with Chevron's goal to develop the field via a single subsea well. Meanwhile, parent company Technip's Aberdeen operating centre will be involved in the engineering, procurement, installation and construction (EPIC) contract for the project.
"This is an important project for us because we are manufacturing a 28 km hybrid umbilical, which merges our original thermoplastic hose technology with steel tubes," says Jean-Louis. "To take advantage of this demand and meet the needs of our customers, we came up with the idea of combining these two technologies; this innovation is called hybrid because it is made up of both steel tubes and thermoplastic hoses, which thus results in an improved field development solution. The 28 km umbilical will be made up of steel tubes and then wrapped in thermoplastic hoses; this is a competitive solution for a challenging bespoke project."
Having invested in its main facility, equipment and increased plant size over the last four years,in addition to hiring an extra 100 personnel in 2014, the strong team at Technical Umbilicals Ltd. in Newcastle, UK, remains committed to operating within the North East. However, as energy demand continues to grow in developing countries, the company is also keeping vigilant of any potential opportunities further afield. On top of this, Technip Umbilicals maintains its vision of continuous improvement with the implementation of a quality improvement programme, as Jean-Louis concludes: "All of our efforts over the last four years have been with the intention of positioning ourselves as a leader in the umbilical market; over the next 12 months we will continue to consolidate this position and work more closely with clients to anticipate demand in terms of technology and delivery.
"Moreover, we will also be focused on the implementation of our quality improvement programme "Quartz"; this Technip Umbilicalsborn programme has been adopted by the Technip Group and aims to boost quality in all areas of the company, including engineering and manufacturing. These developments have been well received by our clients as it means we can meet their demands in an increasingly stringent and challenging market. We will also be deploying a lot of new products such as aluminium cable umbilicals for deepwater applications and will continue to actively work internally as well as with clients to extend our performance."
Technip Umbilicals
Services: Subsea umbilical systems