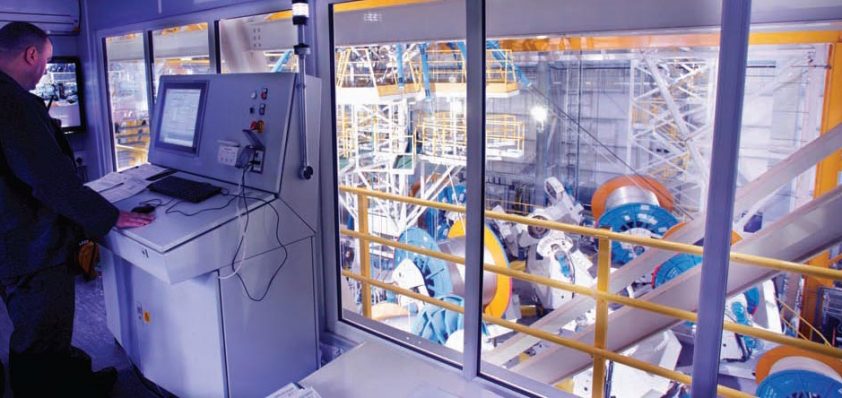 Strength through technology
Technip Umbilicals has an extensive history that began more than 30 years ago. In that time the business has grown significantly to match the increasing demands of the oil and gas market.
With manufacturing locations in the UK, US, Angola and Malaysia, the company's footprint positively supports its global position in the umbilical market.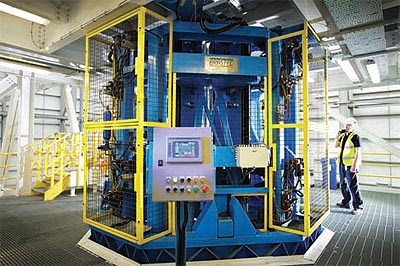 Under the umbrella of Technip Umbilicals, this specialist division has a wealth of experience producing equipment for some of the world's most challenging environments.
"It all begins with research and development (R&D) in Newcastle," says Jean-Louis Rostaing, managing director. Employing more than 30 personnel in its R&D centre alone, the team is fully dedicated to being at the forefront of innovation in the industry and in May 2014 it officially opened a new steel tube umbilical assembly facility in Newcastle upon Tyne. Additionally, manufacturing facilities in Houston, Angola and Malaysia provide support to markets local to these locations.
"Following the same production methods globally, we are able to consolidate our production data and offer the best to our clients. Essentially this means that wherever in the world our clients have projects, we can select a suitable location to manufacture products to a guaranteed high standard," points out Jean-Louis. This collaborative effort ensures that the best practices are observed throughout the business.
Technip Umbilicals was recently awarded the umbilicals contract for the Kaombo project in Angola by Total. As the largest ever project to be received by the company, it represents a significant milestone, both in terms of the growth, but equally highlighting the trust in the business held by its customers.
"All of the project management and engineering will be carried out in Newcastle, with sections of the umbilical manufacturing being conducted in Angola. Our worldwide structure has been designed to cover the anticipated demand. However, we are happy to invest to get a firm footing in new locations, as demonstrated by our investment into Angola where we have increased the capability of the plant to be able to deliver umbilicals requiring carousels. We have also increased the capacity in Houston, where we are currently manufacturing a third carousel. We see that there is a real and growing demand," Jean-Louis highlights.
Technology has for many years proved one of the business' strengths and regular investment of effort into the R&D and engineering departments has maintained this position. "We have established the best practices in terms of designing and manufacturing. There is a strong link between us and the rest of the Technip Group, particularly the R&D department, and this is always appreciated by the client," says Jean-Louis.
Many members of the team within Technip Umbilicals are group experts. With a broad knowledge the business is in a position to deal with any special requirements, even if unrelated to umbilical production. It also supports its customer base, providing a point of contact to offer advice and support on a number of technical matters. There is a strong team with a lot of experience, on average ten to 15 years, but importantly there is a good balance as Jean-Louis explains: "We have a lot of new and quality talent coming into the business, and it is our culture of continuous improvement with no complacency that supports our growth.
"We work a lot with apprentices, regularly taking trainees onboard in new areas of the company. We also operate a graduate programme taking in recruits annually on programmes to be rotated
around different departments throughout their first two years. People management is a strength that we hold as importantly as technology.
"Our third strength is found in our assets. Our new plant in Newcastle is one of our most important assets. The state-of-the-art manufacturing facility was part of the strategic plan. The R&D centre had a strong team but we felt that the infrastructure did not complement their efforts. The outcome is a facility with greatly improved working conditions, and a modern facility that we can show to our clients. It will also enable us to better embrace Technip's shared values of safety, quality and delivery of projects."
Operational since early 2014, the plant in Newcastle has already enjoyed a number of orders, awarded even before the facility was completely commissioned. The orders have come from major clients including Total.
"Globally we are enjoying a very good order book and we see a very active market. We are positive on the market and believe that the investment and focus we have put into the umbilical business will achieve the desired return.
"Technology, people and assets are the three fundamental strengths, but being part of the Technip Group is also shaping our future. When designing and manufacturing umbilicals it is important to take into account the installation process and that is an area in which Technip has vast experience. If we have specific needs, be it technology, resources or information, we are usually able to source this from within the group," concludes Jean-Louis.
Technip Umbilicals
Services: Subsea umbilical solutions