A fast response
For more than three decades, the oil and gas market has been using subsea umbilicals that have been designed, manufactured and supplied by Technip Umbilicals (TU). Indeed, ever since the first subsea production systems were installed in the 1970s, the company has been developing pioneering umbilical designs – initially under the company name DUCO Ltd.
Acquired by the Technip Group in 2003, the company changed its name to Technip Umbilicals in September 2014 after a decision to further align its facilities in Newcastle, UK, Houston, USA, Angola and Malaysia; the move also showed customers that TU offers the same level of service in terms of safety, quality and delivery as all other segments of the Technip Group.


Being today a major designer, innovator and global provider of umbilical systems for use by the offshore industry, Technip Umbilicals has enjoyed continued success since it was previously featured in Energy, Oil & Gas magazine in January 2015, as Managing Director of Technip Umbilicals, Sarah Cridland, begins: "On a personal level, I became Managing Director in July 2015 after working for Technip for 23 years, with 14 of these years based at Technip Umbilicals' Newcastle facility. Meanwhile, when it comes to being awarded new contracts, we have been awarded several projects across the globe in areas such as the USA, Asia Pacific and Angola, which is great when you consider the current challenges within the oil and gas industry."
Key to the company's technological developments is its Research and Development Centre in Newcastle, which is linked with all other Research and Development Centres within the Technip Group. Considered as a fundamental part of the division's current and future capabilities, Technip is investing in the Research and Development Centre to ensure Technip Umbilicals continues to provide groundbreaking products and capabilities. "A few recent innovations I would like to note include CompressiGRIP, a product that improves friction in the outer sheath of the umbilical, enhancing grip and factors of safety during installation; we have been developing this for a number of years and are bringing it to the market as a cost-effective solution for the operator as it allows the use of smaller vessels with a lower top tension.
"We have also designed specially graded aluminium cables for deeper water projects as the material allows a greater strength of product that still has very good conductive properties; it is also cost effective. On top of this, we have witnessed a downturn in the traditional hose market and have developed a fully-qualified high temperature hose that allows us to compete. There are also opportunities in subsea and downhole pumps as these run at a high temperature due to their environment, so this hose means thermoplastic could be used instead of a steel tube; this would offer a more cost-effective solution to clients as a steel tube is more expensive and requires a coating for those temperatures. One thing we try to do is offer a known technology into a new market," she continues.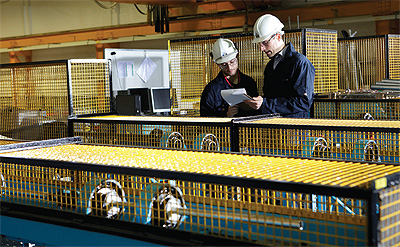 Alongside continued investment in its Research and Development Centre, the company has also focused on upgrading its facilities over the last two years to boost efficiency and quality in equal measures. Two notable pieces of equipment were the vertical helix assembly machine (VHAM) and the extrusion line facilities, which were implemented in 2014 and have since played an integral role in the company winning contracts, as Sarah comments: "Putting the VHAM in place in 2014 meant we could secure contracts with Chevron in Alder, Wheatstone and Lianzi as well as work with Total in Egina and Glenlivet; if we didn't have this machine and the extrusion line for carousels we wouldn't be able to compete in this market. The investment has strengthened the company and it has put us in a strong position going forward."
More recent investments at the Newcastle site include the reel carrier, a specialist piece of equipment that enables reels to be moved around the site efficiently; this investment is particularly important at the moment as the company is producing 23 separate reeled umbilicals for the Egina contract with Total and five umbilicals for Total's Kaombo project. "This project is supported by Technip Umbilicals Ltd. in Newcastle, but is taking place in Houston and Angola; three of our sites are involved, with 23 static umbilicals being manufactured in Houston, seven large dynamic umbilicals being produced in Angola and five static umbilicals being made in Newcastle," explains Sarah.
With a strong technological expertise, Technip Umbilicals continues to respond to changing market demands with increasingly impressive products and solutions. "Moving forward, we will be looking at deeper and more challenging environments and designing and manufacturing products to handle these higher pressures and temperatures. We will continue to adapt to change and remain future focused by looking at value-based engineering and cost-effective technologies while providing the best possible solution," concludes Sarah.
Technip Umbilicals
Services: Subsea umbilical systems