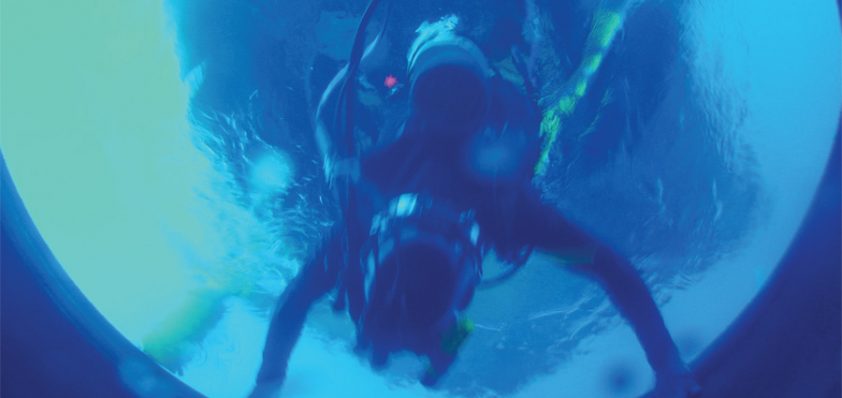 Diving in
Based in Avaldsnes, Norwegian company Techno Dive was founded in 1976 and is an internationally used partner for safe and efficient subsea work.
The company aspires to become the preferred choice for inspections, maintenance and repair requirements in the offshore industry. It provides solutions both for wet work, using divers or dry habitats, using cofferdams. This benefits customers by avoiding the need to dry-dock vessels.
Bjørn Arve Utseth, managing director at Techno Dive, comments on the business: "We've been around for 32 years, making us one of the oldest companies in the oil industry in Norway. Our clients are all leading oil rig and ship owners and we are accredited by all of the major certification companies, Det Norske Veritas, Bureau Veritas, Lloyds and ABS. We work according to the quality system ISO 9001 2000 and we are a member of the Norwegian Achilles Information Centre for suppliers to the oil industry in Norway and Denmark.
"Every five years our clients are required to do a special periodic survey (SPS), the rigs usually go to shore and we do the inspection," Bjørn explains. Any classified vessel needs to perform routine inspections and repairs on a regular basis. While Techno Dive offers underwater inspections, cleaning, repair work and thruster change outs, it also performs mechanical work on valves, thrusters, propulsion systems and transducers. The company uses modern film equipment allowing its employees to record and document any underwater inspection task related to the classification requirements.
Bjørn continues, discussing the company's services: "We have a lot of specialities besides being a normal dive company, such as our unique underwater paint; we can actually paint with a brush and bucket while submerged in water. We use it on areas with big cavitations, or even to seal off small cracks." Techno Dive has extensive experience in performing maintenance and repair work underwater and has a broad assortment of underwater tools and equipment. The underwater paint system is offered to clients after repairs are completed. Epoxy, a synthetic resin used as an adhesive in paint, is utilised as an underwater coating, as well as an underwater adherent and sealing substance for various materials such as steel, concrete, stone or wood. The underwater epoxies also adhere to wet surfaces above water and can be applied under humid climate conditions. The system has been effectively used for die electronic shields around ICCP-anodes, sealing of thrusters and hull cracks, and corrosion protection.
"We also make tailor made cofferdams for clients worldwide, such as the Falkland Islands and Hong Kong. Tail shaft cofferdams enclose the nozzle so that we can work in a dry environment when we replace seals. The company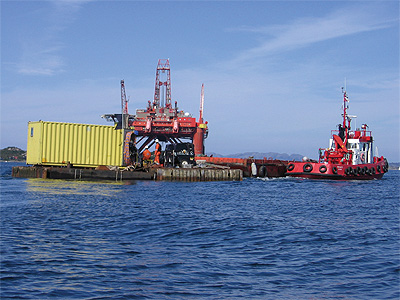 has various seal systems that we do inside of cofferdams; this enables the inspectors to come down and check what we've done. One of our strengths in this area is quick mobilisation; we have mobile equipment that we use when we take on jobs. On other occasions we make use of our three big containers that we send out to places such as Singapore, Africa, Brazil, the US, Mexico and the UK. It depends on the size of the job as to what kind of equipment we use," Bjørn comments. Techno Dive has a substantial range of cofferdams to blank any type of valve, transducer or other subsea equipment.
Over the years the company has developed an extensive set of products and services, and as a result, experiences a healthy flow of business. Bjørn expands: "We have a lot of contracts going on currently, which is a normal activity level for us. We have work now coming up for Prosafe, owner and operator of semi-submersible accommodation and service rigs, and Dolphin Drilling, operator and manager of drilling and work over vessels. We have also just finished a contract with Transocean, in Namibia. The main jobs we see coming up are ordinary SPS and thruster work.
"We have highly skilled divers, two engineers and a lot of equipment that we send around the world. What we try to emphasise is that we can do more than diving; we do both the mechanical part of the job and as well as the diving part, so that our clients don't need to put together more than one company to do the job."
Looking ahead, Bjørn describes where he foresees the company being in the coming years and possible challenges it may encounter: "The current drop in the oil price may affect us a little in the future, but we are confident that it will rise again. There are plenty of opportunities and I don't see any shadows clouding our potential. There are more and more rigs coming into the market and particularly over the previous years there have been a lot of new rigs built with orders being delivered now and for the foreseeable future. As they will need to be frequently repaired I see our business growing; the more rigs the better for us. Our long-term vision is to be a preferred partner for the oil companies, particularly when it comes to cofferdams work."
Techno Dive
Products Subsea work