The right passage
The key to success for TechPart AS is partnerships.
Through the development of a number of strong relationships with some significant players in the offshore industry, the company offers tailor-made solutions, which meet the exact needs of its clients. Although designed and installed by TechPart, these solutions are manufactured by partners, who assist the organisation in the development of high quality products and services.
With this in mind, TechPart has established itself as one of the leading companies offering custom-made acoustical packages for equipment that has very high noise sources, which need to be placed offshore in low noise areas. These packages require some form of filtration in the combustion and/or ventilation air, therefore the company also supplies a wide range of filtration systems.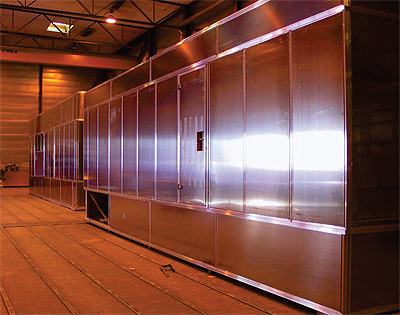 The experience within the business is almost exclusively related to the offshore market, and primarily gas turbines, as they use very high noise equipment. TechPart has extensive experience in this market, which dates back to 1980 and includes the delivery of almost 200 packages.
The company's two key partners are Nymo and Wide Industrier, which are both based in Norway. Nymo manufactures platforms, modules and subsea equipment for the offshore market and also undertakes repair work on drilling rigs and conventional vessels. In addition, Nymo manufactures all acoustical package equipment for TechPart. Wide Industrier supplies air intake systems for both land based, offshore and ship building markets. TechPart works with Wide to develop filtration systems.
Looking at the company's key strengths, Anders Marcussen, one of the founders of the business comments: "Our main strength is that we are small – this allows us to be close to our customers and develop strong relationships with them. As a result, we can react quickly to market demands. In addition, we have an extensive amount of knowledge in the Norwegian offshore market and we know acoustics and filtration requirements inside out.
"Our size doesn't always appeal to our clients to begin with, but once they see the number of jobs we have completed successfully and seen how we deal with our customers, they appreciate the size of the business. We build up trusting relationships with our clients and they can rely on us to deliver high quality productson time and to budget. We are always looking for potential new customers but we understand that the worst thing we can do is grow beyond our means. If we become too large we will not be able to provide the same level of service our customer have come to expect," he adds.
TechPart's product range includes a wide number of solutions for both acoustical packages and filtration systems. Each solution is custommade, and TechPart works closely with its clients to ensure all their requirements are being met. The company's product range, which includes noise hoods, ventilation systems, filter houses and exhaust system, is complemented by complete installation and after-sales services.


TechPart has a wide array of experience in planning and supervising installation activities. The business can offer EPC contracts for large systems in co-operation with Nymo and Peder Halvorsen Industrier AS. Furthermore, the installation is not limited to TechPart's own supplied equipment, but can also be equipment supplied by other companies. Furthermore, the organisation's after-sales services include traditional service work, such as maintenance, and also inspection work, where the business looks over equipment to identify areas that need to be attended to. TechPart can also offer acoustical surveys for equipment that may be causing noise problems. After such a survey the business advises the client, which equipment would be suitable to eliminate the problem.
TechPart's products and services have been used on a number of high profile projects over the years. For example, the company designed, fabricated and delivered the first replacement filter house using the innovative WIDE Infinidry (IFD) filter system for Statoil for use on the Sleipner field in the Norweigan North Sea. The business then delivered a second filter house in December 2005. This year it delivered the last four filter houses – for a total of seven.
The Wide IFD System is comprised of two stages – the inertia separator followed by the Wide Infinidry filter bag. The secret is that the IFD bag drains the moisture out of the air upstream, therefore ensuring that no water falls on the ducting behind the bag or enters the air stream going to the gas turbine. Due to the success of this project, TechPart has secured a contract with AKOP for the replacement of 19 filter houses.
Looking at a recent project, Anders comments: "We are currently in the final stages of a contract with BP. On one of their projects they are installing new bridges, which they discovered would interfere with their existing exhaust system. Therefore, instead of changing the design of the bridge, we are developing a custom-made exhaust solution for them.
"It is projects like this that have helped us to build up such extensive knowledge within the offshore industry. We learn something from every task we complete, and therefore we are continually building on our knowledge base. The main aim now is to find new customers to work with – this will be achieved by continually offering high quality solutions, on time and to budget."
TechPart AS
Products: Custom-made acoustical packages