Safe, efficient and reliable
Founded in 1973, Teekay Corporation is today a recognised international leader in energy shipping. Driven by a strong vision, it delivers exceptional customer service and solutions that meet a diverse range of needs.
At any given moment every day, there are Teekay people and ships performing the work that enables the world's energy to be shipped from source to destination. With approximately 7000 loadings and unloadings a year, the organisation has acquired years of experience and can uphold the industry's highest standards. At the heart of its operations, multi-functional ship teams are fully responsible for the dayto- day operations of its fleet, with each team focused on a dedicated group of vessels.
Every team is equipped to efficiently deliver the entire service process of vessel operations – and supporting these teams are Teekay's dedicated standard and policy groups, as well as its Marine Operations Management System (MOMS), which includes its competence management and performance management systems.
The corporation's expertise is organised into five business units: Teekay Tanker Services, Teekay Navion Shuttle Tankers and Offshore, Teekay Gas Services, Teekay Marine Services and Teekay Petrojarl. These centres of expertise collaborate closely with customers to fully understand their needs and develop tailored solutions to meet those needs.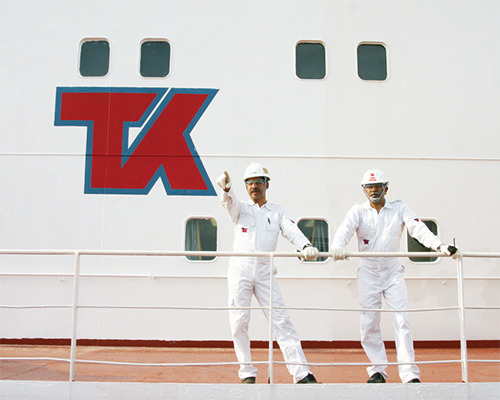 When it comes to tanker services, Teekay is a large operator of medium-sized tankers. It combines a high quality fleet and extensive expertise to offer a full range of flexible, customer-driven oil shipping solutions through its worldwide network of commercial offices.
Teekay is also the world's leading operator of offshore loading shuttle tankers, offering comprehensive shuttle tanker services. In addition, it delivers innovative methods of storing and transferring offshore oil, from floating storage systems to complete export and transportation services.
In the area of LNG, Teekay provides transportation services under long-term, fixed-rate contracts to major energy and utility companies. Additionally, Teekay Marine Services is a global operational franchise delivering the industry's highest standard of shipboard practices and marine expertise.
The fifth division of Teekay Corporation, Teekay Petrojarl is the largest operator of floating production, storage and offloading (FPSO) units in the North Sea and has recently commenced operations in Brazil. With a combined production capability of 350,000 barrels of oil per day and a crude storage capacity of more than one million barrels, it has a long, proven track record in safely operating FPSO vessels in one of the harshest environments in the world.
Teekay Petrojarl operates five FPSOs, two are on each of the Norwegian and UK Continental shelves and one is on the Siri Field off the southeastern coast of Brazil. All production units are under long-term contracts producing for oil and gas companies.
In fact, as recently as June 2010, Teekay announced that it has signed an agreement with Petroleo Brasileiro SA (Petrobras) to extend the operating contract for Teekay's Cidade de Rio das Ostras Floating Production Storage and Offloading (Rio das Ostras FPSO) unit through 2018.
The Rio das Ostras FPSO, which has operated at the Siri reservoir on the Badejo field in Brazil's Campos Basin since 2008, will be re-deployed to the Aruana field in the Campos Basin following upgrades to prepare the unit for its new field. The upgrades are expected to be completed during the fourth quarter of 2010.
During the operation on the Badejo field, the Rio das Ostras FPSO served as a test facility for the production of heavy crude oil, specific to the region. The unit has a total crude oil storage capacity of approximately 214,000 barrels (bbls) and is capable of producing up to 15,000 bbls per day of heavy crude oil.
"The extension of the Rio das Ostras FPSO contract is a reflection of the unit's successful operation during its two-year deployment on the Badejo field, where it has performed with a high degree of reliability in the complex production of heavy oil with a record-low API gravity," said Bjorn Moller, Teekay Corporation's president and chief executive officer. "We are pleased with this significant contract extension in the strategic Brazilian offshore sector, where Teekay also has a growing presence in the shuttle tanker trade."
He added: "This contract extension marks our third FPSO contract renewal during the past year and highlights the progress we have made towards our goal of further improving the profitability of Teekay's existing assets."
Alongside its skills in FPSOs, Teekay Petrojarl can deliver expertise and value in field development planning, logistical services, process design, project management, marine engineering & management and production operations. Through its ownership of Teekay Petrojarl, parent company Teekay Corporation can supply and operate FPSOs through conversions or new-buildings.
Through these five business units, Teekay provides a comprehensive set of marine services to the world's leading oil and gas companies, helping them seamlessly link their upstream energy production to their downstream processing operations. The corporation maintains its strength through its global reach, the size of its fleet, the quality of its people and the highly regarded reputation of its operations.
Teekay Petrojarl
Services: FPSO operator