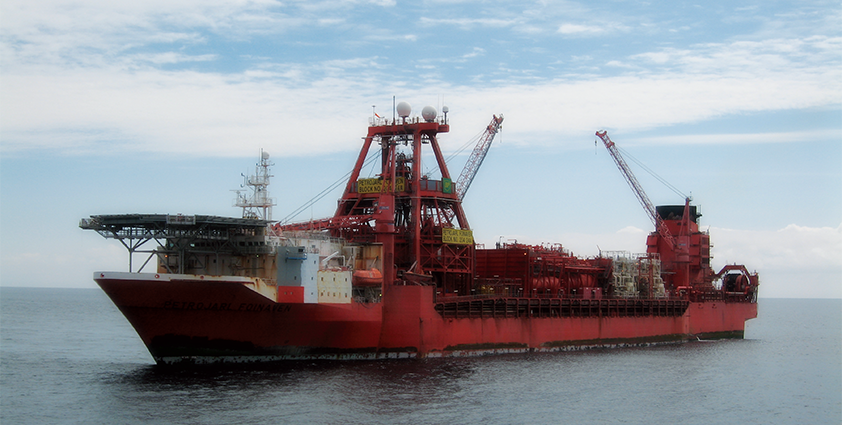 Working from experience
Part of the Teekay Corporation, Teekay Petrojarl is the largest operator of FPSO vessels in the North Sea.
An FPSO (floating production, storage and offloading) is a vessel deployed to produce, process, store and offload hydrocarbons from offshore fields. It may be connected to wells on the seafloor through risers or to a platform, and can be suitable for a wide range of field sizes and water depths.
As Øyvind Jordanger, director of business development at Teekay Petrojarl explains, the company is in fact regarded as the pioneer of FPSO operation for harsh environments, and is very proud of its history: "Our story commences in 1974 when we began as a drilling contractor, but our FPSO journey started in 1984, when we purpose-built the first FPSO, Petrojarl I. Over the following years the drilling side was tapered off and now we are a pure FPSO company, and have gained more than 60 years of combined operational experience in operating FPSOs, with a continuing focus on increasing our safety, environmental credentials and reliability."
Today, excluding its recently acquired Sevan units, Teekay Petrojarl owns and operates five FPSOs – two on each of the Norwegian and UK Continental Shelves and one in Brazil. All production units are under long-term contracts producing for oil and gas companies. While the Petrojarl Cidade de Rio das Ostras previously served as a test facility for the production of heavy crude oil for Petróleo Brasileiro S.A. on the Siri reservoir in the Campos Basin, it has now been relocated to the Aruana field, where it produces a higher throughput of a slightly lighter crude.
Øyvind notes it was the type of oil from the Siri field that set it apart: "This is very heavy oil, of 12.3 API, which is unique. We participated with Petrobras in a pioneering heavy crude oil test production project for three years and following our success, the FPSO contract was lengthened to allow Petrobras to make use of its extended well test capabilities for a further seven years."
Having contracts extended in this manner is a key element of Teekay Petrojarl's business, as Øyvind explains: "That kind of discussion is always underway – so for example, Petrojarl I is ten years into its contract with another two and half years remaining on the contract period, but we are already in discussion about the next contract with potential customers. A successful redeployment is when you have no excess time between the two contracts. To date Teekay Petrojarl has had close to no excess time in its FPSO redeployments.
"In fact, in addition to our current fleet we also have two new units under construction – Petrojarl Knarr and Petrojarl Cidade de Itajai. The Petrojarl Cidade de Itajai is under conversion from an existing vessel at Jurong's shipyard in Singapore, whereas the Petrojarl Knarr is a newly built unit constructed at the Samsung yard. Both are for relatively long term contracts." He adds: "For Petrojarl I and Petrojarl Foinaven, we designed and supervised the construction of our own turret technology. Today we have further exploited this know-how through a joint venture with Framo. This combines our in-house turret and mooring knowledge with Framo's industry leading fluid transfer technology, and is the basis for the Petrojarl Knarr turret design."
As well as these new vessels, Teekay has also entered into an agreement with Sevan Marine ASA (Sevan), for Teekay to acquire three FPSO units from Sevan, the Sevan Piranema, the Sevan Hummingbird, and Sevan Voyageur, along with their existing charter contracts.
Teekay acquired the Piranema and Hummingbird immediately upon closing of the transaction, which occurred on the 1st December 2011. The Voyageur will be acquired when the unit is deployed and has commenced its new charter contract on the Huntington field, which is expected to occur during the third quarter of 2012.
Øyvind emphasises that this new deal is a very exciting and positive step for Teekay Petrojarl: "The Sevan units are of a different design, which extends our market offering," he says.
It is clear that 2012 is promising to be a very exciting year for Teekay Petrojarl. The company cannot take its eye off the ball, as it is pursuing a multitude of objectives. Øyvind gives the details: "We aim to retain our position as the leading North Sea FPSO contractor and ensure the redeployment of existing units (contract extensions). We will really focus on health and safety and will continuously improve Teekay Petrojarl's track record for safety and operational excellence, as well as continue to be recognised for superior project execution and engineering excellence within the FPSO sector.
"We also want to grow our FPSO operations in harsh weather environments, and develop new areas of expertise such as heavy oil production. Finally, we want to grow our operations in regions outside of the North Sea, in areas such as Brazil."
Progress has already been made on many of these targets, with for example, a joint venture that has been created in Brazil with Odebrecht. "One of the key ways to do business in Brazil is to establish local contacts – this is becoming increasingly important. Our joint venture means we will own and operate FPSOs together in Brazil. This approach is not necessarily something for all locations, but for Brazil there really is a demand to have a local partner."
Øyvind concludes: "These are very exciting times for us. We see the market for FPSOs looking good for the longer term, due to a lot of new ultra-deep water drilling rigs being delivered. When the exploration is ultra-deep, then part of the development solution will be a flotation system. There have been some strong statistics published in support of FPSOs, so we are confident that the FPSO market looks good. We just need to continue to look after our customers, keep innovating and prepare for the growth in the business."
Teekay Petrojarl
Products: FPSO owner and operator