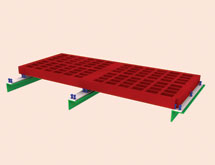 The type of liner in a grinding mill for processing base and precious metals like copper, lead, zinc, nickel, gold and silver is dependent on a number of factors, such as the physical properties of the ore, the speed of the mill, pulp rheology inside the mill, size of the grinding media and the type of media motion required to ensure the target size reduction. So custom design and innovative material technology can speed production and reduce downtime and maintenance stoppages.
"Designing the right liner for the right application is what our forte is," Tega Industries Ltd. General Manager Vinay Grover declares. "So what we do is to study the operating conditions of the equipment and tailor-make linings that are developed in close cooperation with our customers to meet their needs and solve their specific problems.
"We are creating innovative designs for mineral operators," Grover points out. "Some of the designs are patented, and some have evolved within the last couple of decades based on our experience with different materials and minerals and different types of applications that we have done around the world. We have replaced steel with a composite liner design that provides a much better life."
Sometimes introducing new product versions to a traditional industry is a challenge. "Resistance to change is natural to humankind, but as of today, the bottom line of the operation matters the most for the business cycle," Grover concedes. "So the reputation of our company and experience for the last 35 years we have been in the industry adds to our credibility when we go to a customer and show what alternate options we have to solve his problems. So that credential negates the resistance to change, if there was any."
Hydrocyclone Separation
Tega Industries Ltd. also is a major supplier of polyurethane or rubber hydrocyclones used for classification, desliming and dewatering. The company's hydrocyclones are operating in iron ore, coal, chromite, alumina, copper, gold, beach sands and clay.
Tega's screening media manufactured in rubber and polyurethane are used on vibrating screens that separate ore of different sizes. The screening media can be from small modular panels to large, bolt-down panels.
The company also supplies conveyor accessories such as skirt-sealing systems to prevent spillage of material from the conveyor belt and Fri-Flo impact pads to replace rubberized impact rollers under the loading points of each conveyor. They are low-cost but high-utility items that reduce costs.
Among other bulk material handling units Tega Industries supplies are wear-resistant liners for bins or silos. They are made of polyurethane, rubber or both, and can have silicone embedded in them. "There are different types and kinds of liners that we produce for wear zones in silo, bins or transfer chutes to ensure better flowability of the reclaimed or transferred material and to provide better wear life of the steel structure," Grover explains.
Rising and Falling Prices
Grover considers fluctuating metal prices as the biggest challenge in the industry.
"After the last global recession, every stakeholder in the industry has become cautious on investments and growth," Grover notes. "But we are going to see some very good opportunities for growth in the coming few years."
Tega Industries Ltd. has plants in India, South Africa and Chile, and plans expansion in Latin America. "If we can provide them with a global quality product at competitive prices and follow up with unmatched service, I would say overall it's a win-win situation for the customer and for us," Grover says. "The core values of our business have been long-term relations with customers based on mutual advantage and responsibility for our commitments."