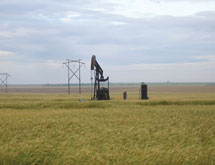 Founded in 1995 as a gas producer operating solely in Tennessee, Tengasco today has moved beyond its origins to become a player in both oil exploration and green energy.
The Knoxville, Tenn.-based company operates four assets: Swan Creek, a gas production field in Hancock County, Tenn.; a 65-mile, 8-inch pipeline that transports gas from that field to customers in Kingport, Tenn.; a subsidiary that cleans and sells methane gas; and more than 170 active producing oil wells in Kansas.
The Kansas oil operations have grown from a small asset purchased as a side investment to become the focal point of Tengasco's operations, a development the company attributes to the guiding vision of CEO Jeff Bailey, who arrived at the publically traded company as an engineer in 2002 and was named CEO in 2005.
Tengasco produces roughly 700 barrels a day from its Kansas operations, accounting for roughly 95 percent of its total revenue. The company has a reserve of roughly 2.6 million barrels, with 1.1 million of those added in the last seven years alone, Bailey says.
"When I became CEO in 2005, I realized Kansas was the future of the company, not Swan Creek, so I refocused efforts on Kansas and assembled a team to do that," he adds. "What distinguishes us from many of the producers out here is that we have a very technical team and have applied new techniques to enhance our production and reduce water."
The company has roughly 21,000 acres under lease in central Kansas containing about 14,000 acres held by production and roughly 7,000 acres not held by production but in various stages of development. Drilling plans for 2012 include 36 new wells, joining the 26 wells it established last year. The company's major customers are ATMOS Energy, a natural gas utility serving the Southeast; and Coffeyville Resources, an oil refinery in Coffeyville, Kan.
Shifting to Green
One of the company's newest endeavors is a subsidiary company, Manufactured Methane Corporation (MMC). The company treats methane and other waste gas produced by landfills and converts it into pipeline-quality gas. MMC also sells converted methane into the electric grid at a premium price.
MMC's patented conversion process purifies landfill gas by removing nitrogen, oxygen, hydrogen sulfide, carbon dioxide, dust, water, other hydrocarbons, sulfur compounds, and siloxanes.
"Landfills, though vitally important and environmentally necessary, are not always popular with surrounding residents. Every community needs a landfill, but people seem to prefer them a considerable distance away from wherever they happen to live," the company says. "Landfills that actually contribute to cleaning the air as they provide a new energy source for area businesses and governments will see their status and image improve, and MMC can make that happen."
MMC gives Tengasco a diversification opportunity in the energy sector. "We're focusing on green energy and power while staying in the gas business," Bailey says. "We're able to survive the pains of current gas prices because the MMC gives us access to much higher markets."
Technical Acumen
Tengasco utilizes a number of technologies to explore for, develop and produce oil and natural gas. "Beginning in 2005, we started to begin drilling in Kansas," Bailey says. "In order to reduce risks we started applying 3-D seismic techniques. Pretty soon, the success ratio of drilling and the subsequent production gains, as well as the price gains of oil in general, began to grow."
The company's wells feature specially engineered designs that focus on the use of polymer applications. "As the production on the Arbuckle oil producing formation in Kansas has aged over the last 80 years, it has been producing salt water, and water disposal management became a problem," he adds. "Having had experience with water management on large scales in carbonate reservoirs worldwide, the Tengasco team set out to customize small-scale applications on individual producing. Other operators in Kansas had been doing these applications for years – some had good success, and others had mixed results, even resulting in ruining wells."
Tengasco's polymer applications include special perforating, candidate selection and blending new petrophysical logs with old producers. "Each polymer application averaged adding about 11,000 barrels of oil to the company's reserve," Bailey says. "We've had a 95 percent success rate on increasing oil production and a 99 percent success rate on reducing cost associated with water production."
The company's technical acumen is the result of Bailey's focus on investing in computer hardware and hiring experienced geologists. "The team we've assembled is second to none, geologically and technically, even when compared to larger companies operating in Kansas," he adds.