Recently acquired by bulk liquid specialist Rubis Terminal, TEPSA is now targeting a new era of efficient logistics solutions
Enabling energy flows
Bulk liquid storage company TEPSA began its operation in 1964 in Barcelona, working from the 7200-cubic-meter terminal on the port's old Contradique Quay. From there, operations accelerated. The year 1966 saw the inauguration of the first Valencia terminal, located on the Turia Quay, also with a capacity of 7200 cubic meters. The 7500-cubic-meter Santurce terminal, situated in the northern city of Bilbao, followed in 1968.
Throughout the ensuing decades, TEPSA has continued working to become a strategic ally for its clients, through effective, flexible, and high-quality service. To-date, the company boasts more than 900,000 cubic meters dedicated to petroleum products, chemicals, biofuels, and foodstuffs, spread across four terminals, located in the main ports on the Iberian Peninsula, following the addition of its Tarragona terminal in 1986.
But TEPSA isn't done making history. One of the most significant milestones in more than half a century of the company's operation arrived in the fourth quarter of 2020, upon TEPSA's acquisition by Rubis Terminal Infra SAS (Rubis Terminal), a specialist in the storage and handling of bulk liquids and gases, such as chemicals, fertilizers, biofuels, and fuels that are fundamental to the economy. Headquartered in Paris, France, Rubis Terminal is jointly owned and controlled by Rubis SCA and Cube Storage Europe HoldCo Ltd, managed by I Squared Capital.
As, Managing Director at TEPSA explains, the acquisition makes Rubis Terminal a stronger, more diversified group. "From the first day, it's been evident that the two companies shared a similar culture, and a willingness to improve and grow together," she says. "It's a move that allows Rubis Terminal to take advantage of a growing Spanish biofuel market, thanks in large part to ample feedstock availability, mainly due to an oversupply of animal fats.
"This creates an opportunity for liquid storage providers with the operational know-how and expertise," Nuria notes. "We are the clear biofuel leader in Spain, thanks to locations close to key producing areas and refineries, multimodal connections, and vertical integration, with the ability to handle raw feedstocks arriving by vessel, send them to production plants and receive them back for storage and onward distribution to the end customer."
Bolstered by the addition of TEPSA's four sites within Spain, Rubis Terminal boasts a footprint that spans continental Europe. The company operates a total of nine terminals in France, where it is the leading independent liquid bulk storage operator. Further terminals in Antwerp and Rotterdam in the Netherlands placed the company at the heart of north-western Europe's product trading hub.
"Our Antwerp and Rotterdam terminals were built according to the latest construction standards to limit environmental impact, including best-in-class Net Zero direct emission facilities," Nuria notes. "The conversion of our Rotterdam terminal from fossil-fuel to biodiesel illustrates the flexibility of our assets: we are emptying, cleaning the tanks, and modifying the connections to safely receive and store biodiesel – a shift that is also taking place at terminals in Spain. Moreover, with storage in our Netherlands facilities comprised entirely of chemicals and biofuels, we have ensured that our terminals are ready for the future of liquid bulk storage."
A core value for both TEPSA and Rubis Terminal's shared vision is a commitment to connecting industries with people through safe storage solutions. "When I look back over the past five years, I realize we have implemented innumerable small initiatives in terms of sustainability and CSR," Nuria reflects. "We've increased energy efficiency with LED lightning; installed more efficient pumps and better insulation in tanks; introduced bio-feedstock storage to help our clients make the green transition; promoted gender equality and employee welfare, and actively supported charitable initiatives. Some actions were small, some were extremely substantial, but none was inconsequential. In terms of CSR and sustainability, every grain of sand, every action, no matter how small, is important.
"Today's market is changing, and we are adapting again, contributing to the sustainability transition as an enabler of new energy flows," she goes on. "Rubis Terminal has more than 200 contracts throughout its portfolio. Each one of these serves as an essential link in the logistics chains of fuel and biofuel companies, chemical groups, agricultural cooperatives, refiners, distributors, and traders, by storing local and imported products. We also provide services such as blending, additivation, and markering, and ensure a bulk transport connection as close as possible to the product's destination."
As Nuria is keen to emphasize, all industries have a role to play in the energy transition, and the storage of bulk liquid products is no exception. An uptick in demand for sustainable fuels and chemicals worldwide is contributing to significant market growth, resulting in an increasing need for storage.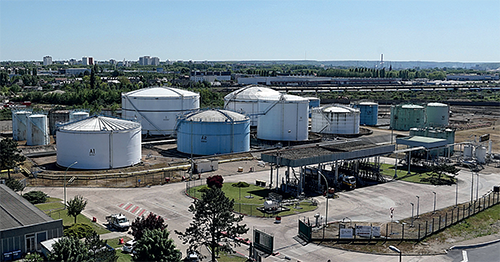 "A global consensus is also emerging regarding the key role to be played by hydrogen in the energy transition, with prototypes now under development," Nuria points out. "Supply chains need to be prepared to meet exponential demand growth once these technologies scale up. Rubis Terminal is already participating in the strengthening of the French hydrogen ecosystem, as part of the Elemanta H2 project framework, developed by Sofresid, which aims to accelerate the energy transition in maritime and river transport, in particular in the port of Rouen."
As it continues to work towards the energy transition, Rubis Terminal has set out its Triple Bottom Line Roadmap under three headings: People, Planet, Profit. "Our success depends on the skill and dedication of our people," Nuria insists. "We have strong ethical, social, and environmental values, and we empower the women and men who work in our company to uphold and promote them. Our corporate culture emphasizes diversity, innovation, and efficiency, and we invest in the growth of our teams through training. In an industry historically dominated by men, we are committed to achieving greater gender-balance in the workplace. Today, 25 percent of members of our General Management Committee are women, and we have a goal to increase this percentage in next future.
"At the same time, 'Planet' signals our commitment to the use of natural resources, and to protect in a broader manner the environment in which we work," she elaborates. "The diversification of Rubis Terminal's product mix towards non-fuel products has led to an increase in the energy consumption of our terminals since chemicals require more heating during storage than traditional fuels. Our objective is now to optimize our energy consumption, thereby reducing our environmental impact, all while meeting the changing needs of our clients. For example, we're already utilizing steam produced in chemicals handling to heat up tanks and office buildings at our Rotterdam terminal."
In 2021, TEPSA Barcelona increased its by train transit by an impressive 50 percent. It's an indication of the company's alignment with the vision of Rubis Terminal, and TEPSA's commitment to becoming more efficient and sustainable in its logistics, a growing concern among clients.
"We have set ambitious decarbonization objectives for 2025 and 2030, and we're refining our trajectory with a thorough review of our assets and operations to reach our sustainability goals," Nuria adds. "We're currently developing projects and strategies aligned with our decarbonization trajectory that will have an impact across all scopes, including investments in pipe heating system controls, land use, and knowledge sharing between our Rotterdam and Antwerp Zero Emissions terminals. We're also set to further diversify our product mix, and engaging our stakeholders where possible in the development of new projects."
Through engaging both people and the planet, TEPSA and Rubis Terminal intend to bolster their own profitability. "We store and enable the distribution of fuels and chemicals that are essential to the world economy," Nuria confirms. "As such, we aim to operate at a sustainable level of profitability to ensure we continue to invest in innovation, decarbonize our activities and contribute to the transition to net zero while upholding the highest standards of safety and efficiency. While providing a vital link in the value chains for energy, chemicals, and agri-food, we work to ensure prosperity for all our stakeholders.
"Looking ahead to next year, huge uncertainty remains," Nuria concludes. "There is a potential for recession on the horizon; our challenge is to help our clients as best we can by remaining flexible. While we have historically supported the storage, shipping, and transportation of fossil fuel products to end consumers, we have successfully diversified our product mix and reduced the share of fossil fuels, which sat at 48 percent in 2021, down from 70 percent in 2016. Moving forward, we plan to continue pursuing efficiency in our energy consumption."
TEPSA
www.tepsa.es
Services: Bulk liquid and chemical handling