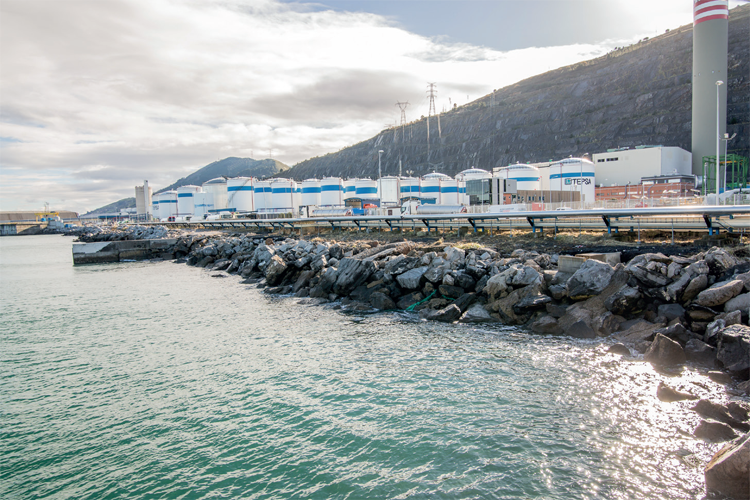 Top tanking
Committed to becoming the best partner possible for its customers, 'every day, everywhere, and in every area' of its expertise, TEPSA is one of Spain's leading bulk liquid storage companies. Boasting more than 32 million cubic feet of storage capacity dedicated to chemical, biofuel and petroleum products, the firm operates from four coastal terminals, in Barcelona, Bilbao, Tarragona and Valencia.
A pioneering independent company involved in the reception, storage and forwarding of bulk liquids, TEPSA began operation in Barcelona in 1964, in an area of 7,200 m³ on the city's old Contradique Quay. Since then, the firm has become an important strategic ally for its clients, devoted to delivering effective, flexible, and high-quality service.
Present in major ports all along the Iberian Peninsula, TEPSA currently benefits from over 900,000 m³ dedicated to petroleum products, chemicals, biofuels and foodstuffs. As of October 2020, the company has been wholly owned by Rubis Terminal, a joint venture between Rubis and I Squared Capital.
"The expertise and common values we have found in Rubis Terminal are a gift for us," TEPSA's General Manager Nuria Blasco declares. "The acquisition process for TEPSA started in 2020
under very special circumstances due to Covid, but we managed to merge companies and teams in a quick and fruitful combination plan. Normally these processes are called 'integration plans', but Rubis proposed a 'combination plan' since the goal was to combine and establish the best of both worlds.
"Rubis Terminal and TEPSA share a common background in terms of business and knowledge, but most importantly, we share a strong safety culture and ardent belief in customer orientation and continuous improvement," Nuria adds. "The differences between us are actually beneficial because they involve geographic footprints, complementary expertise in some business lines, and financial resources to boost expansion. These core strengths and values will support both TEPSA and Rubis Terminal's growth through the development of existing terminals and diversification into new regions and products."
As a member of the highly specialized tank storage industry, it is vital for TEPSA to keep abreast of the latest technologies, requirements and standards. The handling of dangerous goods is commonplace for the business, and therefore, Nuria and her team work tirelessly to ensure that all projects are carried out safely, to the best of the firm's ability, and with full understanding of the risks involved.
Adopting automation
In terms of TEPSA's latest health and safety initiatives, the company is currently stressing the importance of near-miss detection. "We've launched several campaigns around near-miss detection recently because it is a topic that affects everyone at this business," Nuria says. "It's vital that our operators realize they are the best near-miss detectors, as only with their help can we improve."
Elsewhere, TEPSA is harnessing the power of automation to help improve safety and efficiency. By revamping facilities in all four of its terminals, the firm is reducing loading time and increasing reliability.
"We are finding that repetitive processes can be transformed by automation," Nuria explains. "Tasks such as the delivery of the loading order to the driver from the entry scale, and the subsequent delivery of the movement documentation from the exit scale, can now be better performed with technical means – even eliminating the need for a driver to leave their truck.
"Upgrading our installations in all four of our facilities has not only reduced loading times, but also increased the consistency of our service. This is thanks to new meters, counters and a completely automatic system from the arrival of the driver, to their time in the parking lot, to their exit from the terminal with the product and the delivery note. Additionally, the new technology includes the booking of slots for loading, which has proven to be even more efficient than expected!"
Of course, TEPSA does not rely wholly upon automation; the company is predominantly driven by people. As of June 2021, Nuria is proud to lead a team of more than 150 dedicated employees at the business.
"We can have modern facilities located in exceptional places, with the most advanced technology on the market, but none of it matters if there is not a group of great people behind it all," the General Manager asserts. "For TEPSA, the human aspect is really important. We train people so that they can develop as part of this organization, but we also take care of each one of our team members individually. I know practically all of them by name and I could even tell you something about their families. It is safe to say that almost 100 per cent of TEPSA's success is a result of our fantastic team."
Flexibility and dedication are some of TEPSA's most recognizable values, along with a deeply ingrained respect for sustainability and the environment. In recent years, the firm has become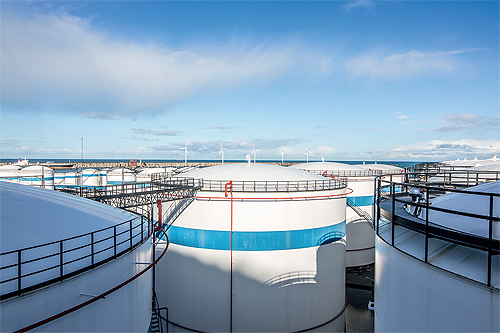 an expert in WMed when handling biofuels and biofeed stocks.
"We have been pioneers in the biofuels segment from the very beginning and, over the years, have gained a reputation as a green and sustainable storage terminal," Nuria reveals. "We were the first company in Spain installing biofuel online blending and since then, we have continued to grow in that sector.
"Today, we handle biofuels and biofeed stocks from different origins in all four of our terminals. These products have very specific needs, but we benefit from vast expertise in chemicals handling and we have the proper infrastructure in terms of tank size and ancillary installations.
"We also have all relevant permits in place to handle bioethanol and wastes – a key differentiator over our competitors – as well as a complete set of connectivity from train, to truck, to vessel and pipeline. This last part is critical for our clients and means we offer a complete logistics service from raw material to final product."
Committed to growth
In May 2021, TEPSA completed Phase II of an expansion program taking place at its Tarragona site. After adding four 15kcbm tanks, the site's total capacity now tops 90kcbm, with the ability to increase to 110kcbm in the near future.
"We are now launching Phase III of the Tarragona expansion, with six additional tanks set to be added in a combination of stainless steel and mild steel, and fitted with heating and vapor recovery systems," Nuria reports. "We see very bright opportunities in the port of Tarragona, both in relation to the hinterland in an industrial terminal model and in relation to hub activity, thanks to our extremely proficient infrastructure. Our experience in the biofuels segment is also key in this region, where several developing projects are taking place."
As Nuria indicates, TEPSA's long-term vision is deeply rooted in growth through biofuels, with aspirations for the business to become stronger, greener and larger over the course of the next decade. Now an integrated part of an international group, TEPSA is ready for its next challenge, growing sustainably as it continues to help clients negotiate the challenges of their supply chains.
"Ultimately, I think what sets TEPSA apart from other terminals is our flexibility, our commitment, our service orientation and our green business line, alongside a complete service offering that helps clients to improve their supply chain," Nuria points out. "On top of that, a dedication to intermodal ship-train-tanker traffic has led us to achieve a minimum daily train volume every single day of the year.
"I think the secret to making the business particularly efficient is our willingness to tackle our mission, while still respecting our comvalues. Our goal is to become the industry's benchmark for the reception, storage and handling of bulk liquids. Our values are our rationale; the guarantees that endorse our commitment to the future: to generate the best solutions for each client.
"We love our business and we love helping our customers optimize their logistics in a safe and seamless manner," Nuria concludes. "This quest is part of TEPSA's DNA. It has not changed over the years, but it has improved – little by little, day by day. In summary, we remain committed to growth as a way to consolidate TEPSA as a key access and distribution company serving both the north and south of Europe."
TEPSA
www.tepsa.es
Services: Bulk liquid storage