The drive to succeed
TESCO leads the industry in innovative permanent magnet motor top drives. The company is a global leader in the design, manufacture and service of technology-based solutions for the upstream energy industry and is focused on bringing cost-saving technology to the oil and gas drilling industry.
TESCO is a leader in research, development and supply of innovative products and services to reduce drilling and casing running costs, and improve safety and efficiency. In addition to being the industry's leader in CASING DRILLING® technology, the company has an industry-envied reputation and experience level with its ECI top drive systems with reliable and powerful permanent magnet motors.
"We have over 150 permanent magnet motor top drives successfully and safely deployed worldwide," says Lyle Hopkins, TESCO's top drive sales manager in Aberdeen. "Several 500/650 ECI 900 top drives are available for rent from TESCO's Aberdeen facility.
"Our new maintenance centre in Aberdeen offers our customers a high level of quality and flexibility," Lyle continued. "Its primary function is to service and repair Tesco Corp. top drive units for its ongoing operations in the North Sea, Norway, Central Europe, Russia and Africa. The 18,000 square foot facility with a 20 tonne overhead crane and three main service bays provides capacity to service four top drives simultaneously."
Permanent magnet motor benefits
TESCO now offers two top drive drilling system models with permanent magnet motors, the most in the industry. Permanent magnet (PM) motors are smaller and lighter weight than conventional electric motors used in most top drive systems and are extremely power dense when compared with AC or DC motors. For example, a 450 lb PM motor can produce as much horsepower and torque as a 1,200 lb AC or DC motor typically used on top drive units. The weight savings can be critical in offshore applications.
Unlike synchronous wound motors that use wire wound rotor poles, PM motors work with high strength magnets mounted to the rotor to provide the magnetic field that interacts with the electrical windings to produce torque. Additionally, a PM motor utilises fewer parts than an AC or DC motor. Brushes are eliminated, for example, providing a higher degree of reliability and easier repairs when necessary.
The liquid cooled motors that TESCO uses are completely sealed, eliminating potential problems with moisture in the units and contaminants during the cooling process, prolonging the life of the motor. Also, TESCO's PM motor top drives can be operated at reduced horsepower and torque should one of the motors require repair, unlike other top drive units that must be completely shut down while repairs are made to the AC or DC motor.
TESCO's permanent magnet motor top drives
TESCO's first top drive with PM motor technology was its 500/650 ECI 900/1350 units, with rated capacities of 500 or 650 tonnes and 900 or 1,350 HP. The 900 HP units utilise two PM motors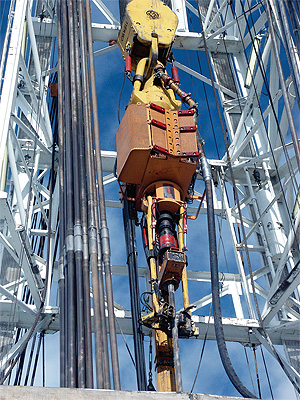 while the 1,350 HP top drive uses three PM motors. The 500/650 ECI unit has been offered to the oil and gas industry for more than ten years and is still available for rental or sales.
The latest top drive utilising PM motors is TESCO's 750ECIX 1350/1500 unit, featuring a new variable frequency drive (VFD) and up to 1,500 HP. Both models are available as CE marked and ATEX certified.
The 500/650 ECI 900/1350 unit is compact enough to fit into any triple mast and provides the performance and pipe handling features required for medium and deep drilling applications. It includes a uniquely engineered power system suitable for all drilling requirements and is compatible with most 600V AC rig power systems. The 500/650 ECI 900/1350 unit is available with an integrated swivel or it can be used with the customer's swivel.
The complete system, including the top drive, torque system and power unit, can be installed in less than one day, and usually with no rig modifications necessary. The unit can be interfaced with the existing power supply with minimal degradation to rig power. The system is monitored with a dedicated diagnostic computer and specialised software.
The PA44 PM synchronous motor has been successfully tested to 60G triaxial loading, making it ideal for use in rough drilling environments. The system's modular design allows drilling to continue at reduced HP should one of the motors need to be shut down.
The ECI system also offers an expanded suite of hydraulic pipe handling functions including elevator, link-tilt, an extend/retract feature for making mousehole connections up to 60-in. from well center, 360° pipe handler rotation, and grabber. The grabber also acts as a backup tong for making or breaking connections and can accommodate tool joints from 3-in. to 8 ¾-in. OD.
750ECIX is TESCO's newest model with PM motor
TESCO's newest top drive model, the 750ECIX 1350/1500, utilises three 450 HP PM motors to deliver 1,350 HP at the quill, with a high performance upgrade that will deliver 1,500 HP with the same PA44 PM motor but with 500 HP each.
The VFD system uses the new eDrive™ interface between the VFD and the DRS Power Technologies PA44 PM motors. The combination of the VFD and the PM motors is a master/slave configuration of three drives and three motors compared with a typical VFD and single motor configuration. The result is that the 750ECIX 1350/1500 top drive will continue to operate at reduced horsepower and torque output in the event that a VFD or motor should fail.
The VFD is programmed to allow the PM motor top drives to operate at constant speed when drilling ahead or at constant torque when making or breaking the drillstring. Additionally, the VFD allows a combination of speed and torque limits to be set.
The air-cooled eDrive is based upon commercial drive technology, simplifying maintenance and repair and reducing the cost of ownership and operation. Most rig-based electricians would be familiar with the commercial-based design, resulting in maintenance and repair to be carried out on the rig and reducing non-productive time and costs.
The 750ECIX 1350/1500 includes an integrated swivel configuration that eliminates the oilfield connection typically required between the top drive quill and the swivel. The result is a shorter and more reliable load path. The grabber can accept drillstring up to 10 ½-in. diameter.
"The PM motor top drives are only two of TESCO's innovative technologies to provide its customers with better ways to bottom," Lyle said.
Tesco Corporation
Products Drilling systems