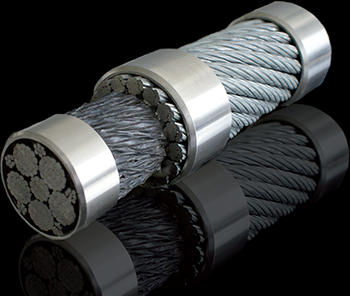 Tying up the market
Teufelberger is a group of companies operating in the development and manufacture of ropes and plastic strapping.
Its roots extend back to 1790 and the foundation of a hemp rope workshop at Bad Wimsbach, Austria, but its modern history began in 1961 with production moving from natural to synthetic and metal fibres. The Bad Wimsbach facility relocated to Wels, Austria, in 1901 and to this day remains the group's headquarters; four more production companies have been added through acquisition including two further in Austria and one each in the Czech Republic, and the US. Furthermore, there are two sales offices in France and Sweden. The most recent addition is the Swedish branch, Teufelberger AB, which was originally Robship AB and acquired in September 2011.
The products produced by Teufelberger are broadly organised into three categories: fibre ropes, extrusion strapping and baler twines, and wire ropes. Managing director Roland Konrad talks in more detail about the products: "In the wire rope division we are focusing on high-performance steel wire ropes for cranes on offshore platforms, harbour and industry, ropeways, and logging applications. Fibre ropes are used in marine applications as well as high performance ropes for industry, forestry, arboriculture, and special-purpose applications such as overbraiding and metal-composite interconnections. Extrusion products include plastic strapping and baler twines.
"Our high performance ropes ensure the movement of people and goods worldwide. We are the innovative partner of our customers, with whom we are creating tailor-made and superior solutions. We continue to develop and refine our products and services by responding to changing market demands. The ongoing innovation of processes and products – in line with our customers' needs – makes us stand out."
When it comes to oil and gas, Teufelberger has a portfolio of high performance and eight-strand steel wire ropes, all of which are manufactured at the group's two Austrian facilities in Wels and St Aegyd. The range includes Evolution TK 16 and TK 18, two rotation-resistant ropes, and three non-rotation resistant eight-strand ropes QS 816 VC, 816 V, and 814 VG. Performance enhancers that can be applied include Plastfill, a lubricated core enclosed in a synthetic coat for greater resistance, and the Superfill compaction method that offers up to 30 per cent greater durability and breaking forces.
In 2009, German family-owned construction equipment manufacturer Liebherr delivered the world's largest offshore crane to OSA Goliath. The MTC 78000 heavy lift offshore crane offers 1600 tonnes lift capacity and, aboard the Goliath, was put to work in the Gulf of Mexico. Operating at the upper extreme of the offshore construction market meant it needed sufficiently high performance ropes and to gain this Liebherr approached Teufelberger. The rope manufacturer provided Liebherr with nine steel ropes totalling 90 tonnes and more than 7500 metres in length. This is just one example of the groundbreaking work Teufelberger has been involved with.
The group has found that, as the offshore industry moves into deeper waters and more extreme environments, demand for Evolution TK 18 has increased because of its superior performance even at larger diameters and lengths. It is available in sizes between 44 and 70 millimetres and offers the lowest twist profile in its class, achieved through the introduction of five big inner strands that provide stability against lateral pressure. Both Plastfill and Superfill technologies are used to reinforce the product's performance, making it an ideal solution for heavy-duty offshore cranes and subsea winches.
"Research and development (R&D) is one of our key focuses and key strengths," Roland says. "As a company we are well aware that continuous improvement keeps the quality and performance level of our products at the forefront of the market. We believe that our survival into the future can only continue if we remain at the leading edge of technology, thereby sustaining our good reputation and quality of the final product."
Teufelberger has its own product research workshop: Rope Technology Centre, located at the group's Boehmerwaldstrasse site in Wels. This facility was opened in September 2007 after a seven-month construction period and for the past five years has offered automated testing, detailed simulation, and measurement and analysis services for steel ropes. Results are implemented directly into the improvement of existing and development of new ropes, with Evolution TK 18 being just one example of the centre's R&D.
"Every industry is challenging because quality, service, and price have to come together into a package that the customer appreciates. This can be difficult," states the managing director with a view toward where Teufelberger might develop. "The market at present is volatile in ways that it has never been before so this makes it even harder to see where the company might be in the future. Nonetheless, looking forward, we want to continue increasing volume and market. To do this our investments into R&D, quality, and productivity that support this growth will still be the focus of Teufelberger's business development."
Plastfill and Superfill are registered trademarks of Teufelberger
Teufelberger
Products: High performance rope and cable