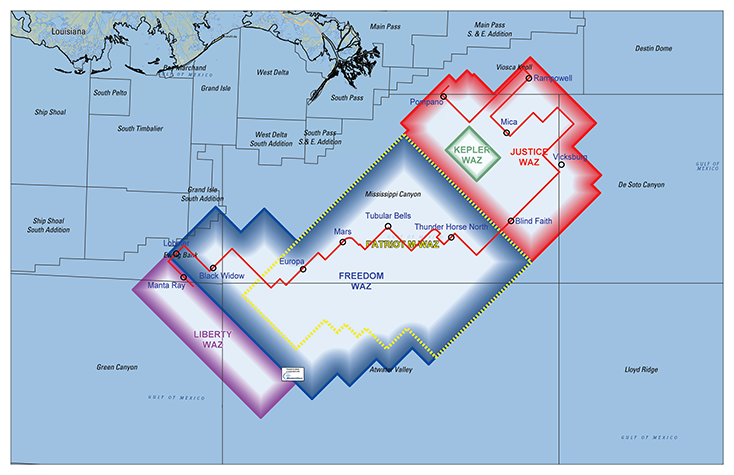 The science behind
When it comes to the exploration and production (E&P) of oil and gas reserves, companies are increasingly finding the value in high quality geophysical and seismic data in pinpointing new discoveries and maximising returns from existing fields.
Over the past 30 years TGS has stayed in step with these demands through its philosophy of gathering high-quality data in the right place at the right time.
By investing in multi-client data projects in frontier, emerging and mature markets worldwide, TGS has built an extensive library of 2D and 3D seismic data, well data, magnetic and gravity data. The company also offers other products and services in the fields of geophysical, reservoir, and geological data, such as advanced processing and imaging services, interpretation products, permanent reservoir monitoring, and data integration solutions.
Following TGS' asset light business model, the company contracts other companies to acquire the seismic data, which it then processes and adds to its library, before licensing it to oil and gas companies investing in E&P around the world. In 2012 alone TGS has invested approximately $475 million in geoscience data projects, and in turn sold up to $900 million of licenses to oil and gas operators of all sizes.
This year has also seen TGS make two new critical business acquisitions – Volant Solutions and Arcis Seismic Solutions. "Ever since we became a public company we have typically carried out one or two merger and acquisition transactions each year," elaborates Robert Hobbs, CEO of TGS. "The majority of these have been orientated towards acquiring technologies that will help generate value for our library, or data processing capabilities. We have also acquired companies that have different data types that we feel would be complementary to our data library.
"In the case of Volant Solutions, we have increasingly been moving into products with unstructured data types, such as production data or wellhead information from wells. As such, we required a technology that would enable us to manage and deliver that data to our clients in such a way that they could easily import it into their own interpretation applications, and Volant fitted this profile," he continues.
The acquisition of Arcis Seismic Solutions on the other hand was largely driven by the wider growth of TGS in the area of onshore data. Historically the company has focused all of its activities and investments in marine data collection and processing, but as of this year, has also branched into land-based data. "What has become more important to the global oil and gas industry is hydro-fracking technology, and the reserves that have been identified in onshore areas because of that development. Initially when oil companies started using this process there was a lack of recognition of the value that geophysics could bring in understanding these unconventional reservoirs, but this has now changed and so we have seen this as a key opportunity to invest in onshore data. As well as in the US, unconventional plays are also becoming more important in Canada so we took the opportunity to acquire Arcis – not only to give us a foothold in this market but also to provide processing capacity for this type of onshore data," describes Robert.
One acquisition that TGS hopes will develop is Stingray Geophysical Ltd., which was acquired in 2011. With the discovery of new reserves becoming harder and harder, oil companies are increasingly looking at how to improve their recovery factors on existing assets. On average only a third of the hydrocarbons in place have been extracted when an oil company abandons a field, and so TGS believes that geophysics will play a more important role going forward in helping address this.
"The acquisition of Stingray was a strategic move for us to get into the production side of the industry, and in keeping with the asset light stance of the company," explains Robert. "By not owning our own seismic vessels and land crews, we are not only much more flexible in the projects we take on, but we also benefit financially. Our strong balance sheet is a key business advantage, as our customers have the confidence that we will deliver on our project promises. Furthermore, as a technologically neutral company we make use of all available acquisition technologies and processes to solve specific problems as opposed to pushing one single technological platform."
Over the last year one of the areas that has featured heavily on TGS' radar has been Angola. The company has spent the last 12 months acquiring seismic data in the area, and has recently announced an extension of this work in 2013. Much of the interest in the area goes back to the formation of the world's continents in the past when Angola and Brazil were joined. With significant pre-salt reservoir discoveries made in offshore Brazil, a similar geology is expected in Angola and as such oil companies are keen to acquire recent high quality 3D data to aid exploration of the area.
"Another area we have been investing in is the northwest shelf of Australia, where there is a desire for gas reserves to feed the large LNG investment that has been made to supply the Asia-Pacific region. We also see a lot of potential in many of the frontier basins around the world such as the Arctic. The industry believes that there are enormous reserves to be discovered there and geophysics is going to be very important to help reveal those," highlights Robert.
Having spent $288 million on geophysics projects in 2011, TGS' forecasted spend for 2012 indicates the growth the company is seeing in its core market. In the mid-term the company doesn't see this dipping as the oil companies continue to look to seismic data to help identify replacement prospects. "What's important to us beyond this is that we focus on what we're really good at, which is identifying and generating good multi-client geoscience projects, at a quality our clients have become accustomed to," reveals Robert.
"On the whole the industry has done a good job of investing in computing technologies, and the ability to process larger and larger 3D data sets has allowed us to do things like wide-azimuth data collection. This technology is recognised as being critical to structurally complex geological areas, and given the developments in the market, is something we will continue to see grow. Because many of our employees are exploration experts or geologists and geophysicists from oil companies, we recognise what our clients want, and our task is to make sure we acquire data in basins around the world before the market gets there," concludes Robert.
TGS
Services Multi-client geoscience data, permanent reservoir monitoring, imaging and processing