The complete package
Formed in 1977 as Dutch Diving in response to the growing demand for subsea inspection, repair and maintenance work, Bluestream is a key supplier of support services to the oil and gas industry.
The organisation is made up of a number of companies that specialise in operating diving support vessels, rig- and platform based diving, ROV, survey, rope access and engineering services. These companies are dedicated to the group's emphasis on high-quality and safe provision, and include Bluestream Subsea Services BV, Access BV, Subsea Services Ltd, Subsea Solutions ltd, Survey Ltd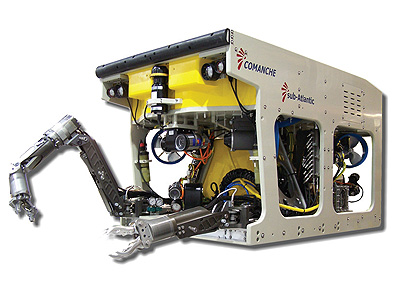 and Shipping Ltd. Employing over 150 highly skilled employees, the company holds its main office in the Netherlands, as well as maintaining offices in Aberdeen in the UK.
With such a comprehensive range of specialist divisions, Bluestream's charter capabilities and construction services are of the best in the industry. The organisation offers unrivalled flexibility in its services, working to the premise that every client has individual needs and that each project has its own specific requirements. Rolf De Vries, commercial director of Bluestream, outlines the group's history: "We were originally a diving company and we developed over the years to encompass a more general approach to the offshore market. We changed our name to The Bluestream Group in 2003, and have since seen rapid growth. We have two longterm charter vessels; Northern River and Toisa Paladin, which are fully equipped with an air diving spread and the Toisa Paladin with a built in Saturation diving installations, both vessels are equipped with state of the art Sub Atlantic ROV's and a heave compensated crane.
"We can take on all kinds of subsea occupations and we function to assist main contractors, and oil companies with subsea construction, installation and maintenance work," he says. "We also have a dedicated team of engineers that works on a range of rig and platform based diving and ROV operations, as well as a rope access department that operates both onshore and offshore to conduct inspections or installation work at a height, by rope access climbers."
The Toisa Paladin vessel has recently completed a contract in India for the Reliance project. Bluestream has recently installed R2S technology, which enables it to record 360° spherical visual images in multiple data formats of the operating vessels. The Toisa Paladin is now preparing for its next project in the North Sea. The company maintains a policy of always looking for new opportunities and is willing to send its two self-supporting vessels anywhere in the world.
The organisation implements a strong safety, health, environmental and quality policy, dedicating its services to maintaining a working environment where no one gets hurt and nothing is harmed. Employees are encouraged to manage their performance in a responsible manner considering their surroundings and the safety of others. The R&D department aims to reach ethical and quality targets in the design and implementation of new equipment and processes. Training and education are a key part of Bluestream's policy. Its offices contain lecture and training spaces so that every employee has the opportunity to learn and gain understanding of the responsibilities that come with the job, and how to carry out operations in an ecologically safe and conscientious manner.
Bluestream is on a mission of constant improvement, spurred by the phenomenal success it has seen in recent years. Rolf explains: "The company has been privately owned since its beginning and has grown from seeing a turnover of five million to 50 million euros in three years. This has naturally had a big influence on the way the company is structured – it has been professionalised. We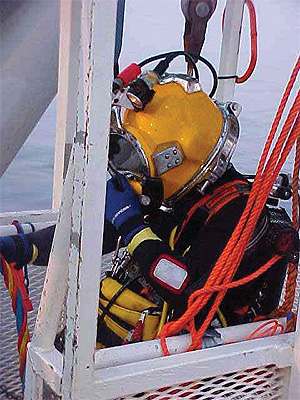 have implemented a new board of directors and the company is now in the next league of the offshore market."
However, the organisation has seen negative changes in the last two months in the amount of work available and the capacity in the market – the industry has become more competitive as companies fight to land the remaining contracts. Bluestream has had to delay its aggressive growth plans of six months ago to focus on its niche abilities; tailoring its specialised provision to the expert sectors of subsea construction work, rather than fighting in the general market place with larger vessels and contractors. Its flexibility of service enables the company to offer the most competitive price for a tailor made solution on ROVs and smaller vessels.
Rolf believes that Bluestream has the staying power, to survive the financial crisis and gain opportunities to progress: "I think everyone in the industry has generally accepted that the low oil price will eventually come up again, it is just a case of when this will happen – it could be this year or it could be 2011. I think that most of the investments in the North Sea will be influenced by oil price; when it is low it will hurt our business, but as soon as it becomes acceptable to our clients it will pick up again. All we can do in the mean time is remain attractive and competitive, and look for good opportunities in the niche market."
As a multi-disciplined, experienced supplier of services to those in the oil and gas, petrochemical, telecom and wind energy industries, Bluestream is growing to become one of the key players in the business. Covering the fields of installation, repair, inspection and maintenance, both onshore and offshore; the organisation is able to combine its knowledge to create a personalised solution, reaching the requirements of the niche market, as well as developing to compete with larger companies in the future.
Rolf highlights his aims for the coming years: "Growth is the main aim to achieve a certain stability. Gaining new vessels will bring more opportunities for our clients, as well as stabilising our cash flow and portfolio for the future. We want to develop to be even more attractive to customers and to gain a kind of familiarity with the company in the market. We are a familiar, organised business that maintains happy working relations with its clients, and we'd like this to be recognised in the industry. In the long-term I see plenty of potential for the company."
The Bluestream Group
Services Subsea surveys, installations, maintenance and repair