Fuel for thought
In supplying 1000ppm marine gas oil to vessel owners and operators in the offshore and shipping industries, The Geos Group is recognised today as being the largest independent marine fuel supplier in the UK. The group's history dates back to the early 1990s, but, as The Geos Group's Commercial Director, Adrian Proctor explains, the key turning point came when its Managing Director, Barry Newton, transitioned his business from being a trader in marine fuels to a physical supplier.
"Initially, the group's primary activity was the buying of selling of other people's fuels," he says. "What followed was a shift into the buying, moving, storing and selling of fuel on a physical basis,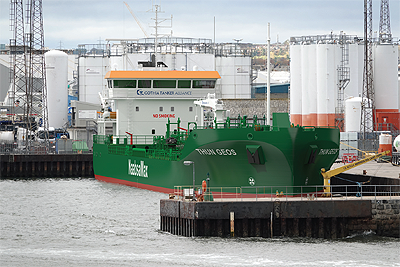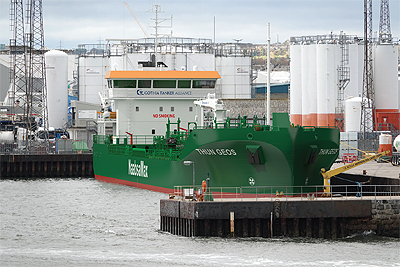 and that represented a big sea change for The Geos Group. From there, we began taking on much higher volume business, which provided a springboard to becoming a major physical player in the market."
With 19 members of staff working out of the UK, and with an international network of partners providing invaluable support, The Geos Group boasts a unique supply position within the sector. By managing the transportation of its own product, it is able to guarantee that optimum quality is maintained at all times, while oil refinery access and flexible shipping means that it can arrange bunkers in ports where other traders struggle to supply. In providing a diverse blend of services, the group has accumulated a customer base that includes large fleet operators, ferry lines, towage and rescue vessels, offshore logistics and research companies, and short-sea cargo carriers.
"What we have become is a critical component within the value chain between the refineries and the end users, and a major part of our own strategy is to contribute towards maximising that value chain," Adrian continues. "We are essentially what can be described as a 'volume consolidator', as what we do is take all of the demand for marine fuel from consumers in and around the North Sea, consolidate that demand, and then source the right fuel at the right time and price to satisfy the needs of the market."
In order to facilitate the sourcing of the marine fuels that consumers demand, The Geos Group holds a long-term charter agreement with Swedish-based Thun Tankers for the use of the Thun Grace Chemical Tanker. The group also boasts physical stock of marine gas oil in six storage locations around the UK. These are Aberdeen – where the Port of Aberdeen exists as one of the country's busiest sites of oil and gas activity – Lerwick, Peterhead, Heysham, Scalloway and Blyth. It is at the latter where The Geos Group has its own terminal, which has a capacity of 15 million litres of marine fuel. Elsewhere, the group partners with the likes of Peterson and Norsea at other key terminal locations.
Increasing flexibility
For the group, 2019 has mostly been a year of "business as usual", as Adrian puts it. It has though been highlighted by a few positive developments from a group-wide infrastructure perspective. In May, for instance, the facilities in Aberdeen took delivery of a new marine gasoil (MGO) tank at the Peterson logistics supply facility at Torry Marine Base, which runs along the south side of Aberdeen harbour. This massive, custom-built tank was constructed by SJR Tank Construction in Rotterdam before being shipped complete to location, and standing at 18 metres high it can hold up to 4000 cubic metres of fuel, thus increasing the group's total MGO storage capacity in Aberdeen to more than 11,000 cubic metres.
"This was an important project for us this year, as previously all of our marine fuel supply in Aberdeen has been consolidated on the North side of the harbour," Adrian states. "The harbour is currently undergoing a £350 million expansion project, which is expected to result in increased demand for marine gas oil in the region. The increased storage capacity that this new MGO tank provides will enable us to offer ship owners and operators more flexibility and greater responsiveness, while also enhancing our own end-to-end service offering."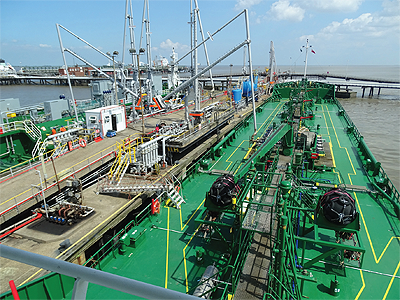 More recently (at the end of August 2019 to be precise), the group also announced that it has agreed to the order of a new build 4250- deadweight product tanker, and subsequently entered into a new, long-term agreement with Thun Tankers. The tanker, due to be delivered in October 2020, will be built with a NAABSA (Not Always Afloat but Safely Aground) design, which will enable it to call at tidal restricted ports that other operators often cannot access.
"The NAABSA vessel represents an extremely positive purchase for the group, and will strengthen our partnership with Thun Tankers, which is a fantastic, forward-thinking company to work with," Adrian enthuses. "What it will give the group, on top of additional carrying capacity, is increased flexibility in terms of opening up opportunities at niche ports that have previously been closed off to us, which in turn will enable us to increase our reach. The vessel's high-spec design will also help to boost the overall efficiency of our activities, which should result in a decrease in costs, which we could then pass onto the customer, making us even more competitive. In short, this new vessel is going to be a great addition to the tonnage available around the UK."
Looking towards 2020, Adrian envisions it being an exciting year for the group. "For one thing, the new year will usher in the International Maritime Organization's 2020 regulations to limit the amount of sulphur in fuel oil to 0.50 per cent, and we will continue to navigate this impending change with our refinery partners in order to keep our customers supplied with fuels at a fair, competitive price. It is our responsibility to ensure that we maintain our security of supply, without which the market starts to experience massive issues, and that is why we exhaust all efforts to work hand-in-hand with UK refineries."
As Adrian goes on to conclude, while there will likely be some challenges ahead, The Geos Group has shown itself to be experienced and successful enough that there should be no doubt that it will continue to thrive, long after said challenges have been overcome. "In an industry that has had past issues when it comes to the quality or availability of marine fuels, we have done exceptionally well in proving ourselves to be a reliable, trust worthy partner," he says. "We have a great team here, and they help us to trade on our integrity and on the knowledge that we always deliver against our promises."
The Geos Group
Services: Marine gas oil trading, storage and distribution