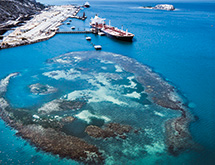 The Paramount Transport and Trading Co. Ltd.
The Caribbean has proven to be a fertile ground and ocean for the energy industry, and Paramount Transport and Trading Co. Ltd. has been right there providing the equipment muscle needed to exploit the region's natural resources. Paramount Transport and Trading Co. Ltd. says it offers a wide range of meticulously inspected and constantly maintained machinery and equipment for the needs of the energy industry, plus for construction, lifting, engineering, cargo handling and heavy haul.
Among the energy industry customers for whom the Paramount Transport and Trading Co. Ltd. has worked on projects are Atlantic LNG Co. of Trinidad and Tobago, EOG Resources, the Petroleum Co. of Trinidad and Tobago, and Shell Trinidad Ltd.
The Paramount Transport and Trading Co. Ltd. has worked on energy projects in the Caribbean and in North, Central and South America for years. For the past 30 years, Paramount has provided BP Trinidad and Tobago with safe material handling services that includes all pipeyard operations at Galeota Point and other locations around Trinidad and Tobago. This includes loading, unloading and transportation of materials, pipes, cargo containers and scrap for use in offshore drilling.
In Panama, Paramount provided lifting equipment to facilitate the demolition of a vast Panamanian oil refinery. In Pt. Lisas, Trinidad, Paramount transported and installed all the heavy equipment and machinery for the construction of an ammonia plant, a urea plant and two melamine plants. For ABB Lummus Techint, Paramount has been subcontracted to transport all components for that company's alkaline/acid plant as an initiative for Petrotrin's gas optimization program.
Huge Variety
Paramount utilizes a huge range of state-of-the-art equipment, which is maintained on a strict schedule to stringent safety standards. "Our equipment includes the region's largest cranes, the most advanced computer control systems and self-propelled modular transporters, skidding and strand jack systems and fully-computerized ballasting systems for barges," the company says.
"Through rigorous inspection and the application of the highest safety standards in maintaining specialized equipment, we never fail to meet the requirements of our local and international clients and thus render first-rate service," the company says. It rents energy and transportation equipment and machinery in Trinidad and the West Indies, and also in North, South and Latin America.
Among the types of equipment it rents are cranes, transports, forklifts, telescopic handlers, earth-moving equipment and aerial work platforms. The company also rents electric and diesel-driven welding sets in 300 AMP and 400 AMP models; generating sets up to 1000 KU; diesel-powered lighting towers; and several models of air compressors up to 1,200 CFM.
The cranes that the Paramount Transport and Trading Co. Ltd. rents include rough-terrain and all-terrain models and truck, crawler, ring and tower cranes. The rough terrain cranes have a lifting capacity from 8 to 100 tons. The lifting capacity for all-terrain cranes ranges from 35 to 550 tons. Truck cranes have lifting capacities from 45 to 185 tons.
The company's two crawler cranes can lift a vessel weighing 700,000 pounds from a horizontal position to a vertical position. They have a lifting capacity from 60 to 825 tons. The ring cranes have a lifting capacity of 360 tons, and tower cranes have a lifting capacity from 4 to 6 tons.
Transport Equipment
The transport equipment that the Paramount Transport and Trading Co. Ltd. rents include ones for container haulage, general cargo, irregular load transports and specialized haulage. Paramount says it is the largest hauler of containerized cargo throughout Trinidad and Tobago. It uses 20-foot, 40-foot and 45-foot container chasses to transport containers from both the Point Lisas Port and the Port-of-Spain Port to destinations throughout the island.
The Paramount Transport and Trading Co. Ltd. uses flatbeds, extendible flatbeds, semi-low loaders and low loaders to transport general cargo such as boxes, pipe and other miscellaneous items to various locations on the island. Low loaders are used to transport items that are irregularly sized or that are heavier than conventional general cargo. Paramount's low loader capacity is 150 tons. For specialized and abnormal loads, either Nicholas hydraulic modular drawbar trailers or Cometto SPMTs are employed that have a capacity of 1,300 tons.
The company's fleet consists of electric, diesel and propane forklifts, with capacities ranging from 1.5 tons to 18 tons. Telescopic handlers have capacities from 3,000 to 10,000 pounds.
Earth-moving equipment includes excavators, front-end loaders, backhoes, tractors, articulated dump trucks, compaction equipment and motor graders. Paramount's fleet of compaction equipment includes smooth-drum, walk-behind and pad-foot vibratory roller models. Its manlifts include units with basket heights ranging from 40 to 125 feet. The scissor lifts have basket heights up to 31 feet.
Material Handling
The Paramount Transport and Trading Co. Ltd. offers warehousing and material handling services. It oversees the receipt, issuance, handling and tracking of cargo and equipment coming through Trinidad's ports. It offers storage in one of the company's many warehouses and delivery to the job-site.
Through its custom brokerage services, Paramount Transport and Trading Co. Ltd. expedites shipments through customs and obtains clearance at ports. In relation to its engineering services, it says it provides imaginative solutions and comprehensive planning along with extensive lifting and engineering plans, which is essential and required when transporting abnormal and heavy loads.
"Our engineering teams face the challenge of moving outsized objects through industrial or civic areas on tight schedules while staying in budget," the company says. "Paramount has the manpower and equipment to complete any job. If we do not have the tools on hand, we will acquire new equipment for any project that calls for it."
When it comes to secure storage space, the Paramount Transport and Trading Co. Ltd. has several acres of it. The company's warehouses and open-storage yards are strategically located near Trinidad's ports and industrial parks. Each stored item is carefully labeled and filed for easy tracking and access.
Ready-Mix Concrete
The Paramount Transport and Trading Co. Ltd., in conjunction with its sister company Advance Readymix Ltd., offers a comprehensive range of concrete services, which includes:
• Power floating
• Concrete pump rental
• Specialized, custom strength mixes
• Aggregate and concrete testing
The Paramount Transport and Trading Co. Ltd. says it supplies several grades of aggregate to meet the needs of any project. Its sister company, Vega Mineral Ltd., which is located in East Trinidad, operates a wide-scale quarry that produces a range of raw material. Aggregate services include: Custom-graded aggregate; construction and earth-moving equipment rental and leasing; and land restoration.
Through its subsidiary, PTT Contractors Ltd., The Paramount Transport and Trading Co. Ltd. specializes in but is not limited to earthworks and civil construction. "The expertise of this company allows Paramount to have a total project management stance, in which we take full responsibility for all stages of planning, scheduling and logistics," the company says.
Additionally, the Paramount Transport and Trading Co. Ltd. has the technical and physical capabilities to meet and surpass any transportation requirements of its clients, both locally and internationally, the company says.
The Paramount Transport and Trading Co. Ltd. says it has the finest, largest and most modern fleet of specialized equipment in the Caribbean. "Our equipment is continually updated and can reinforce our reliability on the job," the company says. "All equipment is available for rental or lease. Additionally, we supply experienced and fully certified crews to operate rental cranes, trucks and lifts, thereby guaranteeing compliance with OSHA regulations, as well as to our stringent in-house safety standards."
Mammoth Jobs
The Paramount Transport and Trading Co. Ltd. was founded more than 60 years ago. It says it has undertaken projects that are of mammoth proportions and plays a major role in national development. The company has a second location in Jamaica under the name of The Paramount Transport and Equipment Co. Ltd.
"As we continue to operate from Trinidad, we have recognized the need to have another strategic location in the region that will offer consistent services in keeping with our standards," the company says. The same services are offered in both locations.
"Our years of experience have made us experts in our field of activities, coupled with the fact that we utilize the best expertise, raw materials and up-to-date technologies, all of which is enhanced with the strength of sound work ethics when delivering to all clients," the company says.
Paramount says its way is to succeed and surpass all expectations while still maintaining safety, environmental standards, work standards and time schedules. It anticipates situations in a proactive fashion rather than reacting to unplanned developments.
Total Projects Management
Paramount's total projects management system is designed to allow for the delivery of core activities that adds to the overall success of a project by utilizing a systematic process for planning, scheduling and logistics. Such a process facilitates continuous communications among customers, contractors and suppliers.
The Paramount Transport and Trading Co. Ltd. attributes its success to its employees, because they "represent a strategic resource that is of a unique blend that drives organizational success. Paramount continues to attract and retain the best individuals with the right mix of training and relevant industry experience.
"In addition to this, Paramount represents a learning organization that strives to develop a best-practice approach to our key deliverables," the company says. "To this end, Paramount is an employer of choice with an effective organizational culture."