Ocean of opportunity
Established in 1983, the legacy that is the PaxOcean Group today has spent the last 30 years enhancing its services to become a leading international player in a wide range of sectors; these include offshore and engineering, ship repair and maintenance, shipbuilding and conversion, rig building and refurbishment, offshore fabrication, FPSO/FSO conversion, maritime clusters as well as dedicated offshore platform facility fabrication.
A subsidiary of Kuok Singapore Limited following a 67 per cent acquisition of DDW Sea by Pacific Carriers Limited, the organisation has enjoyed healthy growth over the last few years and boasts facilities in both North Asia and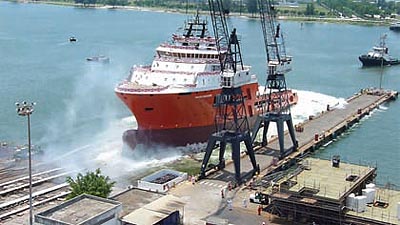 Southeast Asia.
The PaxOcean group comprises of six facilities; these include its main facility in Singapore, the three facilities in Batam, Indonesia, and two in China. The yards are strategically positioned along the major trading routes from North Asia to Southeast Asia. These locations offer shipowners and managers a wide range of choices to suit their trading patterns and minimise their downtime for drydocking and repairs.
PaxOcean Zhoushan is a mere 27 nautical miles from Yangshan Port, Shanghai, and is easily accessible from Busan, South Korea as well as Hong Kong and Japan within three sailing days. Measuring 400m by 106m, PaxOcean Zhoushan has one of the largest graving docks in the world and has successfully docked jack-up rigs and ultra-large container carriers for customers such as APL, UASC, COSL and the Shanghai Offshore Group. PaxOcean Zhuhai itself is an ultra-modern and well-equipped facility specially designed for the construction of specialised offshore vessels.
As four of Southeast Asia's premier shipyards, PaxOcean Graha, PaxOcean Nanindah, PaxOcean Pertama and PaxOcean Singapore have collectively built and repaired over 2000 vessels.
Boasting an impressive track record of offshore newbuildings, the PaxOcean Group has delivered 13 jack-up rigs, liftboats and tender barges with two more GustoMSC CJ46 rigs due for delivery in 2015; and over 130 anchor handling tug supply vessels and offshore support vessels.
Starting with the delivery of 17,864 BHP anchor handling tug supply vessel Pacific Defiance in February 2013, the company launched sister vessel 17,864 BHP anchor handling tug supply vessel Pacific Discovery in the final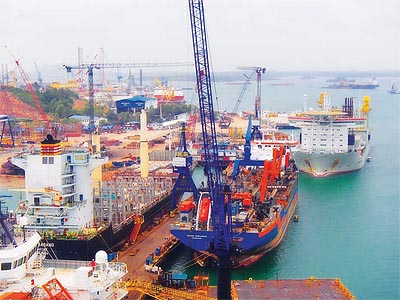 quarter of 2013 at the group's Singapore facility in Tuas. Both vessels are built to class ABS, are Singapore flagged and have been designed and constructed with advanced technical capabilities that can support the very latest generation of semi-submersible rigs. Equipped with DP2 systems and a maximum bollard pull of 230 tonnes, the vessels have a clear deck space of 650 square feet and offer versatility, safety and flexibility through added features such as 500 MT RRM Brattvagg winches, the latest dynamic positioning technology and anchor recovery frame. A major success, the project has recorded an impeccable record of zero LTI to date.
In 2013, PaxOcean Zhuhai delivered four units Rolls Royce UT755CD DP2 platform supply vessels along with one unit 8,000 bhp AHTS and eight units ASD harbour tugs of up to 4,400 bhp. Currently under construction at the facility are three units 88m light construction vessels with 238-man accommodation capacity; with the third unit additionally equipped with Active Heave Compensation (AHC) on a 100-tonne crane, a moon pool and a High Precision Acoustic Positioning (HiPAP) system. Also on track for delivery between 2014 and 2016 are another six units ASD harbour tugs, two units 8,000 bhp anchor handling tug supply vessels and one unit 70m diesel electric DP2 platform supply vessel.
PaxOcean Zhoushan is building two units of semi-submersible accommodation vessels (SSAVs). When completed by the end of 2014, the DNV-classed SSAVs are capable of accommodating 750 personnel in 390 cabins with the highest comfort Class COMF-V(2), COMF-C(3). The SSAVs are powered by eight units of generators producing over 30MW electricity and nine units of thrusters with DP3 capability. The 38 metre +/- 8 metre telescopic gangway coupled with RFID technology allow for state-of-the-art walk to work capability. The two large offshore cranes of 150 mt and 100 mt SWL provide ample heavy lifting capacity for offshore maintenance, hook-up and commissioning work.
In addition, the PaxOcean group has successfully launched the 115 metre freezer trawler vessel Mexahuk Cepteu Atanob in August 2013 for owner Robinzon Ltd. Built to DNV class, the vessel launch took place at the PaxOcean Nanindah yard in Batam. Newbuild deliveries in 2013 include two units anchor handling tug supply vessels, of 12,000bhp and 9,000bhp. Other notable projects currently being completed include the conversion of livestock carrier Awassi for Al Khalaf Trading & Transportation and construction of the state-of-the-art compact semi-submersible offshore vessel CSS Derwent for Hallin Marine. The CSS classed by American Bureau of Shipping, is equipped with four fixed-pitch Azimuth thruster units and full DP3 capacity, which enables automatic as well as manual dynamic positioning and heading control in harsh environmental conditions, and has a multiple inherent fail-safe capability. Designed by STX Canada Marine Inc, the CSS vessel has a semi-submersible hull making it a cost-effective alternative to large diving support vessels (DSV) and traditional semi-submersibles in providing subsea services as well as light well interventions operation.
To meet the stringent demands of the industries it operates in, the PaxOcean Group has focused on consolidation and continuous improvement in the last 18 months. The group is also ready to expand their facilities in Singapore and Batam to cater to the oil and gas segment. "It has been a time of consolidation and strengthening our core capabilities and assets. High operating and safety standards are of the utmost importance at our yards and our staff and sub-contractors work very hard to strive towards accident-free records," PaxOcean management reveals, "For example, PaxOcean Singapore has so far been awarded the British Safety Council 'Sword of Honour' five-star notation twice, which attests to our rooted commitment to excellence and safety. With these core values, we are confident that the organisation is strategically well-positioned and ready to seize the opportunities ahead."
The PaxOcean Group
Services: Offshore engineering, ship repair/maintenance, rig building and conversion