EVPs: what they are and why they're important in the oil & gas industry. Justine James explains
There is a well-documented skills shortage in the oil and gas industry caused by older, skilled workers leaving the sector, and a lack of suitable graduates with STEM (science, technology, engineering and mathematics) qualifications coming into it. This is creating a widening gap in mid-level jobs, despite tempting salary offers and benefits packages, and it's creating fierce competition for the best talent.
So what can we learn from companies, like Apple, that never have a problem attracting top talent, that can be adopted by oil and gas organisations? Apple is as famous for the way it treats its staff, and the quality of its staff, as it is for its products and services. Apple doesn't have to enter into a war for talent; it has great people queuing up to join it. One of the main reasons for this is its strong and credible Employee Value Proposition, or EVP.
So what is an EVP? It's the deal struck between an organisation and employee in return for their contribution and performance. At Talentsmoothie we call this the 'People Deal'. It's what

characterises an employer and differentiates it from its competition. A well-articulated EVP will bring significant benefits. It can create an environment where people can thrive and do their best work, and in turn this impacts on the customer experience, customer loyalty and ultimately improves business performance.
Most organisations encounter two main problems when it comes to their EVP:
Firstly they struggle to differentiate themselves from their competition. Differentiation is crucial if an organisation is to stand out from the 'sea of sameness' that characterises some sectors.
Secondly their branding is appealing, SS but it does not accurately reflect the reality.
An effective EVP enables an organisation to stand out as different, but also it ensures that the 'packaging' reflects the 'contents'. All too often people join organisations tempted by the 'branding' and are disappointed when they experience the reality.
According to a recent Hays survey, company reputation is a significant factor for job seekers evaluating job opportunities in the oil and gas sector, and with information more readily available on the internet about what it's really like to work for an organisation, it's important that organisations deliver on their recruitment promises.
An effective EVP can bring an organisation significant benefits. According to the Corporate Leadership Council's research, a well thought-through and executed EVP can:
Improve the commitment of new hires by up to 29 per cent
Reduce new hire compensation premiums by up to 50 per cent
Increase the likelihood of employees acting as advocates from an average of 24 per cent to 47 per cent
In addition, an effective EVP allows organisations to source more deeply within the labour market, increasing access to 'passive' candidates who may not have even considered entering the oil and gas industry.
Demographic predictions show that there will be a stark contrast in population growth in certain areas of the world. Many countries will show a decline in population making it harder to source talent, whereas in countries such as India there will be large increases making it more difficult to attract the right talent from a potentially large pool. This will cause challenges for organisations in the future and builds an even stronger case for the importance of having an effective EVP.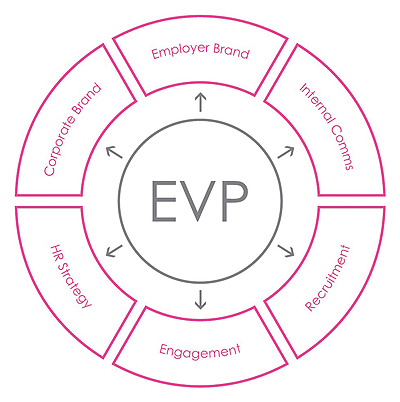 Our clients turn to us for help with their EVP usually because of recruitment or retention issues. All companies have an EVP, whether it is well articulated or not. To ensure your EVP generates maximum returns, it must be built around attributes that genuinely attract, engage and retain the talent you want. It must also be consistent with strategic objectives and clearly demonstrate its uniqueness. That's why we work with employees and business leaders to define this two-way deal, focusing on action orientated solutions.
The EVP must also be real. That is to say a large proportion of it must be true now. We usually say around 70 per cent, and 30 per cent can be aspirational. This is important to drive change and progress, and also to give employees a sense that the organisation is responding to the changes they want to see.
As well as the 'content' of the EVP, it must also be articulated in a style that appeals to the audience. So many companies write about themselves in a dull way and the net result is a lot of organisations that claim to be unique but all sound the same. Our research with graduates found this is the case.
The EVP is the bedrock of your people strategy and will inform what you should carry on doing, stop doing and start doing to support and drive your business strategy forward. It informs recruitment messages, communications and strategic HR priorities. Knowing where to spend your time and money will make a difference and is one of the great outputs of the EVP process.
We typically help organisations to define and implement their EVPs in eight stages. The full process can take anywhere from three to six months or more, depending on the size of the organisation.
We find that engaging employees in the EVP development process is a very powerful engagement tool in itself and people usually enjoy and appreciate it. It's also important for building ambassadors who will help implement the EVP once it's fully defined.
In the highly competitive hunt for talent, companies in the oil and gas sector with an attractive and effective EVP will more easily attract experienced industry professionals from other companies and abroad, and might even broaden the pipeline of talent from outside the sector. Can you afford not to strengthen yours?
Talentsmoothie
Justine James is Founder of leading HR consultancy Talentsmoothie. Talentsmoothie is an organisational development consultancy. Areas of expertise include Employee Value Proposition (EVP), Employee Engagement, Employer Brand and Future Focus. Clients include Atkins, Centrica, Enterprise Rent-a-car, KPMG, Kuoni Group Travel Industry Services, Warner Brothers and Sodexo, and its projects range from one-off reviews, to global strategies and large-scale implementations.
For further information please visit: talentsmoothie.com