We are at a pivotal time in the UK's green energy transition. The British Prime Minister has stated that all of the UK's electricity must come from clean energy sources by 2035. Not only do we need to meet this to achieve net zero, quite frankly, we have no choice but to deliver on this if we wish to save our planet from the existential risk of climate change. That being said, it's not going to be an easy ride. Chris Bowden, managing director of Squeaky, the leading marketplace for 100 percent clean energy, discusses why the recent energy crisis could well be the tipping point for the UK's green energy transition and uncovers the complexities of transitioning a nation to clean energy.
A black swan event
After a period of historically low energy prices, during the Covid induced lock downs, gas and power prices started their inexorable rise to hit historic highs in late 2021. In the UK problems mounted left and right with several energy suppliers going bust and millions of UK households experiencing significant increases in their energy bills. The industrial and commercial (I&C) and public sector was also directly impacted by the massive rises in wholesale power prices which peaked in December 2021. We witnessed power price volatility like never before and the situation was, quite frankly, shocking.
Of course, the world has faced volatile energy markets and supply squeezes for decades. But the big difference this time was the fact that this was the first major energy crisis of the clean-power transition. And whilst there has and will be fallout from the recent wholesale market volatility the net effect could be beneficial in the movement towards a greener world. Ultimately, it could be the tipping point that we needed in the nation's transition to clean energy.
Sky high electricity prices
So, what got us here in the first place? Well, global demand for gas fell during the pandemic, and this, combined with reduced economic activity in the UK drove electricity prices to historic lows of £20/MWh. However, as global economies started to recover post Covid there was a surge in the demand for liquefied natural gas (LNG) and Asia outbid the UK and Europe for these LNG cargoes. This combined with lower-than-normal gas flows from Russia drove gas prices in the UK to historic highs.
If you combine all of this with a structural upward shift in carbon credit pricing, low levels of renewable generation from wind, and a fire on the French interconnector, it's clear there was a confluence of factors that pushed electricity prices to levels never seen before.
Undoubtedly, some FTSE100 companies would have felt the strain of the rapid increase in energy costs, particularly those whose budgets were based on the price of the previous years. Some will be seeing their energy bills almost double as we move into 2022, and when these costs are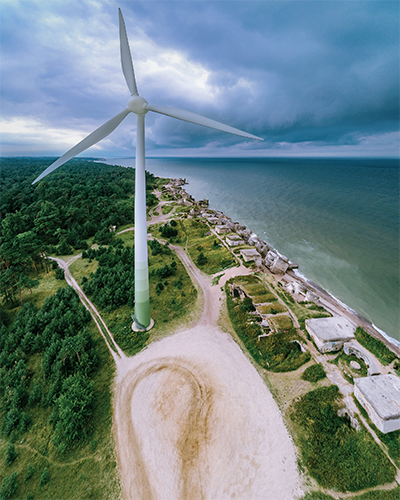 already in the millions, there may be some who will find themselves in a difficult situation where margins will be squeezed or prices to end customers will have to rise.
And it's not just the private sector that felt the impact, the public sector was also, and continues to be, under huge pressure, not least because it's much harder to pass on these higher energy costs to customers.
Oil majors and their increasing exposure to power markets
On top of this we shouldn't underestimate the increasing involvement of the oil majors here. BP and Shell were heavily involved in the market meltdown. Let's take for instance Pure Planet, a renewable energy firm that was backed by the oil company BP, and Colorado Energy, which collapsed under the weight of soaring gas prices in October 2021. The oil giant, BP, chose to withdraw support for the company owing to the risk of 'large potential losses' by continuing to operate while gas prices were high. The oil majors had their part to play, and one has to question what they gained from pulling their support from several energy suppliers.
Why is this the perfect storm
The positive news, however, is that paying more for gas and power helps to spur on the deployment of renewable energy. This is because as more countries switch from coal to gas, we will inevitably see more pressure on gas prices. This, combined with increased carbon pricing, has resulted in an unintentional, yet perfect storm for the UK's green energy transition.
Let me explain further, not least because this is a bold statement to make and could seem insensitive to those suffering as a result of the crisis.
Companies who buy renewables from projects that need a Corporate Power Purchase Agreement (CPPA) to get funding can actually shield their companies from volatile power prices and ensure greater certainty in their costs. This is because the power price needed by the developer of the renewable project isn't linked to fossil fuel prices, instead it is linked to the cost of solar panels or wind turbines, the assets operating costs and the cost of capital. And whilst the cost of solar panels has risen steeply over the last 12 months the levelized cost of energy for a wind or solar project is still below £50/MWh. This compares very favourably to 2022 power prices of over £100/MWh. This means that organizations who, prior to the energy crisis entered a CPPA, will have successfully insulated themselves against this market volatility and will be reaping the rewards of stable and lower power prices.
Reality check: the transition to renewables will be slow
But what does this mean to a transition to a largely clean energy system in the future? In many countries, we are seeing energy systems move towards an increasing amount of intermittent clean power generation (wind and solar) combined with baseload generation like nuclear, balanced by dispatchable generation which is primarily gas. In these markets the marginal price is primarily set during peak demand by these dispatchable fossil fuel generators, so we are inextricably linked to fossil fuels until we have alternatives like low carbon dispatchable generation, storage and demand side response (DSR). Shifting too quickly to a renewables system without replacing the existing fleet of dispatchable generation to meet peak demand will inevitably create very high prices. Clearly no one wants this.
The integration of renewable sources in the energy system is one of the key components of any energy system decarbonisation strategy. However, this integration raises many challenges in terms of planning, operation, and reliability practice. Renewable technologies are not comparable with fossil-based generation in terms of dispatchability. This translates into high system costs of renewable generation, as it requires holding significant back-up capacity to ensure a balanced energy supply throughout the day. In fact, these challenges will only further increase as the share of renewable energy generation rises to levels never witnessed before. To date, these aspects have been very difficult to model and forecast in the economic analyses of renewable energy deployment although the recent covid induced lockdown gave us some early signs of what's to come. As demand dropped significantly during the lockdown and renewable energy generation increased, at times, to become the majority of the supply on the system we eperienced negative power prices. This is driven in part by the fact that many renewable generating assets are often unable or unwilling (due to other incentives like renewable certificates) to curtail their generation even if they are effectively paying to generate.
The green energy transition is not a choice
The transition to green energy isn't going to be easy and, I won't lie, it will be painful. But no matter how painful and expensive the transition from fossil fuel to clean energy will be, there is no escaping the fact that it must be done. Getting there requires a complete rethink of the energy system, an overhaul of supply chains, a sharp focus on deploying and scaling up existing technologies alongside rapid innovation, and a high degree of global collaboration and careful diplomacy. This may be a long list, but we cannot delay action any longer. The time to start is now.
CHRIS BOWDEN
Chris Bowden is the founder and MD of Squeaky, the leading marketplace for 100 percent clean energy. Squeaky enables corporate and public sector organisations to buy clean electricity directly from wind, solar and hydro generators. To contact Chris, email: chrisbowden@squeaky.energy
Squeaky is the leading marketplace for clean energy. Squeaky enables corporate and public sector organisations to buy 100 per cent clean electricity directly from wind, solar and hydro generators in an efficient, cost-effective way using a unique combination of expertise, software and contracts.
For more information, visit: https://www.squeaky.energy