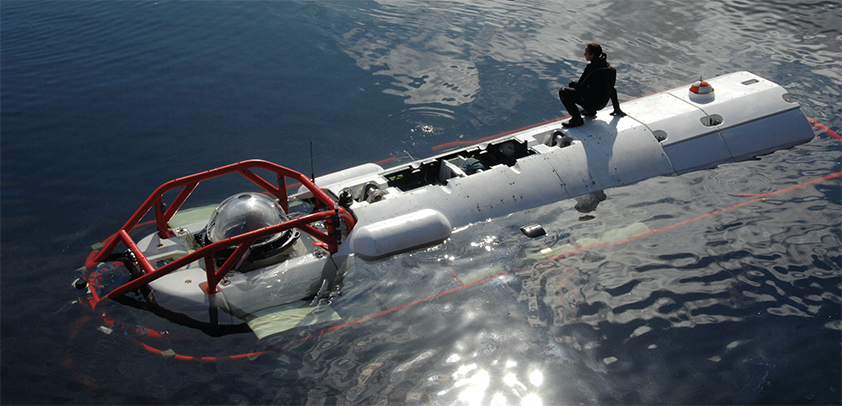 Best in class
Optimally located in Fort William, Scotland, The Underwater Centre is the world's foremost commercial diver and ROV training centre.
It is the only school to offer all HSE approved qualifications in air and mixed gas diver training, and boasts one of the best ROV courses. Elaborating on the Centre's credentials, general manager Steve Ham says: "We've trained commercial divers since 1975 after being set up by the government. We were privatised in the 1980s and we've become one of the most well known subsea training companies in the world.
"We have numerous international students alongside our UK students and have trained divers for nuclear power plants, archaeological companies and civil companies, and for inshore work as well. For ROV pilots, we train many who are self-funded and many who work for companies such as Subsea 7, Fugro and Sonsub."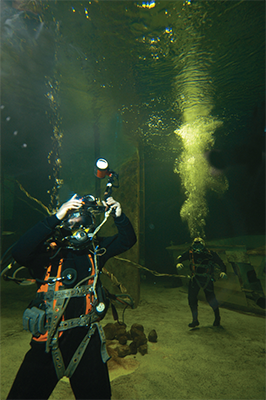 The programmes offered by the Centre are between one and 13 weeks for a diving course and between three and seven weeks for an ROV course. "We run courses continuously for about 500 students per year," Steve reveals. "There are two main types of commercial diving: air diving and mixed gas diving, the latter of which involves diving under constant pressure and breathing a mixture of oxygen and helium. If you're diving below 50 metres, then mixed gas is the only option; we're one of only three places in the world where you can train to do this. We co-ordinate with a sister school in Tasmania, Australia, which offers a similar range of diving courses and offers mixed gas training."
The Underwater Centre benefits hugely from its unique location in Fort William, which allows for easy access to a seawater site in order to provide realistic conditions for training. The private pier is laid out to simulate, as much as is possible, offshore conditions for students. Steve explains: "We have very deep water of 100 metres just a mile away from the pier. It's all sheltered, which means we can train year round in water depths equal to the North Sea without being affected by weather."
These attributes make the location ideal for equipment testing and a number of companies, including Rolls Royce, Perry Slingsby and Tritech, have trialled their own subsea equipment at the organisation's facilities. Indeed, the Centre's engineering support, large pier area and easy access to water creates an easy environment for doing so. These same attributes were what originally prompted the Britishgovernment to select Fort William back in 1975 as the ideal place to set up a diving school.
Evidently, the business has a long history of delivery high quality training. Many high achievers in the industry have trained with The Underwater Centre and these students return occasionally to assist in delivering training. "We have a long pedigree of training and, uniquely, we train ROV pilots and divers on the same site, which allows for interaction between the ROV and the diver. This mimics what happens in real life."
In order to further improve its offering, The Underwater Centre has invested heavily in bringing the school up to the highest standard over the past six years. "We've improved in terms of diving equipment, staff training and facilities," Steve reports. "We have new ROVs and we've built an ROV workshop, so we're continually trying to increase our quality of training and align it with industry demands. The workshop allows us to deliver a far higher level of technical training, which is important for ROV pilots."
The economic downturn has not hampered the Centre's efforts in maintaining quality and the Centre has shown some resilience. Commenting on market conditions, Steve says: "The recession has affected us but we're busier than expected. For example, we have secured a large contract with a large commercial diving company in Italy called Impresub, which involves our training a number of divers. Our air diver training has been quieter this year because almost everyone who completes it is self-financed. Many students take out personal loans to pay for their course, so the lack of available finance from banks is slowing that side of the business.
"However, we foresee a big upturn in demand for diving – it's been incredibly hectic over the last few years, bar this year – and the oil and gas industry is getting busier. In addition, the offshore renewables sector is starting to employ a huge number of divers and ROV pilots. The demands are massive in terms of required volume of divers and many wind farm contractors are paying their divers the equivalent to offshore rates. We're able to cope with that demand due to our strong team and well-invested infrastructure."
The Underwater Centre is also planning to develop its school in Tasmania, build up contacts in the Middle East and continue delivering training courses in India. In terms of trialling underwater equipment, companies have been spending conservatively but the Centre has seen a huge rise in enquiries recently. Its aim is to continue investing, building up its international business and preparing for an upturn in domestic business.
Considering its achievements over the past 35 years, The Underwater Centre fully deserves its acclaimed reputation. As Steve concludes: "We're a British success story. We've been training divers since 1975 and we're renowned throughout the world for training divers and ROV pilots. We continue to report a good level of export earnings for the UK because we train so many overseas people and we regularly teach people in the UK who then become industry leaders on an international scale."
The Underwater Centre
Services: Subsea training (ROVs and diving)