Thermal Transfer Technology Ltd
Coiled and ready
With roots dating back to 1961, Thermal Transfer Technology Ltd (3T) has developed a leading reputation in the provision of finned tube heat exchangers throughout a range of market sectors.
3T is today based inSeaham in the North East of England, where it has operated from since 1990 and has grown into one of Europe's major manufacturers of finned tube heat exchangers. "3T's main products are finned tube heat exchangers and everything the company does is based around those," explains managing director, Anders Thomsen. "We provide different configurations and different tube sizes that suit different industries and within the oil and gas market for example, they are mainly titanium and stainless steel tubes with a variation of the fin material, depending on whether it is an offshore or land-based application."
Presently 3T delivers heat transfer solutions to clients operating within the oil and gas sector as well as to air-conditioning, air handling unit manufacture, supermarket and industrial refrigeration, process cooling, air-compressor cooling, printing, oil refinery, electrical distribution, ultra-pure water cooling, pharmaceutical and furnace cooling applications. Although the bulk of the company's incomedoes not currently come from the oil and gas sector, 3T is preparing to increase its presence in the market. Indeed while the current low oil price is creating uncertainty for many businesses in the oil and gas sector, 3T perceives a climate of opportunity inspired by its unique service offering. "We are a relatively new entry into the oil and gas market," Anders says. "We have previously only generated around ten per cent of our turnover in this sector but we are now looking to put more focus into it. There is an opportunity in this kind of environment because of the fact that there is presently higher pressure regarding cost in the oil industry and we are cheaper by definition because our technology is more advanced. We provide a higher level of performance heat exchanger that performs better using less material, which m ans that we can produce exchangers around 20-30 per cent cheaper than our closest competitors."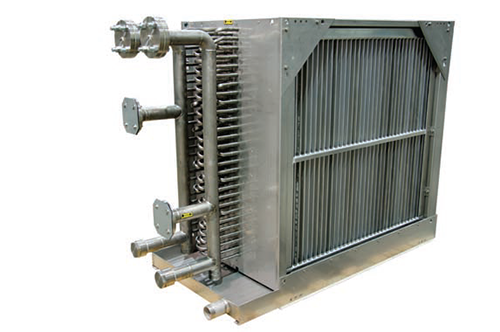 Core to the company's expansion within the oil and gas sector is 3T's line of titanium heat exchangers. Titanium provides a highly costeffective solution in the corrosive environment found on offshore platforms and allows for seawater to be used as a coolant within the heat exchanger itself. Furthermore the use of titanium incorporates several benefits, which offer clients far reaching advantages and highly efficient operation. The strong resistance of titanium to corrosion results in a much longer working life when compared to other tubing materials, such as cupronickel or stainless steel. Titanium heat exchangers have an operational life of between 15 and 50 years, depending on specification and the robust nature of the material coupled with serviceable design allows for decreased maintenance time and simple internal cleaning of heat exchanger units. Furthermore titanium is typically 20-30 per cent lighter in construction compared to other materials, which is a vital advantage in the offshore environment where weight distribution is a core concern.
With a proven track record in the supply of bespoke heat exchangers ranging from coils, dry air liquid coolers and air cooled condensers to air coolers and the accompanying control solutions in a range of materials, 3T is in a strong position to expand its presence within the oil and gas market and develop longlasting relationships with clients old and new. The company's highly regarded reputation is demonstrated by the fact that within the supermarket sector, one of the UK's leading supermarket chains entrusts 3T with almost 100 per cent of its heat exchange requirements.
Presently 3T is already enjoying success within the oil and gas market having recently completed work on its largest project to date in this sector. The contract, which was undertaken through Novenco, was to provide heat exchange equipment for Statoil's Mariner project in the North Sea and represented as much as 15 per cent of the company's turnover for a single year. However, although the North Sea has delivered the bulk of 3T's larger orders in the oil and gas sector, the company has also delivered solutions to clients abroad including the Middle East and China, cementing its position as a truly global business.
As the company continues to grow it will seek to showcase the benefits it can provide clients within the oil and gas sector while continuing to endeavour to deliver first-class service to customers in other areas, as Anders concludes: "3T provides a technology that is somewhat thermodynamically more efficient than its competitors and therefore we have a competitive advantage in the oil and gas sector. Within the other areas of the company, which currently accounts for around 80 per cent of our business the market is much more commodity driven, so the focus is much more about providing the best possible service. The strategy moving forward is to gain growth in the oil and gas sector, but to also match this with growth in the other areas of the company and not to be a business of peaks, but to be a business with a strong foundation. This way when the peaks come they are a positive occurrence but when they fade away we will have a strong foundation as a profitable company."
Thermal Transfer Technology Ltd
Services: Finned tube heat exchangers