Thrill of the trace
Thermon is a specialist in the provision of premier heat tracing technology.
Founded in 1954 in the US, Thermon is recognised as an expert in the field of heat tracing and holds a unique position as the only international heat tracing company completely dedicated to its industry, concentrating its efforts exclusively on heat tracing applications, design and installation. With 50 years of innovation and excellence under its belt the company is committed to providing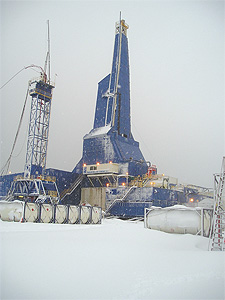 the best heat tracing products worldwide, delivered by the most knowledgeable engineers in the industry.
Thermon's 100 highly skilled employees in Europe provide the oil and gas industry with the ideal applications to suit the demanding environment in which it operates. Twenty five per cent of all known oil and gas resources are located in extremely cold and demanding regions and therefore ships and platforms destined for these areas, or indeed rigs that are based there, require varying levels of heat tracing systems in order to retain and replace heat losses. Offshore platforms, FPSOs (floating production storage and off-loading), FSOs (floating storage and offloading), ships and drilling rigs are all subject to heat loss during operation – heat tracing technology is essential for maintaining smooth production.
The offshore oil and gas industry requires heat tracing equipment for the following reasons; freeze protection of piping, valves, fittings and instrument tubing, anti-icing and de-icing of e.g. heli-decks, personnel comfort for living quarters and for oil and gas products themselves such as crude oil, product tanks or anti condensation on gas pipelines. Thermon produces a range of industrial electric heat tracing, steam heat tracing, instrument tubing bundles and commercial electric heat tracing facilities, with self-regulating heat cables being one of the greatest innovations the company has incorporated in its long history.
Self-regulating heat cables are able to increase power when temperatures fall, and decrease as temperature rises. Ideal for metallic or non-metallic piping and tanks, they allow for ease of design and installation with abilities ranging from freeze protection to temperature maintenance and foundation heating. The self-regulating range comes in five different types, meaning it is able to meet a range of demands for a variety of specifications, from 65°C to 149°C. Thermon's latest HTSX self regulating cable is able to reach maintenance temperatures of 121°C and a maximum temperature of 250°C.
The company's unique dedication to heat tracing means it provides the most comprehensive array of products, from power-limiting cables to parallel constant watt cables and mineral insulated heating cables. Thermon is able to tailor its provision to each client's specific needs, whether it be for smaller applications such as drum or cylinder heating to applications spanning a whole vessel such as pipe freeze protection or temperature maintenance.
The organisation's design and service division provides expert support to its superior applications, ensuring the smooth running of operations and a minimum amount of downtime for clients.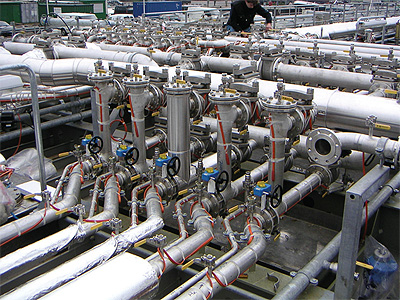 Thermon has developed a sophisticated and yet easy to use computer programme, providing product design and ability information for customers around the globe, while heat tracing tips are widely available in person or on the companies wide-spanning website. The company also incorporates a 3D design system (VisiTrace) into its day-to-day engineering abilities, allowing client engineering man-hours to be reduced by designing large projects in a more compressed time frame, and enabling customers to see the appearance of the finished product before work begins. Thermon developed VisiTrace specifically for automating heat tracing design from data extracted from the 3D Plant model database such as PDS and PDMS. Thermon's VisiTrace system provides high-quality deliverables and maintains accuracy through project completion.
Since its inception over 50 years ago, Thermon has aimed to be at the forefront of engineering excellence. All of its employees are multi-talented in their field, dedicating their skills to serving customer's needs. The company's engineers and specialists located throughout the world are able to give design assistance, product selection and computer-generated/installation packages. Working in conjunction with the wide product range, Thermon's employees are able to guide clients to the most appropriate heat tracing options based on materials, installation and operating costs. Offering design optimisation, budget estimates, insulation system comparisons and long line, steam, as well as electric and finite element analysis, gives the company a one-stop-shop ability. Each application has different requirements based on location, production and construction, and as the manufacturer of virtually every type of heat tracing available Thermon is one of the most popular and trusted providers in the industry.
Having established itself as the key specialist in heat tracing technology, Thermon is continuing to follow a strong growth pattern across the globe. The group continues to evolve, expand and develop its product range, maintaining a highly skilled workforce to fuel innovation. Thermon Europe has a strong focus on the oil and gas industry, which requires tailor-made solutions to tackle the harsh environments of its operation. Such developments as the self-regulating heat tracing cable and the temperatures it can reach mean that Thermon offers the most cost-effective and optimised facility for production. The company remains at the forefront of heat tracing technology for a range of industries throughout the world.
Thermon Europe BV
Products Heat tracing applications