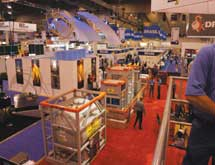 Tiger Tanks Trinidad Unlimited
Tigers, the largest species of cats, are known for being fierce creatures and for maintaining a well-defined territory throughout their lives. As the largest supplier of logistic offshore cargo-carrying equipment in the Caribbean, Tiger Tanks Trinidad Unlimited (TTTU) shares these characteristics of strength with its animal namesake. Instead of staying in one place, however, TTTU uses its fierce competitive nature to grow its business and its territory.
Formed in 2003, TTTU is a sister company to Tiger Offshore of Beaumont, Texas; their parent is Dragon Products Ltd., also of Beaumont. Supplying all of the major oil companies, TTTU manufactures a range of transport containers and storage vessels, backed up by its extensive experience and innovative techniques, the company says.
"TTTU was the first company to introduce and provide certified cargo carrying equipment in Trinidad and Tobago," General Manager Denis Latiff explains. "TTTU has since diversified its operations to be a major service provider in both the petroleum and downstream petrochemical industries, introducing state-of-the-art technology for the collection, transportation and disposal of hazardous waste. This complements some of our other core services, which include tank cleaning and emergency/spill response and control."
The company provides clients with other support services by working with Tiger Offshore. It also serves as the base for the company's Latin American operations, and has projects in Venezuela, Suriname, French Guiana and Guyana.
Best for the Job
By keeping its manufacturing in-house, TTTU maintains quality in its products and relies on the continuous improvement of its services, products and people to ensure its quality remains consistent. The company also maintains a commitment to the environment and safety.
"As a soundly managed company, TTTU believes that quality and safety go hand in hand," the company says. "Tiger Tanks takes pride in pleasing our customers and can build to their required specifications and needs. If we don't have it, we'll get it and customers will have it on line, on time, every time."
Latiff explains TTTU's growth primarily comes from its ability to introduce emerging technology to the oil and gas industry. For example, he says the company investigated best-available technology for the cost-effective treatment and disposal of sludge and tank bottoms that are recovered from cleaning operations. Through this, TTTU acquired a direct-fired thermal desorption unit and two infrared thermal evaporation units. The evaporation units have a patented system for the recovery of pipeline-quality oil from tank-bottom sludge, it says.
"In keeping with the current administration's commitment to environmental preservation, these units will provide a solution for the treatment of hazardous waste – a service not currently available anywhere else in the region," Latiff says. "In addition, the technology provides a real-time disposal option for oilfield sludge and oil-based mud drill cuttings. Previously, this only was achievable through bioremediation, which, dependent on the material type, can last as long as a year, increasing waste generators' exposure and liability."
Integrity, Reputation and Vitality
Recognizing that its quality and success is due to the hard work and skills of its employees, TTTU strives to empower and educate its "single-greatest asset," the company says: "Our people are our strength. They provide our resource base and determine our integrity, reputation and vitality. Timeless, teamwork and commitment are our core values."
In the beginning of 2011, TTTU launched its Teamwork Through Healthy Competition initiative. The company created seven teams and the primary objective was for the teams to identify and execute internal and community projects. The teams were scored based on the planning and success of the projects, and the winning team was named "Team of the Quarter."
"The ultimate goal was to encourage and facilitate the positive interaction of employees, who, in spite of working in the same organization, enjoyed limited interaction," Latiff says. "The program proved a success, as it produced a more closely knitted staff that had a better understanding of each other's role within the organization and importance of their contribution to achieve the goals established by the company."
He notes that TTTU's dedication to teamwork has been key to its many industry achievements. Last year, for example, the company was named the Employers Consultative Association's Champion Employer of the Year in the small company category.
"This team effort and dedication was further exemplified in our recent achievement of the Safe to Work – Trinidad and Tobago certification," Latiff says. "TTTU will continue to lead the way with a well-trained, competent staff and innovative technology to meet our clients' needs."