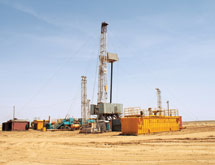 Last year, Timberline Drilling Inc., a subsidiary of the gold mining and exploration company Timberline Resources Corp., posted a record profit. In the third quarter, the company posted a net income of $1.42 million compared with its 2010 third-quarter profit of $637,000.
"Since the economic crisis of 2008, Timberline Drilling has undergone a major transformation and has successfully focused on safely improving our operating productivity and reducing operating and administrative costs," Timberline Resources Corp. states. "This has allowed us to be profitable and to generate positive cash flow in each of the past four quarters. During this time period, three of the quarters were record periods in terms of earnings for Timberline Drilling. We remain focused on safety, serving our clients and generating significant earnings and cash flow."
Martin Lanphere stepped in as Timberline Drilling's new CEO in 2008. After a career spent in the Marine Corps, as a district sales manager and working in the financial industry, Lanphere brought a new leadership style to Timberline Drilling as well as years of experience implementing efficient processes and managing and motivating people. Since then, every direction the company has moved in has been focused on Timberline Drilling's goal to become the "driller of choice."
"With commodity prices strong and the drilling business correspondingly robust, the company expects substantially improved financial performance from its U.S. drilling operations going forward," Timberline Drilling says. "The management team at Timberline Drilling, led by President Martin Lanphere and General Manager John Dietel, is refocusing the corporate culture with an emphasis on improving U.S. operational performance."
Founded in 1996, and based in Coeur d'Alene, Idaho, Timberline Drilling has worked primarily with leading mineral producers like Newmont, Barrick, Hecla, Teck Cominco and Kinross providing core drilling services within the United States. The contract diamond drilling company typically works for global mining companies and provides both underground and surface core drilling to companies with operating mines and advanced projects.
A Worthy Investment
Timberline Drilling's service begins with a thorough analysis of every aspect of a project to ensure the most cost-effective solution. The company preforms a free walkthrough of the job site to get a proper analysis and develop the most appropriate drill plan. After creating a drill plan, the company deploys only top-quality drilling equipment operated by a highly experienced crew.
"Timberline Drilling has experienced crews to ensure successful execution of drill programs," Timberline Drilling says. "With 24 rigs available to provide surface and underground core drilling services in the United States, we have the right drill for every project."
Timberline combines its skilled crew and quality equipment with an operation that's committed to safety and environmental stewardship. "Our company is built on a heritage of excellence, industry knowledge and technical expertise," Timberline Drilling says. "We're also widely recognized for our strong commitment to safety, environmental stewardship and community values.
"We take extreme pride in maintaining the highest safety standards and being a leader in safety," the company continues. "We realize the importance of being environmentally sensitive and take large strides to implement eco-friendly strategies in all our operations."
With a commitment to providing the greatest return on investment for its clients in a way that protects its workers, clients and the environment, Timberline Drilling has set itself up to continue a strong level of growth.
"[We are] very proud of our team at Timberline Drilling," Timberline Resources Corp. states. "They have done an outstanding job enhancing our productivity in a safe manner, lowering costs and delivering superior service. The efforts of our team have made Timberline Drilling a leader in core drilling services in the western United States." EMI