The great exchange
Today, with over four decades of experience, Timmerman EHS is a leading manufacturer of industrial heat exchangers as well as installing and assembling piping solutions in industrial environments for all kinds of pressure applications.
The company was founded in 1972 by two brothers, Michel and Pol Timmerman, who at that time, pushed the business forward with the sole interests focusing on small piping projects for ArcelorMittal in Ghent, employing just four welders.
As the business steadily grew, in the early 1980's it started the production of heat exchangers, utilising a copy and paste method for replicating existing models. Following the appointment of a new engineer into the business it began working in collaboration with the University of Ghent, developing a primitive yet clever software programme called Heatex, with the purpose of designing and modelling new heat exchangers. Having established itself at a new location in Eeklo, where the business remains today, it rapidly expanded to a total of 85 employees. In 2010 Michel and Pol retired and the steerin wheel was handed over to three new owners. "The new owners brought along new ambitions and the eagerness to respond to the rapidly evolving industrial needs," begins Rudy De Wispelaere, project manager. "Since then we have found numerous new young people to work for us, whom in their turn brought along fresh ideas to fulfill our ambitions. This has enabled us to find a lot of new customers and we continue to expand our know-how as well as our geographical span," he continues.
The two-fold core aspect of the business remains untouched, designing and manufacturing shell and tube heat exchangers, as well as air finned exchangers. Its extensive team of welders and pipe fitters on site are able to provide mechanical works, with both business units supported by a small team of intervention experts for re-tubing, on site repairs and critical projects. "This allows us to remain flexible, ultimately excelling in difficult, out-of-thestandard projects," points out Rudy.
Through a client base that includes the likes of Eastman, Total, Bayer, Oleon and Borealis, the business has established noticeably loyal relationships, with many extending back to the 1980's. Capable of undertaking the design, manufacturing and installation, in 2014 Timmerman designed its first skid for the gas industry, involving both business units within the project. "The gas-distributing industry is very important for us, for which we design custommade exchangers with top-level inspection as required by our clients, and in accordance with the design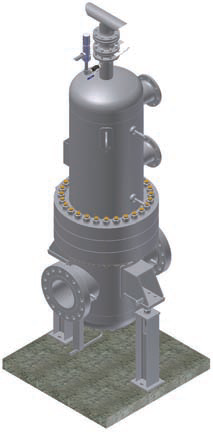 code. As of today, 90 per cent of our clients are based in Belgium and the Netherlands, but Timmerman exchangers can be found globally as part of bigger installations," he adds. In Belgium, the (petro)-chemical industry provides in the region of 80 per cent of its turnover, and working within that environment, safety and environmental regulations are naturally important.
Having experienced a significantly strong year in 2014, 2015 is already showing itself to be a positive one. Rudy elaborates on the company's success and its performance: "In 2010 we introduced what we call 'improvement teams'. In essence, these meetings across all people in our company are meant to detect and resolve little inefficiencies within the business. Although these minor adjustments may look irrelevant at first sight, they proved to be priceless and had a major impact when looking back. Subjects of the meetings vary from client communication to new welding equipment or software implementations. "We still have work to do on automation, despite the already large investments this year. We also feel the need for more challenging materials like duplex, super-duplex and highalloyed materials. We have the people required to be skilled in these materials and already proved this in some projects. Building up knowledge in that area will be our next challenge."
It is a combination of the skilled craftsmen, welders and engineers that give Timmerman the strength behind its success, as Rudy emphasises that it is people that really make the difference and ensure returning customers. "Ingrained within the team is the desire to demonstrate to our clients the quality within our workshop, which ultimately extends to the promotion of the quality of our welding," he adds.
A series of important investments have been made over the past year, particularly with the financial input that led to the acquisition of a new 3D CNC cutting machine. "We expect that machine to raise our competitiveness and our flexibility quite significantly, so we will concentrate this year on adapting our way of working to the possibilities of that new machine," says Rudy.
"Strategically, our vision as we look ahead is to become the reference in know-how on how to build and maintain industrial heat exchangers. In order to realise this, we focus on giving our people plenty of opportunities to learn new things and new ways of working. We want to have the best skilled people in the trade, because we want to be the first port of call for industries that have the most demanding projects, on both a technical level as well as on an organisational level," concludes Rudy.
Timmerman EHS
Services: Manufacturer and installer of heat exchangers and piping