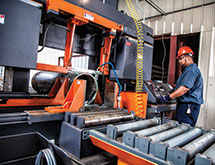 As a top supplier of critical materials, Tioga Pipe Inc. thrives on providing great service.
"We are known around the globe for providing mission-critical materials to our customers," says COO Jack Stuart. "Our objective is to meet the needs of our customers with precision processes, quality products and the world's greatest employees."
Tioga operates in the global chemical processing and energy industries providing high energy pipe and steel components. Based in Philadelphia, Tioga is a leading material solutions provider for large, complex new construction, upgrade and maintenance projects in global fossil, renewables and nuclear power generation, oil refining, gas and chemical processing and U.S. military shipbuilding.
Ample Inventory
"It's an exciting place to work," Stuart says. One differentiator from peers is that Tioga carries a large inventory supported by an extensive yard expansion at its Houston Distribution Center last year. "Across the globe the energy generation mix is changing so diversity of available inventory is essential to supporting our customers' strategies. We have the largest, most diverse inventory of its kind in North America, so when a customer needs something, we not only fully understand the technical requirements, but are likely to have it. That makes a huge difference."
With Tioga's long-standing mill relationships around the world, "we have the ability to work with our customers to make sure it's right," Stuart says. Tioga can provide thousands of line items within established protocols to deliver and support projects for customers, he says. Customers include Siemens, Duke Energy, Westinghouse and the U.S. Navy, just to name a few.
When Siemens was constructing a 695-megawatt coal power plant with a super-critical pulverized coal boiler for Longview Power in an underserved market, the contract had a tight delivery date. Yet, market conditions for pipe production led to product lead times of 12 months or more. Adding to this challenge, the engineering for the project was already behind schedule. "Tioga's inventory, mill relationships and logistical expertise improved delivery time of critical materials by 35 to 50 percent, avoided further project delays due to engineering and helped ensure proper alloy specs for the $2 billion project," according to Tioga.
Quality is another differentiator and of critical importance to Tioga. Supplying customers in the nuclear and military industries requires the highest levels of quality specifications, the company says.
When the 86,000-ton USS Kitty Hawk was stuck in a Far East port with a critical need for pipe that required rigorous testing and government source inspection, it turned to Tioga. The aircraft carrier could not sail without it, which constituted a significant setback. "Tioga's inventory, knowledge of military pipe specifications, quality assurance capabilities and logistical expertise made it possible to turn the entire order over in just nine days, after which the USS Kitty Hawk was able to return to its mission," the company says.
70 Years of Success
Tioga was founded in 1945 and operates from three locations in Philadelphia, Houston, and Chattanooga, Tenn. Its locations total in excess of 40 acres for inventory storage. The family owned business recently changed its operating name from Tioga Pipe Supply Company to Tioga. This reflects the fact that the company provides more than just pipe supplies. The change "helps refresh our brand and message to better represent Tioga in the world," Stuart says. "The update allows us to articulate our strengths."
One of Tioga's strengths is the ability to service diverse markets. "We service a number of different sectors and see some very exciting things on the horizon," Stuart says. There is a resurgence in the domestic oil and gas business with new processing and refining facilities planned, he explains. "We see literally dozens of new processing facilities being built over the next 10 years," Stuart says. "This provides a great opportunity for companies like Tioga to provide materials."
The level of experience and expertise at Tioga across all facets of the business helps contribute to the company's ongoing success.
"We have lots of folks who have been with the company a long time and have been working in this industry, so our working knowledge is as deep as anyone around," Stuart says.
Tioga's project management capability is second to none, he maintains, as the company has built a detailed discipline based specifically on industry project needs; execution of project delivery falls under the auspices of a dedicated project management team.
Team Tioga lives by its brand, "When it has to be right," so it is committed to delivering exceptional service so the customers win.
In conclusion, Stuart says, "We go the extra step to ensure our customers have the exact products they need – right when they when they are needed – to keep vital operations moving." It's all part of the Tioga Difference, the company says.