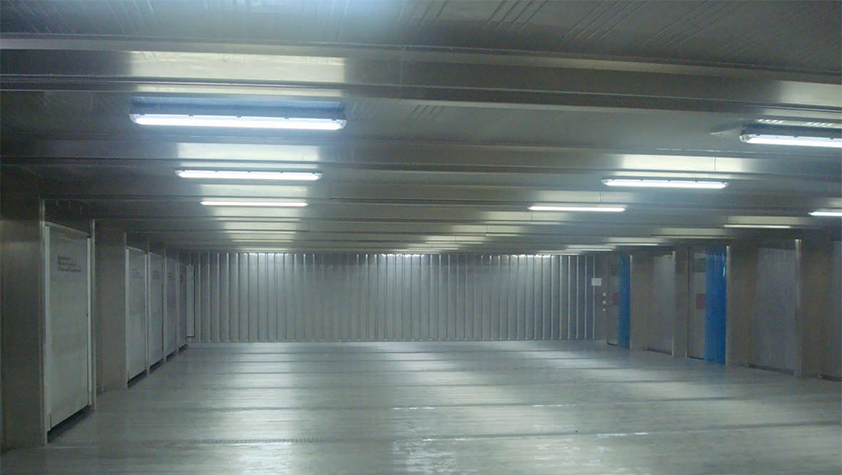 A global network
Founded in 1987, TITAN Containers has developed a strong network with its regional offices and more than 100 depot locations in Europe to become the single largest privately owned global supplier of shipping and offshore containers.
With a keen eye for new opportunities, TITAN took huge risks in investing throughout the economic crisis in 2009 and has since enjoyed an incredible rate of growth, with pre-tax profits of more than £3 million for the 2012 fiscal year; an increase of over 100 per cent in comparison to 2011. "In the years 2010, 2011 and 2012 we increased the turnover of the company by 100 per cent and the profitability by 600 per cent," says Layland Barker, managing director and single shareholder of TITAN Containers. "It was in this time period that we also made a strategic change to place a greater emphasis on rentals and focus on the development of our ArcticStore brand both in the UK and Europe."
In 2008 the company enhanced its service offering through the acquisition and integration of ArcticStore, which has an emphasis on temperature controlled and refrigerated storage solutions. In preparation for global expansion, the company also acquired the fleet of Container Exchange in 2009, which was incorporated into ArcticStore the same year; furthermore, it acquired Boxtainer Ltd and Canons Park Sweden in 2011 and added more containers and cold stores to its growing fleet with the acquisition of AB Containers in April 2012.
"Refrigeration is our specialist area and has been for the last four to five years. We have always been involved in refrigeration but it really took over when we began our acquisitions in 2008; since then we have built on this service offering and developed new specialist products to suit both the storage market and the offshore market," says Layland. This strategic decision led to approximately 42 per cent higher revenues in 2012, compared to the previous year, at almost £35 million. The increase in income was also due to expansion into South America, although positive growth was seen throughout all regions during the year.
Available in 10-foot, 20-foot and 40-foot lengths, ArcticStores are a sophisticated and user-friendly option for many short, medium and long-term storage applications. With an operating range from -40 degrees Celcius to +60 degrees Celcius, subject to the machinery fitted, the cold stores also offer power efficiency, reduced DB emissions and low power consumption. "As a blue-chip supplier we try to do business with blue-chip customers. European High Street supermarkets are big users of our ArcticStores and SuperStores, which is due to the sophisticated, user friendly, environmentally friendly features they have. Our temporary cold stores can be held round the back of a supermarket for two weeks, two months, or even longer than two years," says Layland.
Operating under five brands, TITAN Containers, ArcticStore, DNV Containers, TITAN Self Storage and TITAN Container Transport, the company can offer its quick and efficient services to a diverse range of customers on an increasing global scale. "TITAN Turkey is opening this year and India will follow either later this year or early next year; we have also been working with our partners in South America for over two years who we have a very close relationship with," highlights Layland. "We have been making some big investments in Brazil recently, around $15 million before import duties in DNV compliant refrigerated containers, and TITAN were one of the first to introduce this product to Macaé. Petrobras has said a lot of positive things about a DNV compliance requirement, but due to the lack of availability this regulation has been devalued."
Due to the booming oil and gas industry in Brazil causing logistical issues there has been a necessity to delay full compliance, a decision that has led to TITAN Containers taking a financial hit, as Layland elaborates: "We are suffering a bit at the moment because DNV is still not essential, but we expect significant developments later in the year when Petrobras will again try to enforce a DNV compliance requirement for all types of containers. Being around as long as we have, we look at the long-term and understand the trade."
Engineered for user safety and built for customer satisfaction, DNV containers require high quality materials and superior workmanship during construction and stringent production testing to ensure they meet DNV 2.7-1/EN 12079-1 requirements for offshore containers. These test parameters exceed normal operating conditions to ensure continued safety throughout their working life when in use. The company's DNV reefer containers, available for rental and sale, include features such as 380/440V three phase marine protected energy efficient refrigeration with an in-built data logger from -30C to +30C set point, anti-slip roof strips, corner castings and top lifting pad eyes. The ten-foot containers can be locked together to form an ISO 20-foot formulation to ensure easy and cost effective shipping and a quick delivery time of two to six weeks from the factory. TITAN also offers 20-foot DNV refrigerated containers as well as a wide range of other DNV container types.
The world market is shrinking, with larger players dominating all business segments, including offshore catering, leading Layland to comment: "We live and work in a global economy; users (customers) are looking for global suppliers with the same products and services worldwide. TITAN Containers is one of very few DNV suppliers that operates globally. This is a useful bi-product of our traditional business for more than 25 years with shipping containers."
Currently operating out of 300 locations worldwide, the future looks positive for TITAN Containers as it continues to consolidate its growth strategy and develop new markets, as Layland concludes: "France is a very new market for us and TITAN Turkey is expected to open next month, meanwhile India will come on later this year. It's a constant process of developing the business."
TITAN Containers
Products: Containers