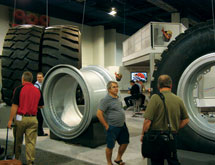 Titan International manufactures tires and wheels for global agriculture and over-the-road (OTR) OEMs, but it understands there are numerous rubber tire manufacturers that can accomplish what it does, such as Bridgestone and Michelin. However, Titan International separates itself from the competition by creating steel wheel applications and pairing them with its own tires as well as Goodyear Farm Tire brands.
"The hook is the steel – that's what catches the fish," Titan President and CEO Morry "The Grizz" Taylor Jr. says. "But you gotta bait it – that's the rubber. I would prefer to make everybody's rubber, but a tire doesn't work unless it's got a wheel. So, we're making our niche that way."
Despite entering the tire market in 1993, Titan International's legacy extends back more than 120 years in the off-highway manufacturing business. Today, the company is a leading global supplier of complete wheel and tire assemblies for off-highway vehicles.
The company's roots date back to the Electric Wheel Co. in Quincy, Ill., which was founded in 1890. By 1957, Electric Wheel became a division of Firestone Tire and Rubber's Steel Product Division. In 1982, however, Firestone shut down its operations and sold certain assets, which is when Taylor entered the picture.
Taylor – a toolmaker and welder by trade with a mechanical engineering degree – convinced Joseph Tanenbaum, owner of Toronto-based Titan Proform, to purchase Firestone's assets in Quincy and renamed the company Can-Am Industries.
In 1986, Can-Am performed its first major acquisition when Goodyear Tire and Rubber Co. left the steel wheel and rim business. This allowed the company to install Goodyear equipment to manufacture power adjust wheels at the Quincy facility after moving it from its northern Illinois location.
The ensuing years witnessed a bevy of acquisitions for the company, including its first international purchase in England. The firm was renamed Titan Wheel International Inc. in 1990 when MascoTech Inc. of Taylor, Mich., split ownership with Tanenbaum and Taylor through a leveraged buyout. In 1991, Taylor and MascoTech bought out Tanenbaum's interest in the company, resulting in Taylor holding 53 percent ownership.
Titan became a publicly traded company on the NASDAQ in 1993. After another series of acquisitions, Titan expanded its flagship wheel facility in Quincy when Titan Wheel Corp. of Iowa ceased manufacturing.
In 2006, Titan Tire Corp. of Bryan, Ohio, acquired the OTR tire assets of Continental Tire North America Inc. in Bryan.
This acquisition gave the company market penetration in large earth-moving, construction and mining tires, in addition to the added manufacturing capacity of the Bryan facility. The company closed on its acquisition of Goodyear's Latin American farm tire business in Sao Paulo in 2011, giving Titan International its first footprint in South America.
"We're probably the most innovative tire company that only specializes in wheel and tires for farm and OTR customers," Taylor says.
Mining for Business
This year, Titan International set up a booth at MINExpo 2012 to show off its wares to the international mining industry. The company displayed a variety of sizes for the major mining OEMs in attendance, including Caterpillar.
However, Taylor is well aware of the fact that Titan can't necessarily compete with tire companies like Bridgestone and Michelin – not in terms of product, at least. Instead, he is taking aim at the service side of the tire and wheel business, coupling Titan International's various steel wheel products with rubber tire applications from major manufacturers.
To accomplish this, Titan International has launched its own mining service group to attract these tire manufacturers with the hopes of partnering for sales. Taylor says this group will ensure that the tires on Titan's wheels are maintained properly, and Titan will share pertinent performance data with the manufacturers that they can use internally.
"Once they understand we're not really in competition and such, we'll watch those two fight it out," he says.
"What we will do is make sure their tires are maintained as they wish and give them all the data," Taylor continues. "We'll make money on the service, we'll have the track, we'll take care offering that service and, if it moves, we're the guys to call. The service side is a much better place."
Taylor believes the company will be able to move its own line of tires this way, as well. He says mining OEMs might start out using Titan tires for these applications before electing to switch to a brand like Bridgestone or Michelin later on. Even if that happens, the company maintains market share through its wheels.
"I think we'll have the flexibility to maintain our margins and not have that up and down," he says.
"All of the mining companies of the last five or six years have come to the conclusion that the most innovative one of all is Titan," Taylor adds. "If they get into a problem, we're the ones that can fix it, and Bridgestone and Michelin can take it the next level up."
low overhead
Already a $2 billion international enterprise, Titan International can grow its sales to as high as $4 billion or $4.5 billion before maxing out, Taylor says.
Based on its small overhead costs – the company maintains a selling, general and administrative expense rate of between 5 and 7 percent worldwide – and the company's low capital expenditures, the next few years at Titan International should be extremely profitable, according to Taylor.