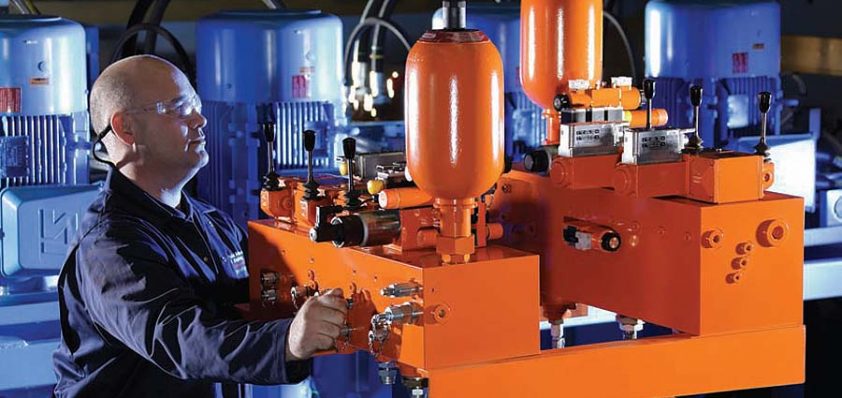 An established specialist
Having built upon a reputation for providing bespoke services to local companies, TMA Hydraulics has become an established hydraulic specialist, employing technicians and engineers capable of undertaking some of the most challenging hydraulic projects and installations for the oil and gas industry.
"We offer both local services in engineering, as well as more specific hydraulic systems. The biggest investment for us as a young company has been into people and skills, taking our time to build a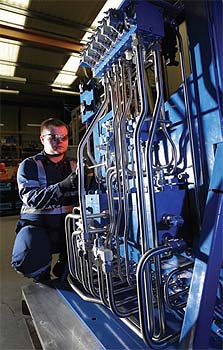 team to accelerate the business within the oil and gas market," begins Frederic Besse, general manager. Over the last 18 months the company has continued to evolve to meet the needs of customers and the marketplace. "Clients are now more aware of the importance of hydraulic piping in the scheme of their overall system performance, and as we take on larger builds of hydraulic power units, we have further increased our engineering and design capacity," adds Angela Cameron, sales and marketing executive.
The provision of detailed pipe route modelling and installation plans in advance, increases the initial engineering time, but substantially reduces the overall cost saving and reduced time on-location. "By undertaking this work before ordering fixed components such as manifolds and filter housings it is possible to identify and eliminate common problems such as irregular size steps and minimise the use of tees and elbows. When the high specification of materials and high pressure rating of hydraulic lines are considered, it is possible to save £10,000's on large installations through collaborative engineering between the hydraulic installer and the equipment design company," points out Angela.
Reinvestment of funds into the business forms part of a key strategy that has helped TME grow within the market. Commenting, Angela continues: "We are improving and expanding our hydraulic installation service through our partnership with Tube-Mac Industries, as an authorised installer of the weld-free pipe connection technology. Investment in an EO2 Form F3 Workstation for standard DIN2353 connections was also a logical step. The use of weld free connectors for offshore applications is becoming the norm, although the UK still lags behind other regions in the full adoption of some of these technologies."
The system is very well suited for hydraulic systems, not simply through the elimination of weld-associated debris but also the speed of installation. As a product suited to large bore pipe, the oil and gas industry is an obvious candidate to benefit from it. "It takes time and cost out of projects, as well as eliminating hot works permits, NDT testing on wells, and well procedure approval. It is very universal and compatible with SAE flanges, allowing it to be connected with any other type of system," says Angela. TME was recently involved in a project installing stainless steel hydraulic pipes of up to 2"diameter with 37o flare technology. "We were able to demonstrate to the operator that should the need arise the pipes formed and installed by TME could be connected to any corresponding SAE flange without the need to stock special parts," explains Frederic.
"People are beginning to notice the benefits of our systems. If you can take hot works out of jobs, and reduce risks and hazards on any kind of working, then people become interested and we are seeing more companies using us," highlights Angela. The reality is that Tube-Mac, has been proven for a number of years in the US and Norway, receiving DNV and Lloyds approval. "It is an established product, and we are just bringing that to a new market, and showing people that it works really well. It is important to focus on bespoke engineering, and highlight that by outsourcing the hydraulics, customers can achieve cost savings and better efficiency, ending up with systems that work better," she adds.
The company's hydraulic installation capabilities have been put to the test on demanding projects over the last year, including a novel walk to work gangway for offshore personnel transfers and a large subsea trenching vehicle. Both highly time sensitive as well as requiring high levels of documentation and quality assurance, one of the requirements was to have full traceability for each pipe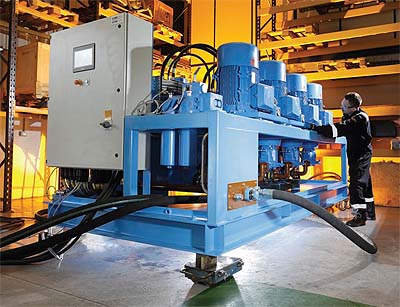 and hose installed. To achieve cross-referencing of the material certification, line configuration, flushing report and pressure test report whilst still progressing the work on-site the business devised a common installation report format that could be completed on-site but gave the client the necessary information, working with the component supply chain to ensure full traceability of materials through batch numbering.
With a customer base centred on the north east of England and Scotland, TME sees continued opportunity for growth with offshore equipment manufacturers. The end location for these projects is diverse, spread throughout the North Sea, West Africa, Australia and GOM and Brazil. "We have recently established a full time presence in France to support business development in the region and expect to see continued diversification of our customers geographic base," says Frederic. The business already holds very close links with French manufacturers able to provide a competitive and proactive offering, resulting in a very short time scale between order and delivery.
Following the increase in the company's internal capacity for the design and assembly of hydraulic power units for offshore applications, many of the projects in which it is now involved are for hazardous (ATEX) areas. At present, preparations are underway for the assembly of a twin 132kW power unit, to be supplied within a container for location on the deck of an FPSO. "Our main strength comes from our engineering knowhow and ability to take on difficult projects and offer expertise as well as manufacturing capacity. We see plenty of opportunities, particularly through the work with our existing customers. We also expect that as larger companies are pushed to review costs and supply chain this will create new demand for technologies such as Tube-Mac that save time and money," says Angela.
Highlighting the company's appearance at Subsea 2015 in Aberdeen, Frederic concludes:"We are working towards building a rapport with new customers, driving forward installation, and show casing the Tube-Mac products, providing hands on interaction. Increasing our presence in the UK with Tube- Mac will be one of our primary targets for the period ahead, not only selling the product, but the full package, including installation. We are very keen to undertake more complex installations in the coming 12 months, increasing the technicality of those projects."
TME Hydraulics
Services: Design, supply and installation of hydraulic systems