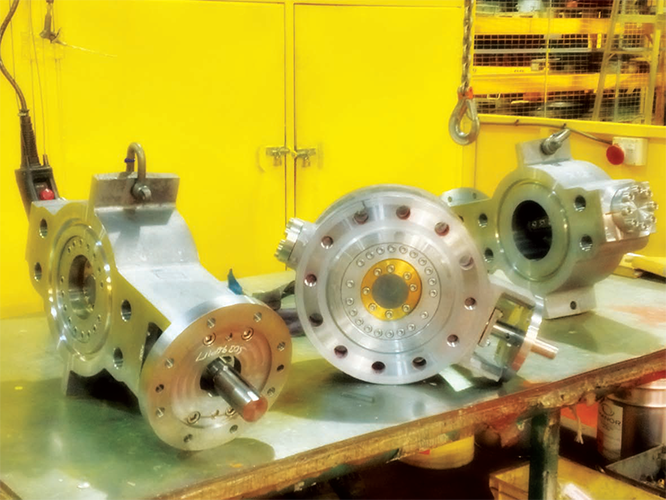 At the frontier
TOMOE Valves is a leading supplier of one of the finest and most comprehensive ranges of butterfly valves and actuators in the world, offering one of the largest and most complete ranges of products to give clients unparalleled levels of leak tightness, longevity and wear resistance.
With more than six decades of experience the business remains resolutely at the frontier of valve design today, providing such an extensive range of body designs, material options and sizes that customers will be hard-pushed to find an application for which there isn't a TOMOE valve.
"Based in Newport (South Wales), we provide products and solutions for the most challenging applications throughout the oil and gas, petrochemical, power and mining industries, and we are renowned for offering bespoke solutions to clients who are operating high technology and critical applications," says Nick Robertson, technical sales director at the business. "Our range of valves delivers control and/or isolation solutions that ensure that our clients minimise cost, operate safely and achieve the optimum results from their processes."
Where TOMOE Valves distinguishes itself in the market is in its approach to working closely with its customers. The industries that the company serves are demanding and as such the company produces tailor-made solutions for individual customer requirements. "Our focus is on engineered, manufactured to order products for niche applications. The majority of our customers don't want an 'off the shelf' product," Nick explains. "Rather, they want something that they can just 'drop in' without any fuss or modification, and so we like to get involved with the end users and engineering companies at the FEED stage.
"Adopting this approach ensures that we fully understand the customer requirements, but it is also gives us the opportunity to show the end user that we can make our product fit their application, and we don't have to have them make their application fit our product."
Of course, being able to provide this type of production, and the associated high levels of quality demanded of clients, TOMOE Valves regularly invests in ensuring its facilities are equipped with the latest machinery, tools and manufacturing capabilities. Nick elaborates on some of the latest of these investments: "We started investigating the viability of a replacement milling machine in March 2012 as the existing machine was coming to the end of its life, and by November the same year we had placed the purchase order. By working closely with the machine's supplier (Mills CNC) we ensured that the installation and commissioning had very little impact on our production schedule.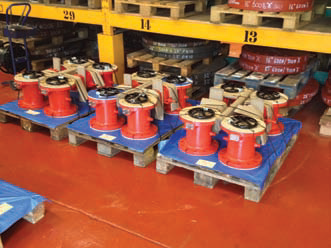 "Initially we projected that the machine would give us efficiency savings of around 30 per cent, but in fact it has actually given savings of more than 45 per cent. In turn, this allows us to not only be more cost-effective, but also increases our production capacity and the product range that we can manufacture in-house. As a result of this we are currently investigating the potential for investing in another machine," he continues. "This particular one won't be a replacement, but rather an addition to the current setup. Realistically the decision on this investment won't be made until Q3/Q4 of 2014, but it shows our intent and commitment to our customers and workforce that we will continue to invest to maintain on-time delivery, product quality and safeguard jobs."
Maintaining state-of-the-art technology will enable TOMOE Valves to continue producing innovative products for markets that are seeing ongoing advances in technology. The oil and gas industry, for example, is continuing to drill in harsher environments and deeper waters which creates opportunities for equipment manufacturers such as TOMOE to advance their technology to work in these conditions. For this reason the company ensures it maintains a continuous R&D programme in order to meet clients' increasingly complex requirements.
One area of new development for the energy sector is Brazil, where TOMOE Valves is looking to expand its reputation. The companyhas strategically placed manufacturing, sales and distribution facilities around the world,including in Brazil where it foresees a great deal of work in the future. Nick highlights one recent contract in the region: "This is a £1.3 million contract for the supply of valves that are ultimately destined for Brazil and will form part of a six skid package to be used offshore on an FPSO. This project represents a great opportunity for us to showcase not only our engineering expertise but also our ability to deliver on time. It is also a fantastic example of the benefits of the customer and supplier (us) working closely to ensure all requirements are fully understood."
This represents just one of the many contractsthat TOMOE is working on at present and into the future, illustrating the demand that the companycontinues to experience. This is no doubt down to its reputation, which is underpinned by the skilland expertise of its employees. "We are lucky thatwe don't have a high turnover of staff," Nick says. "We always look to engage our staff in the decision making process, and by doing this we aim to give our people a sense of ownership, which helps us to implement change within the business with little resistance."
Considering that the company continues to behighly successful, Nick believes that the future is more about consolidating what TOMOE Valveshas already achieved: "Our focus for 2014 will beto continue to try to make the business leaner toenable us to be more competitive. We will alsocontinue to stay extremely focused on our on-timedelivery performance, which is very importantto our customers and key to maintaining a good reputation within our industry.
Beyond 2014 to some extent depends onthe market conditions. For example, we saw aslight dip in 2013, but the feedback says that this was widespread. The second half of the year was particularly good for booked orders, whichgives us a great start to this year. Whilst we areseeing growth we are also seeing the numberof suppliers within the industry increase.This makes an already extremely competitivemarket even more difficult to win orders in. I'mconfident though that if we continue to focus onthe basics we will be able to maintain a profitablebusiness into the future," he concludes.
TOMOE Valves
Services: Valves