Top Oilfield Industries Limited
One-stop Quality
Established in 1995, as Top Oilfield Engineering Services, Top Oilfield Industries Limited has become a leader in land rig refurbishment, oilfield drilling equipment manufacture, repair, overhaul and modification.
Based in Sharjah, UAE, Top Oilfield Industries Limited is perfectly located to meet the needs of drilling contractors operating in the Middle East, Africa and Asia.
The company's facilities currently comprise of 30,000 square meters of fabrication yards, 59,000 square meters of land rig-commissioning and rig up yards, management offices and storage areas and 65,000 square feet of workshops. The company boasts an impeccable record of high quality and cost-effective oilfield refurbishment work completed in a timely fashion. Targeting oil and gas contractors and NOCs and placing quality at the forefront of its business, the company is dedicated to going to extraordinary lengths to ensure customer satisfaction.
Operating as an API and ISO accredited company and employing an in-house training and mentoring programme, Top Oilfield Industries Limited strives to be the leading name in rig support and maintenance solutions as CEO Ian Midgley explains: "Since its creation Top Oilfield has always sought to improve and develop its product and service lines in order to better support its customers and achieve its long-term vision of becoming the service provider of choice for drilling contractors active in the Middle East and beyond.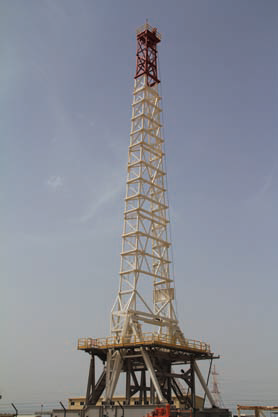 "We provide in-house training and mentoring schemes and start by only targeting and recruiting highly skilled, experienced and motivated personnel. This enables a high degree of cross and up skilling within the workforce. Many of our staff have been with us for more than ten years."
Ian observes that the company's competitive edge is founded on excellence built on providing fast, highly competitive and reliable services to the company's target base. He notes: "The proof is the fact that we have a very high retention rate and our base continues to grow. We provide bespoke services but with a standard price list."
Also key to the company's success is the one-stop-shop approach that it provides for its customers. Top Oilfield Industries Limited believes that the key benefit of providing a one-stop service to clients is in streamlining communication between third parties, allowing projects to be completed in a timely and cost-effective fashion. Ian elaborates: "Our customer base ranges from very large multinational corporations to smaller more regional operations, all of whom benefit by being able to deal with one service provider for the majority of the works they have at any particular time. Because the vast majority of the work is undertaken in-house we ensure high-end production standards, adherence to delivery dates and excellent cost control.
"The regional clients have the convenience of not having to get involved in time-consuming correspondence with a number of companies and the convenience of a single point of contact. For the larger clients there is the same benefit, but with potentially much higher cost savings due to their much higher cost base."
Another part of the company's one-stop approach is its ability to provide a diverse and adaptable service. Able to provide services ranging from land rig and jack-up rig refurbishments, equipment manufacture and design and technical field support, Top Oilfield Industries Limited is well placed to support its customers. Ian says: "Top Oilfield is fully committed to providing our customers with high performance products and services and we have demonstrated our ability to deliver all of the projects we undertake to the highest quality, on time and at the most competitive industry rates anywhere. We have recently delivered a USD 30 million jack up refurbishment project which, due to the condition of the rig when it arrived in our shipyard, required our marine project teams to 'pull out all of the stops' to ensure the vessel left our facility ready to drill and provide many years of service for our customer.
"Our land rig division is currently undertaking full re-build/remanufacture of three 1500 hp rigs; these 'all western' units are a mixture of new and refurbished components. Our ability to mix and match new elements with refurbished parts allows Top Oilfield to produce high caliber rigs for our customers within their budgets."
Since 2007 the company has enjoyed continued growth as its efforts have been rewarded. Moving forward it has opened new workshops in Mumbai and signed a joint venture contract with a company in Saudi Arabia, reflecting the growing regional demand for rig support. Ian confirms, "We have gradually broken into the highly competitive market in India where the Top Oilfield brand was known by the large international players, but the major Indian players had to be wooed. We started with some small jobs and we are now building momentum. We have used one location for works since we opened and got our first work. We are nevertheless searching for an even better location to improve our ability to meet our customer's needs.
"We see the Saudi market as a critical part of our future business, however there is no point in entering such a market until your operation has the strength to be able to choose the best possible partner and meet the inevitable demands from such a strong and fast growing market. We believe that we have found such a partner in the Al-Bassam Group. We have founded our JV, which is currently in the process of being licensed through SAGIA. We plan to roll out our services in the pre-licensed period through a temporary partnership with one of the Al-Bassam operating companies, Gulf Heavy Industries LLC."
Top Oilfield recently achieved two million hours without a lost time injury. Ian explains how this was achieved and the company's commitment to health and safety. "At Top Oilfield we understand both our moral and the commercial requirement to establish and maintain a strong health safety and environmental culture, regardless of our geographical locations, in our potentially high-risk industry.
"For us to achieve our objective of world class levels of HSE performance, everyone from the CEO downwards is genuinely committed to driving HSE performance within our organisation. We all know the phrase 'Safety is everybody's responsibility', which predominately is the case, but we know it is the executives and managers that will be key to our success."
Throughout the rest of 2013 Top Oilfield is committed to growing its regional presence while remaining true to its core principles as Ian concludes: "We continue to concentrate on developing our presence regionally in order to enhance the support we currently provide to customers operating throughout the Middle East, Asia and North African oil/gas producing areas. Coupled with this is our focus on ensuring that our business is fully enabled to provide the products and services which our customers seek."
Top Oilfield Industries Limited
Services: Oil rig support and maintenance solutions