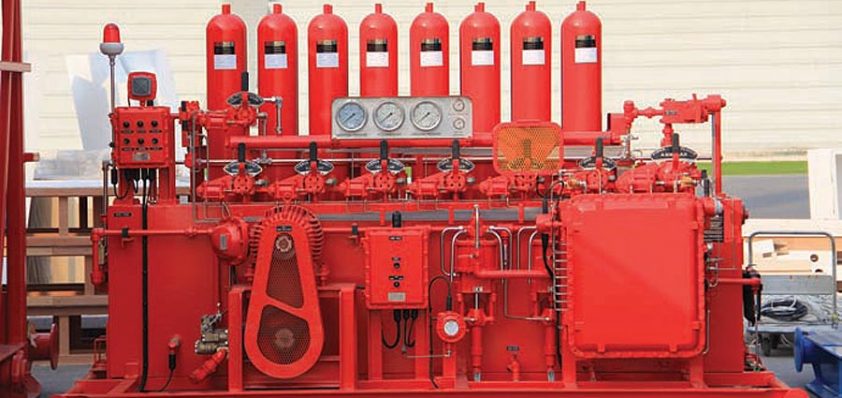 Top Oilfield Industries Ltd
Leader of the pack
The Top Oilfield Group was established in 1995 and during the time since has developed into a consistent and reliable service centre for drilling contractors operating in the Middle East.
The company was itself founded by professionals with a wealth of experience in the oil industry with expert knowledge of the environment, problems and demands, which its clients operate within. The company has consistently offered a wide range of services and skills designed to ensure that clients could always be assured of a complete and excellent level of service.
From its headquarters in Sharjah, UAE the provision of quality driven drilling rig refurbishment services features a full rangeof specialised in-house services, which has extended its value for money strategy to every customer. Top Oilfield is dedicated to upholding the same high standards of quality craftsmanship and customer relations today as it has for almost two decades.
The services of the business include manufacture and refurbishment, new build and commissioning, repair, overhaul and packaging of oilfield equipment, re-builds, rental and technical field support. Its services extend to cover drilling equipment and associated parts supply and rental and the supply, overhaul and repair of industrial diesel engines. "In line with our philosophy of continuous improvement, over the past six months we have strengthened
several key areas of our operations, specifically in respect of our field services team, manufacturing production processes at our central workshops and supplier base.
"We are active in three main areas of the oil and gas industry. Land rig new builds and refurbishment, drilling equipment manufacture, supply and re-certification and technical labour supply. We offer our services and products throughout the Middle East, India and beyond where all equipment, including new and reconditioned land drilling rigs are backed up by locally available after sales service teams," explains Ian Midgley, managing director.
The business is currently undertaking the complete refurbishment of two land rigs, scheduled for completion within the time frame and to the budget required by its customer. As part of an order for six land rigs, the remaining refurbishments will be completed before the end of the year. With the capacity and demand to undertake several contracts at any one time, Ian says: "We continue to provide on-site support to various major drilling contractors who are active in our operating regions both onshore and offshore. Our field engineers and technicians are in great demand at present and we are keen to ensure that we maintain our ability to meet our customers operational needs."
In its 19-year history of manufacturing, upgrading and repairing BOP control units Top Oilfield has built up a significant product line. "Due to the large volume of orders we are receiving for new build units, we have responded by developing a production line approach to the manufacturing process. This will provide our customers with quicker lead times and, due to the cost reductions associated with this manufacturing methodology, our prices will also be even more competitive. As with all our product offerings, all units we supply are fully supported locally after delivery. We believe that in terms of reliability, performance and price, Top Oilfield BOP control units are world-class."
As a response to the challenging environment of today's market the business is also further strengthened by many other qualities, as Ian points out: "In addition to our API certifications, API 16D, 4F and 7K and ISO 9001:2008 accreditation, Top Oilfield has exceptional tradesmen, facilities and an ethos of responding to our customers' operational needs and reliability. As a privately owned and managed company, we have the flexibility to swiftly change our own operations to ensure that our products and services are appropriate to those required in our industry.
"We are an attractive proposition for companies who are seeking new build or refurbishment and recertification to rigs, due to our regional experience, knowledge of rig specification requirements and operating conditions. We are also happy to work in partnership with our customers and have the flexibility to offer rig packages which both meet specification and available budgets. We have developed a 1500hp land rig package, which is highly mobile, providing the highest standard of performance and is sensibly priced to ensure maximum value for money. In addition, as previously noted, our field service engineers are available locally and quickly in order to provide full after sales support."
With the demand for oil production in the region remaining high, the ongoing requirement for drilling rigs and associated equipment and services is also strong. "The problems which certain Middle Eastern nations are facing in respect of the Arab Spring, coupled with an apparent upturn in the industrial activity being experienced in the West, would indicate that the market will remain this way for some time to come," explains Ian. Looking towards the future, he concludes: "Our focus, as always, is to continue developing our business and ensuring that we are aligned with the needs of our customers. Our ambition is to provide high quality, high value and competitive products and service lines, which will make Top Oilfield the first choice partner for drilling rig contractors operating in the Middle East."
Top Oilfield Industries Ltd
Products: Oil rig support and maintenance solutions