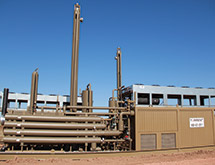 The less an oil and gas operator has to worry about in the field, the better, and that's why service providers that offer a complete solution will always be in demand. Dallas-based Torrent Energy Services has found a great deal of success in serving the upstream and midstream oil and gas market for this very reason, Vice President of Sales and Marketing Harry Gussett explains. The company's ability to provide turnkey processing solutions makes it unique in the marketplace, he says, and serves as a powerful incentive for producers to put their trust in the company.
Torrent Energy Services serves a broad customer base of oil and gas producers throughout North America. The company specializes in providing full-service, turnkey solutions for wellhead gas capture and processing as well as NGL recovery and emission reduction. Among the equipment the company provides for customers are mechanical refrigeration units, NGL stabilizers and storage tanks, and natural gas-powered generators. Torrent Energy Services does more than simply build and deliver this equipment, and its services include installation, commissioning and startup, maintenance and NGL marketing.
Although the company's competition includes some major manufacturers, Gussett says Torrent Energy Services stands apart due to its complete services, the strength of its equipment and the wealth of experience its senior leadership brings to the table. As long as the company continues to offer these advantages, he says, Torrent Energy Services stands to maintain its leadership position in the industry for a long time to come.
Complete Package
Gussett says the biggest differentiators Torrent Energy Services has in the marketplace are its equipment and its ability to do more for that equipment than other manufacturers. "We've got brand-new equipment and it's all state-of-the-art, top-of-the-line equipment, but I would also say it's our service," he says. "We provide all operations and maintenance and we've actually got quite a large number of people that are in our operations and maintenance division."
This expertise means that Torrent Energy Services is capable of providing complete turnkey services for a customer, making it a one-stop shop for them. With the capabilities Torrent Energy Services brings to each of its customers' sites, customers never have to worry about finding another vendor to handle the commissioning or maintenance of the equipment, Gussett says. For many of the company's customers, that level of peace of mind is absolutely crucial.
The equipment Torrent Energy Services provides for its customers is known for its durability and efficacy in the field. The company says its technology not only is designed to handle very rich gas and a wide range of flow rates, but it also is capable of operating in the difficult environments of some of North America's most active oil and gas regions.
"Our equipment is capable of operating in 120 degrees in the summer in New Mexico and sub-40 degrees in the winter in North Dakota," the company says. Additionally, the skid-mounted and modular design of Torrent Energy Services' equipment provides for easier transportation and installation of its products, saving its customers money and time.
Large But Friendly
The other major advantage Torrent Energy Services brings to the marketplace is its size, Gussett says. Although the company's biggest competitor has plants similar in size to its own, the majority of Torrent Energy Services' competition is smaller manufacturers. "They can't do the higher volume that we can do," Gussett says.
However, despite the company's larger size compared to its competitors, Gussett goes on to say that Torrent Energy Services is small enough to work one-on-one with customers and coordinate work easily between departments. He says it's easy for questions to be answered quickly this way. "The corporate culture here is that we're not huge and one where we don't know each other," Gussett says. "We're all pretty good friends, actually, and we all work together well."
Focused on safety
Torrent Energy Services says it understands how vital it is that its customers not only receive the services they need on the jobsite, but also that those services are completed with as much of an emphasis on safety as possible. "Torrent Energy Services is dedicated to doing what is best for our employees, contractors, environment and the communities where we work," the company says. "This commitment guides all of our activities."
In order to work at the highest standards of safety and provide its customers with peace of mind, Torrent Energy Services pledges that it will comply with any and all environmental, health and safety regulations.
The company also says it sets quantifiable goals for environmental, health and safety performance, and also focuses on business practices that emphasize reducing risk in the field and preventing accidents before they occur. The company says it concentrates on training its employees to work safely, and that it requires that all subcontractors it works with in the field to comply to Torrent Energy Services' health and safety protocols as well as any and all applicable regulations.
Facing Challenges
Gussett says the biggest challenge for Torrent Energy Services today is the same as the one facing most of the energy sector; namely, commodity prices. With prices for oil currently at low points across the market, business has slowed somewhat for the company. However, Gussett says Torrent Energy Services is being proactive in this regard by expanding into the Canadian market and looking for new product lines such as natural gas generators. By following this approach, Gussett says, Torrent Energy Services could well be in a position to triple the number of units it has out for lease by the time oil prices return to their usual levels.
"Even in this downturn in commodity prices, business has slowed a bit, but there still seems to be a good demand for what we offer," he says. "So, we just expect as soon as prices come up a bit that will spur drilling a little more, and we want to continue to build quality equipment and get it out on lease."