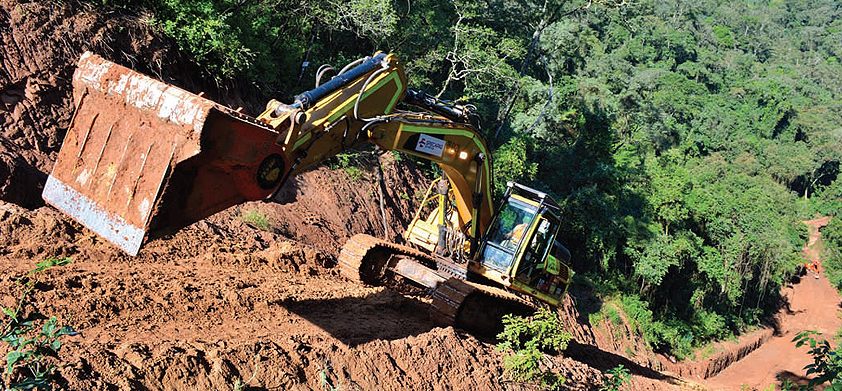 Exploration through partnership
Operating within Bolivia since 1994, the company has contributed to the state's development for more than 20 years as a partner for important national gas production projects and in developing major new fields within the country. Indeed, Total has played an important role in both exploration and production within Bolivia as a non-operator partner in the San Antonio, San Alberto and XX Tarija Oeste (Itaú) blocks since the early 2000s, being part of the development of these important production fields. Furthermore since 2001 and 2003, Total E&P Bolivia has operated the Aquio and Ipati blocks respectively with a 50 per cent stake in an operating contract signed with the Bolivian national oil and gas company Yacimientos Petrolíferos Fiscales Bolivianos. The company's partners Gazprom and Tecpetrol each hold a 20 per cent stake in the agreement, while YPFB's subsidiary –YPFB Chaco – holds the remaining ten per cent. In 2014 Total E&P Bolivia finally signed a service contract for the Azero Block in collaboration with GP Exploration and Production SL (subsidiary of Gazprom) and YPFB.
The Incahuasi Project
During September 2013, Total announced the final investment decision for the first development phase of the Bolivian Incahuasi- Aquio gas and condensate field, following the successful drilling results of the ICS-2 exploration well. Located on the Ipati Block 250 kilometres south west of Santa Cruz in the Andean foothills, Total revealed that the project would involve three wells, with one located on the Aquio block and the remaining two on the Ipati block. The ICS-2 well, drilled to a depth of 5640 metres, is the second successful exploration well on the Ipati Block, while the results of two separate tests on this well proved a hydrocarbon column of around 1100 meters in the Devonian Huamampampa fractured sandstones reservoir. Following several years of development, Total E&P Bolivia brought the Incahuasi gas and condensate field into production early August 2016 and has continued to work to bring the field to full capacity. "Incahuasi is one of the largest gas and condensate fields brought recently on stream in Bolivia. Incahuasi's production will contribute to Bolivia's gas exports to Argentina and Brazil as well as domestic consumption," said Arnaud Breuillac, president of E&P at Total while commenting on the project. "Delivered within budget, Incahuasi is the fourth start-up for 2016 for Total and as a low-cost project with a long production plateau, it will contribute to the group's production growth in 2016 and beyond."
"We started production during August 2016 and today the Incahuasi facility has a production capacity of 6.9 million cubic metres of gas per day and around 6000 barrels of condensate per day, translating to around 50,000 boed," adds Project Manager, Stéphane Vènes. "A possible next phase in the development of the Incahuasi project could be to further increase
production by implementing a second phase of development, with an aim to produce around 14 million cubic metres of gas product per day."
Safety, responsibility and partnership
Accessing a gas field buried some 5600 metres beneath the Andean foothills of represents a daunting task and a significant challenge and in order to meet this mammoth undertaking, Total was able to leverage all of its expertise, while also laying nearly 150 km of pipeline along a rugged route through steep hills with inclines that exceed 30°. Throughout the development process, the company placed worksite safety as its primary concern in the completion of this ambitious project. To this end Total E&P Bolivia implemented an on-site 'Health, Safety & Environment' training centre to bring employees up to speed and ensure that the project's goals were met. "There is an expectation when executing a project of this size to adhere to the highest levels of health and safety and we have achieved a very good safety record because we have experienced no major incidents, injuries or fatalities. This is all while being able to finish the project on time and within budget," Stéphane exclaims. "We were operating in a relatively remote region, with very few facilities on the way to the construction site, making it relatively difficult to start from scratch."
In developing the Incahuasi site, Total E&P Bolivia also devised a comprehensive and proactive community programme to maximise the project's positive impact on the surrounding area. Through this programme, the company's team of liaison representatives established a meaningful dialog with local residents to ensure that their needs were met in terms of social initiatives and job training. As a result around 63 per cent of the 2300 people involved in preparing the site lived in the immediate area, demonstrating the significant economic benefit for the community within the surrounding region. The project was also completed in association with the traditional partners of Total in Bolivia, the Russian Gazprom corporation and Tecpetrol, based in Argentina.
Future development
With the successful development and commissioning of the first phase of its Incahuasi site, Total E&P Bolivia is well placed to consolidate its current position and to plan for the second phase of the site, which will double its current production capacity. "During the next three years we will be focused on maintaining our current production and ensuring that the equipment that we have is working according to specification. We will continue to take feedback relating to the running of the plant and implement this in the development of phase two to ensure the highest levels of efficiency," Stéphane concludes. "We will also begin working on the possible development of the second phase of the Incahuasi field."
TOTAL E&P Bolivia – The Incahuasi Project
Services: Production and operation of the Incahuasi field