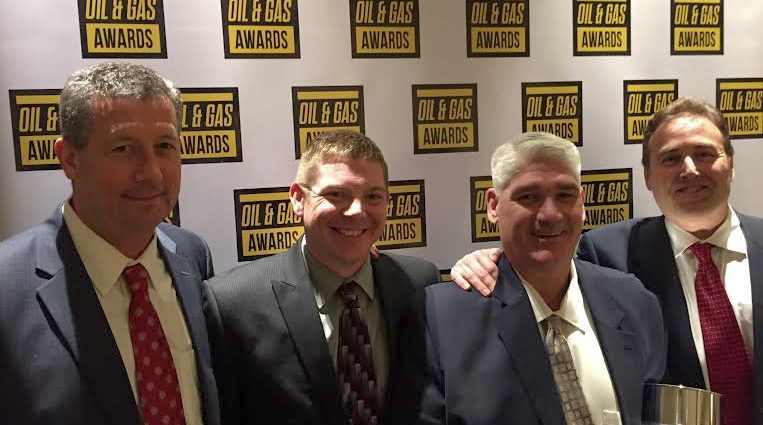 Total Equipment Co.'s dedication to serving its customers sets it apart as a fluid- and air-handling product distributor in many markets.
Total Equipment Co. has specialized in the selection, sales, packaging and service of fluid- and air-handling products for more than 30 years throughout Pennsylvania, West Virginia and Ohio. The company has become the go-to equipment provider to industries in the region because of its dedication to customer service and support.
"We have a very large service contingent with 85 of our 105 people in the whole company dedicated to service, service management and support," Vice President Chuck Gerbe says. "We just keep adding staff to maintain that level of customer service. We just hired our fourth service manager because it takes two people to manage in the field and two in the shops."
Mike Weir founded the Coraopolis, Pa.-based company in 1982. He was a former sales manager at Ingersoll Rand, which is one of Total Equipment's major suppliers of air compressors and compressed air components. The company also represents Hankison air dryers and filters, Republic blowers and Dekker vacuum pumps.
Total Equipment prides itself on distributing and servicing products from the most trusted brands in the industry. "Our equipment is used in a variety of settings, including construction, mining and waste/wastewater," the company says. "Energy companies now rely on us to help them unearth the natural gas from our region's Marcellus Shale."
The company operates a 15,000-square-foot stocking facility in St. Albans, W. Va., as well as a 30,000-square-foot facility in Coraopolis. In both of its locations, Total Equipment keeps a vast inventory of pumps, compressors, blowers, mixers and mechanical seals from 30 different manufacturers.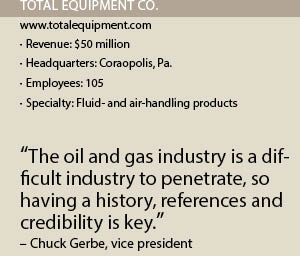 "We stock a thousand different models and a million different parts, but the human aspect rather than the actual part is our biggest asset," Gerbe says. "Having people is way more important because although we have a large inventory, more often than not we are machining the parts or sourcing the parts on an expedited basis."
Market Expansion
The oil and gas industry was a big game-changer for Total Equipment when it took off about a decade ago. Today, it is the largest single industry sector the company focuses on, but Total Equipment is also always looking to expand its market reach.
For example, Total Equipment in March purchased V-Systems, a pump supplier based in Blawnox, Pa., that focuses on commercial and institutional projects. "Up until now we have been purely industrial," Gerbe says. "As the Pittsburgh demographics are evolving, commercial work is starting to grow and more schools and hospitals are being built. We bought a local pump distributor to focus on those sales and grow their service department."
Products for commercial and institutional work come from a mix of manufacturers, but Total Equipment says the technology is not that different from that used in industrial settings. "They're less sophisticated applications, but more of them," Gerbe says.
To maintain long-term relationships with manufacturers, Gerbe jokes that the key is to sell a lot of products. "It all starts with that," he adds. "We get them very involved in our business and have an open door policy with monthly sales meetings where they are free to come and present as a manufacturer. We meet with them throughout the year to talk strategy, market and what markets we should be targeting."
A recent conversation with its manufacturers led Total Equipment to begin focusing more heavily on the oil and gas industry. The company has since begun developing strategies to further penetrate the market. "One of the things we are doing to get back into the industry is participating in the Appalachian Basin Gas Processors Association (ABGPA)," Gerbe says. "I am the co-chair of the training committee and another colleague co-chairs the membership committee of the Marcellus Shale Coalition to protect the best interest of its members."
For the third time in five years, Total Equipment received the Oil & Gas Award Industry Supplier of the Year – Northeast 2017. "It's a notch for us," Gerbe says. "The oil and gas industry is a difficult industry to penetrate, so having a history, references and credibility is key. The industry can see us being recognized and take us into consideration when considering vendors."
Education and Training
Total Equipment hosts a number of training sessions and seminars for its customers and Gerbe is an adjunct professor at the Community College of Beaver County in Monaca, Pa. "We do a lot of training," he adds. "I'm an adjunct professor training students to be technicians and operators. Teaching at the college creates credibility for Total Equipment and a sense of who we are in the industry."
Gerbe in April held a hands-on maintenance and repair training seminar followed by a pump engineering seminar. "This is purely technical solutions and not a sales pitch," he adds. "We don't push any manufacturers and it's simply best practices on ways to improve your system."
Last year, Total Equipment hired a mechanical seal expert who is responsible for helping the company's oil and gas customers extend the reliability of their machines. "We feel we have to focus now on life extension and reliability, and help those customers with that," Gerbe says.
Total Equipment also highlights manufacturers' training courses to its customers. Last year, three employees of MarkWest Energy Partners traveled from Pittsburgh to New York for four days to watch the assembly of a high-horsepower pump. "We provided our customer, MarkWest, with access to watch the assembly and see it tested," Gerbe says. "A lot of customers don't like to do it because there are only a couple factories in North America they can travel to."
Because of his dedication to providing complete solutions to customers, Gerbe received this year's ITT Goulds Pumps, ITT Bornemann and ITT PRO Services Heart and Pulse of Industry Award. Gerbe was recognized, according to Goulds Pumps, because "he is constantly learning and teaching both at in-house seminars and at a local community college. He effectively uses all of the products we supply to meet customers' needs in the most efficient manner. He spends a great deal of time solving difficult process problems for the oil and gas industry."
Moving forward, Total Equipment plans to continue growing in Pennsylvania, West Virginia and Ohio by providing clients with the quickest response in the industry. "It's all about speed to turnaround," Gerbe says. "We make sure we are responding quickly when it comes to the proposal, application, response and service for our clients. If we don't have immediate response capability, it's going to be a challenge to our strategy, so growing outside the market is not something we are focusing on. We believe there is significant market opportunity here."