Total Lindsey Oil Refinery
Making energy better
Spread across 500 acres of land, close to the Humber Estuary, Total Lindsey oil refinery is one of six active refineries in the UK, and is responsible for processing in excess of seven million tonnes of crude and derivatives per year. Since 1999, the refinery has been wholly owned by Total, the French multinational integrated oil and gas company that is a major presence in both the UK's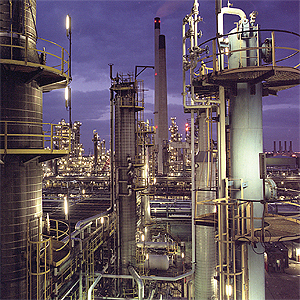 upstream and downstream sectors, and in that time, it has undergone several major expansions.
"Total is a very important actor in the UK energy industry, providing both direct and indirect employment to many thousands of people, and Total Lindsey Oil Refinery is a massively significant supplier to the UK market," begins Jean-Marc Durand, Total Lindsey Oil Refinery's General Manager. The origins of the facility date back to 1965, when it was first conceived as a joint venture between Total and the Belgian oil company Petrofina. Within the relatively short time span of three years, the refinery was constructed and officially opened in June 1968.
In the next five decades, the plant would be responsible for producing products including petrol, diesel, fuel oil, butane, propane and jet fuel. Meanwhile, a pattern of regular investment has seen it come to comprise of distillation units, vacuum distillation, a fluid catalytic cracker, catalytic reformers, an MTBE unit, a gas recovery unit, desulphurisation units, an alkylation unit, a polypropylene splitter, and a visbreaker.
"There have been a number of major milestones in the history of the refinery, for example in 1991, when we formally commissioned the construction of a 150-kilometre high-pressure oil pipeline linking the refinery with the east of Hemel Hempstead terminal, close to London, which we named the Fina line," Jean-Marc continues. "Later achievements then include, the development and launch, in 2011, of a hydrodesulphurisation (HDS 3) unit to enhance the plant's capacity for processing high-sulphur crude, and the implementation of, an adaptation plan, in 2015, with an investment of £33 million to streamline the refinery, while increasing Lindsey's conversion rates to make it a more profitable asset. We have already invested some of the funds, with a further £150 million outlined for investments over the next five years."
Jean-Marc and the many men and women who work in and around Lindsey refinery do so in a highly technical, complex and indeed, at times, challenging environment. As such, the efforts of said people are not lost on him. "The technical excellence of our employees is a major contributing driver to our success, not only as a refinery but as a wider business," he exclaims. "It is the commitment and engagement of the workforce that helps to give us the freedom to innovate and operate Lindsey refinery, and in return we work hard to develop our people to give them all of the knowledge, skills and experience needed to operate the refinery to the best of their collective ability.
"We also focus on ensuring that the environment that our people work in is as safe as possible. We actively encourage every single person working at the refinery to be focused everyday on working safely, and having health and wellbeing at the forefront of our minds in everything that we do has resulted in a strong safety record. At the same time, we are working equallyas hard to achieve further reductions in areas such as energy consumption and the environmental footprint of the refinery. Our efforts in this area are very important to our future sustainability as they will not only bring about benefits for the environment, but also improve the refinery's financial balance through a reduction in expensive energy usage."
Long-term planning
A refinery, as Jean-Marc is keen to point out, is also an asset that is in a permanentstate of evolution, as it is responsible for making constant improvements with regards to processes, equipment,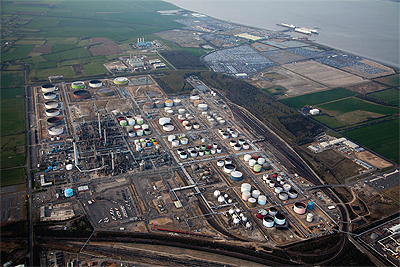 the quality and amount of the products being produced, how it serves the market, and the impact it has on the wider community. "We invest approximately £20 million per year in the refinery, in order to maintain its ability to adapt to industry demands and remain competitive," he reveals. "Outside of this spend, we also have considerable funds dedicated towards major turnaround and inspection projects."
On the subject of said projects, much of the refinery's present-day focus is currently dedicated towards the next turnaround of the plant, which is due to take place in mid-2019. "For a facility that is used to running continuously, a turnaround represents a critical moment for any refinery, during which time normal operations cease while a huge amount of vital inspection, maintenance and upgrade works take place," Jean-Marc explains. "As well as requiring a large amount of capital investment, a turnaround also requires immense planning in order to successfully complete, and to ensure that we can continue to supply the market during the shutdown via the stockpiling and importing of key products. It is no exaggeration to say that, such is the importance of getting things right, there is no room for complacency during the build up to and implementation of a refinery turnaround, and we believe we are well prepared for what 2019 holds for Lindsey refinery!"
The long-term planning needed to successfully operate a refinery, however, calls upon an operator to have a multi-year vision for what the future will bring, as Jean- Marc goes on to state. "We have created a collaborative vision of our business – our Ambition Plan. This plan sets out our vision over the next five years, and is centred around 5 key pillars Safety, Availability, People, Cost & Valorisation. Our Vision is to be the Safest and Healthiest place to work in the area, to be the most available plant compared to our peers, ensuring we are available for our customers to meet demand, prioritising how we use to renovate and invest in our future, and rebalancing our break-even point in order to increase profitability. This is very much our roadmap for the years ahead, and it is one that we will not only meet but go beyond to ensure sustainability for the future."
Total Lindsey Oil Refinery
Products: Oil refinery